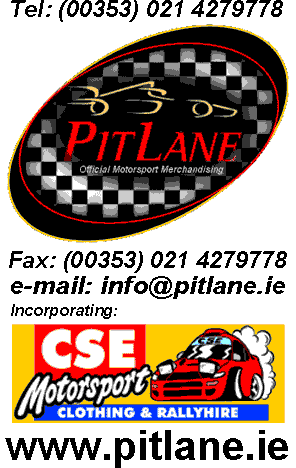 RALLY NEWS NO.4 Greenmount...Sunday 5pm
UNOFFICIAL LEADERBOARD AFTER STAGE 3
1st (2) Austin McHale/Brian Murphy (Corolla WRC) 10.28
(3) Kenny McKinstry/Declan Tumilty (Impreza WRC) 10.28
3rd (4) Frank Meagher/Anthony Nestor (Focus WRC) 10.41
4th (9) Ollie O'Donovan/David Moynihan (Legacy) 10.45
5th (7) Michael Barrable/Dermot O'Gorman (Celica) 10.56
6th (6) Niall Maguire/Paul McLaughlin (Impreza WRC) 11.02
7th (10) Kevin Barrett/Emma McKinstry (Impreza) 11.16
8th (14) Barry Coleman/Alan Russell (Impreza) 11.19
9th (18) Tom Randles/Diarmuid Lynch (Escort) 11.30
10th (11) Rory O'Connor/Francis Kenny (Escort WRC) 11.34
11th (25) James Foley/Patrick Clavin (Civic) 11.37

Quite amazing really that Austin McHale and Kenny McKinstry had the same time through stage 3 to leave the rally tied at the front. Also amazing is the fact that Ollie O'Donovan in the Legacy set a stage time through stage 3 equal to McHale and McKinstry, 3m29s. McHale said at stage finish "We had a
good clean run, it was definitely quicker than the last run, but the card says 3.29". McKinstry said "I had a good run until the hairpin left hairpin right, but there was a bale right in front of me". Frank Meagher told us "That stage wasn't too bad for us, but it is cutting up badly now, very hard on the car". Michael Barrable said he was having a real good cut but again got one of the chicanes wrong. Fergal Allen had a good run, but felt the steering getting a bit loose towards the end of the stage. Rory O'Connor admitted to making a few mistakes on that stage, and indeed was off the road for a few seconds. Kevin Barrett caught Rory and was stuck in his dust, losing some time. Mike Moloney put his Escort on its roof, blocking the stage, and a few drivers are either going to get a re-run, or "slowest normal time".

Looking back briefly to stage 2...James Foley managed to hold on to 11th place despite clipping the wall with his Civic. Ed Synan improved to 12th. John O'Leary in his very tasty Subaru was 13th. John Hunter was 14th, John O'Sullivan 14th. Roland Doherty continued to lead class 1 from Shane
McEneaney in the Puma. Aaron McHale led class 2 from Liam Ryan. Gareth McHale slipped back in the stage 2 standings after a poor time.

FORD IRELAND KA CHALLENGE: (after stage 3)
1st John Carroll/Eugene McGarth (Ford Ka) 12.15
2nd Trevor Harding/Charlie Boland (Ford Ka) 12.17
3rd Barry Barrable/Trevor Hamilton (Ford Ka) 12.20
4th Martin & Patricia Laverty (Ford Ka) 12.43
5th Declan Magee/tba (Ford Ka) 12.45
John Carroll and Trevor Harding were equal fastest through stage 3 to keep up the momentum on what is a great fight for points. Harding said "I'm on a mission". While Carroll remarked "Very tight". Barry Barrable finished the
test with grass poking out of the front left mudguard spat, Barry telling us of clipping another bale. Unfortunately Liam Denning stopped out on the course on stage 3, a suspected electrical problem ending his rally. Declan Magee dropped a place when he spun and Eoin Dooley lost another whack of
time, remarking "I just can't get the car round the hairpins". More after stage 4..BRIAN & LIZ PATTERSON