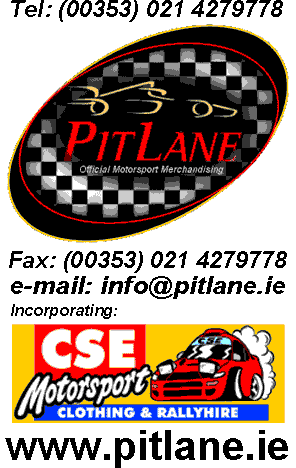 RALLY NEWS NO.5 Greenmount..Sunday 6pm

UNOFFICIAL LEADERBOARD AFTER STAGE 4 - FINAL STAGE

1st (2) Austin McHale/Brian Murphy (Corolla WRC) 13.47
2nd (3) Kenny McKinstry/Declan Tumilty (Impreza WRC) 13.53
3rd (4) Frank Meagher/Anthony Nestor (Focus WRC) 14.04
4th (9) Ollie O'Donovan/David Moynihan (Legacy) 14.12
5th (6) Niall Maguire/Paul McLaughlin (Impreza WRC) 14.37
6th (7) Michael Barrable/Dermot O'Gorman (Celica) 14.41
7th (10) Kevin Barrett/Emma McKinstry (Impreza) 14.53
8th (14) Barry Coleman/Alan Russell (Impreza) 14.56
9th (11) Rory O'Connor/Francis Kenny (Escort WRC) 15.14
10th (17) Ed Synan/David Doherty (Manta) 15.18
(18) Tom Randles/Diarmuid Lynch (Escort) 15.18
(25) James Foley/Patrick Clavin (Civic) 15.18

Austin McHale kept us on the edge of our seats right to the end of this RT Greenmount Rallysprint - McKinstry and McHale were tying at the start of the stage - McKinstry finished the stage with a flat front left wheel, but still
set a superb time of 3.25...but McHale beat all the records with a stunning 3.19 to take victory. Five times Tarmac Champion,McHale, said when he reached the finish line "Excellent rally, I enjoyed it and although it was a good stage it has gone very rough. It's great to see so many people out today enjoying the sport, and I know my own 2 sons enjoyed the rally as well". McKinstry said "We had a problem with the intercom before the stage start and I swopped helmets with Declan. It went well but the chicanes were all over the place and then I got the puncture towards the end, but I wasn't conscious of hitting anything". Frank Meagher had 2nd fastest time on the last stage and said "We just did everything tidy". Ollie O'Donovan turned in a superb time in the Legacy to clinch 4th place. Niall Maguire joked at the end "I'm too auld to improve on 5th today!". Michael Barrable hung on to 6th despite damaging his Celica's drive train on the big jump. John & Esther Hunter had been 14th in their Escort but the gearbox broke on the way to the start of the last stage.

Looking back to stage 3 - some retirements included Shane McAneaney, his hired Puma gearbox crying enough. Darren McCarthy stopped when his Nova developed a major oil leak. Just outside the top 10 after stage 3 we had James Foley in 11th, Ed Synan 12th, John O'Leary 13th, John Hunter 14th, John O'Sullivan 15th. Aaron McHale continued to lead cl.2, his closest rival Liam Ryan got a puncture, but we think held on to 2nd in that cl.2.

FORD IRELAND KA CHALLENGE: (after stage 4)
1st John Carroll/Eugene McGrath (Ford Ka) 16.10
2nd Trevor Harding/Charlie Boland (Ford Ka) 16.15
3rd Barry Barrable/Trevor Hamilton (Ford Ka) 16.25
4th Martin & Patricia Laverty (Ford Ka) 16.46
Declan Magee/tba (Ford Ka) 16.46

John Carroll turned in a stunning 4th stage time to put today's Ka victory beyond doubt, winning today and also extending his lead in the Ka Challenge. Trevor Harding not only finished 2nd today but moves into 2nd in the Challenge, while Barry Barrable did something similar, finishing 3rd today and moving up to 3rd in the series.

Many thanks to all who helped with the RallyNews service, particularly Kate Tobin, Joan Gallagher & Noel Clarke...well done to Sean & Declan Mullally and all the hard workers behind the rally for making it such a successful
inaugural event.
BRIAN & LIZ PATTERSON