It has been a difficult week for the Colm Quinn BMW backed Galway International Rally oragnisers. Flooding has affected so many people across Ireland and the UK in the past few weeks. It is an awful thing to have your home or business devastated by such events. This weekend's rally has had it's own fair share of flooding, and a result, a last minute re-routing of the Saturday stages has brought it's own challenge for the event's organisers. We have updated our Jemba Speed Traces to reflect the route changes but if you are planning to visit the rally, be aware that area's around the first and second stages are pretty inaccessible due to the high water levels. More information about the flooding is available on the official rally website (Link) . In the meantime, enjoy the download and good to everyone on the Galway Rally this weekend.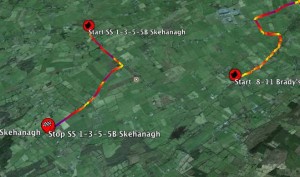 Download the Galway International Google Earth Files Galway 2013 GE & gpx
Remember though, Please note that the Google Earth files are contained in a zip file. If you are using a computer, they will be downloaded to your downloads folder and can then be opened with google Earth. For mobile/iPhone/iPad users – you will be asked to "open in" an app like iFiles or Evernote etc. You must do this and then unzip the files. After this the files can be opened in Google Earth. It seems a long way around but it is worth it. It is assumed that you have installed both a file viewer & Google Earth beforehand. If not they are all available via the App Store and the Android Play Store.
Also included is a gpx file of the stages. Use a GPX viewer on you phone to view these files and if you are online with a PC, here is a link to a good site for viewing the files. GPS Visualiser