The Irish Tarmac Rally Championship will have live coverage on each of its seven rounds in 2023. The live-stream coverage provided by Hylands Media Productions will be available for free on Facebook and YouTube, starting on next weekend's Galway International Rally.
Streaming has revolutionised the World Rally Championship in recent years and opens up endless opportunities for promoting, advancing and furthering the sport.
The media package will showcase international, modified, historic, and junior categories which are supported by Samdec Security, McEvoy Motorsport, Synergy Motorsport Engineering, and Paul Browne Plant Hire along with championship associate sponsors Michelin, Pirelli, and Sherwood Engines.
Another eagerly anticipated season of Irish rallying starts in Galway with one of the best entries witnessed on our shores. The strength in depth of the crews and cars set to tackle the notoriously challenging west of Ireland event shows the appeal of Irish Tarmac's best-in-the-world stages.
The HM Productions team will savor the chance to put the spotlight on each ITRC round with live on-stage action backed up by analysis, interviews, and insightful commentary from its expert panel of hosts.
Xavier McCartan (Rally Radio and Goodwood Festival of Speed) and Michael Patterson (Rally News) seamlessly tie the production together with the latest live times and results combined with news, statistics and much more.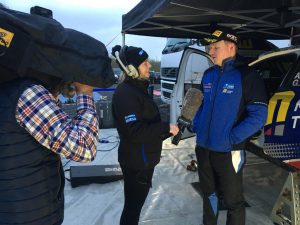 Toni Kelly (RPM and Rally Radio) will report from the service area interviewing crews between each loop of stages. An experienced competitor herself, Toni has extensive knowledge of the sport which is reflected in her forward and direct interview style, asking the competitors the questions we want to hear the answers to.
Working hard behind the scenes is producer Andrew Bushe (RPM and North West 200). An ITRC class winner and regular historic rally competitor, Andrew is regarded as one of the sport's sources of historical knowledge with limitless facts, statistics, and stories.
Action snippets and rally highlights will also be published online by HM Productions in a bid to ensure rally fans across the world have inside access to Ireland's premier rally series.
Colman Hegarty, TROA chairman:
"I am delighted to welcome HM Productions as live steam providers for the 2023 championship.
"Chris and his crew are very experienced in promoting motorsport throughout these islands.
"We look forward to working with HM Productions, and all our organising clubs to promote the ITRC and its loyal competitors in all our categories throughout 2023."
Christopher Hylands, HM Productions director and producer:
"It is an exciting time for Irish rallying, we look forward to the opportunity to work with TROA to help bring the Irish Tarmac Rally Championship forward for 2023 with a full live-streaming package.
"We worked hard in 2021 and 2022 to prove the live streaming concept and I think now it has more than proved its worth.
"For us, it has been extremely beneficial and has taken the experience of working with some great events such as the West Cork Rally, Circuit of Ireland, Corbeau Seats Rally Tendring and Clacton, and the Ulster Rally to help adjust and fine-tune the ever-evolving live streaming concept.
"For 2023 we have a full championship-ready package to roll out over multiple platforms making the Irish Tarmac Rally Championship one of the most accessible and free-to-view rally championships in the world.
"The entire production is a massive team effort and I truly feel we have put together the best team of talented professionals."
Adam Hall, ITRC Press Officer
Email: troapro@gmail.com