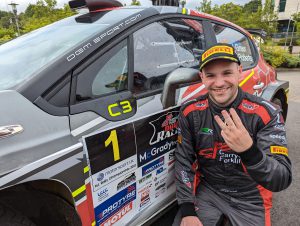 Jonny Greer has secured his third McGrady Insurance NI Rally Championship title with victory at today's Carryduff Forklift Down Rally!
Navigated by Dai Roberts, Greer claimed a start-to-finish victory aboard his Citroen C3. The crew powered to the top of the leaderboard after the opening stage and eventually sailed into the distance, leaving the destination of this year's NI title beyond doubt.
"It has been quite a good year," Greer said at the finish. "We had a bit of a rough start, but it all came together at the end. Thanks to everybody who has helped."
The event was jointly organised by Rathfriland Motor Club and Ballynahinch and District Motor Club, with the support of Lisburn and Castlereagh City Council. Eight closed road stages were on the agenda, including the famous Hamilton's Folly, and Greer entered the season's final event as one of four drivers capable of lifting the crown. Derek McGarrity, Joe McGonigle and Aaron McLaughlin were also in the mix, with McGarrity in prime position as he topped the championship standings.
Unfortunately for McLaughlin, his hopes were dashed when he suffered turbo failure on stage two. A couple of stages later, McGonigle was also out of the running after he slipped off the road on a particularly muddy section of stage four.
That left McGarrity as Greer's main title contender, but the Glengormley driver was fourth overall and almost 43 seconds behind the rally leaders when crews reached the mid-event service.
"We messed up a bit on the first stage," McGarrity admitted. "I haven't driven in the wet for a long time."
He had little chance of catching the flying Greer and had to hope for his main rival to falter if he was to have any chance of securing a ninth title. That moment nearly came on stage six when Greer was caught by surprise at a junction with gravel strewn across it.
"We came into a corner, and I didn't expect there to be so much gravel," Greer said. "I had to commit to it a bit earlier than I intended, and we hit something with the front left wheel, but luckily the tyre didn't go down."
Greer survived to tell the tale, and after that heart-stopping moment, he kept his nose clean to race home and secured the rally win, and the championship spoils. McGarrity eventually finished sixth, but that was enough for his navigator, Graham Henderson, to claim the NI Championship's overall co-driver's award.
Meanwhile, the battle for second overall raged until the finish. Cathan McCourt and Liam Moynihan held the position after the opening stages until a spin on stage four dropped them behind Peadar Hurson and Damian Connolly.
In his Fiesta WRC, Hurson upped his pace and set a couple of second fastest times to stay in front. It was a close run affair; going into the final stage, 3.9s separated the two crews.
Unfortunately for McCourt, his challenge faded when he got a puncture near the start, but Hurson was completely unaware. He stalled his Fiesta, losing vital seconds, and then pushed hard until the finish…almost too hard!
"We had a sizeable moment," Hurson recalled. "We were lucky to get away with it!"
In the end, he did more than enough to secure second overall, while McCourt managed to cling on to the final podium spot by a handful of seconds from Jason Mitchell and Paddy McCrudden.
Mitchell was embroiled in a battle of his own with the Rally3 Fiesta belonging to star of the future, William Creighton. Less than one second separated the two crews going into the final stage, but Mitchell pulled out all the stops to secure fourth, with Creighton and navigator Shane Byrne coming home in fifth.
With Derek McGarrity and Graham Henderson sixth, former NI Champion Stuart Biggerstaff and Anthony Nestor sealed seventh after being thwarted by a couple of punctures.
The event was also a round of the Protyre Asphalt Championship, and Steve Wood was the highest placed visitor to Northern Ireland. He and Kenny Hull arrived home in eighth overall ahead of John Stone and Laura Connell, with the top two-wheel-drive crew of Damian Toner and Denver Rafferty finishing 10th.
Toner headed home Alan Smyth and Gary McCrudden in the two-wheel-drive category, but it was Smyth who sealed the NI 2WD Championship spoils after an impressive season.
For more information, visit nirallychampionship.com.
Rally Results (Top 10)
1 Jonny Greer/Dai Roberts (Citroen C3 Rally2) 44m26.9s
2 Peader Hurson/Damien Connolly (Ford Fiesta WRC) +26.0s
3 Cathan McCourt/Liam Moynihan (Citroen C3) +48.4s
4 Jason Mitchell/Paddy McCrudden (Ford Fiesta Rally2) +52.3s
5 William Creighton/Shane Byrne (Ford Fiesta Rally3) +58.0s
6 Derek McGarrity/Graham Henderson (VW Polo GTi) +1m02.4s
7 Stuart Biggerstaff/Anthony Nestor (Ford Fiesta R5) +1m10.1s
8 Steve Wood/Kenny Hull (Ford Fiesta WRC) +1m16.6s
9 John Stone/Laura Connell (VW Polo GTi) +1m51.1s
10 Damian Toner/Denver Rafferty (Ford Escort MkII) +2m03.6s
Jonathan MacDonald
McGrady Insurance Motorsport UK N.I. Rally Championship