Following the recce day's in Letterkenny for the Donegal Rally last weekend, we headed for Waterford and the sunny southeast at the start of the week. The Ravens Rock Rally has it's foot firmly in the history books of rallying's past and despite being a drop out round this year's Dunlop National Championship, it once again looks like a little classic.
The Rally, organised by the Carrick on Suir Motorclub has always taken advantage of its geographical location and moved around accordingly. This year is no exception. The main bulk of the stages are now south on Waterford City, conveniently placed on the headland between the seaside resorts of Tramore and Dunmore East.
Waterford Airport plays host the service park and is quite literally a stones throw away from the Sunday Stages. The rally will kick off with a ceremonial start on Saturday evening followed by a short but proper closed road spectator stage just to the South West if the city. The main viewing point is close to the start at the first junction with plenty of safe spectating.
Without giving too much away, the Sunday loop has plenty to offer. A mixture of very fast flowing roads with narrower more technical roads thrown in to link up the stages. Our stage telemetry is shown below and gives a good indication to the speeds the crews will be traveling at.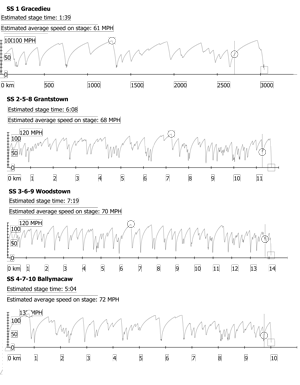 This is a further dimension to the Patterson Pacenotes and it gives a small insight into the technical depth we strive to, to get the notes as good as possible.
The Notes & DVD will be ready on Thursday 19th for despatch.
Order Online @ www.rallynews.net
Or Call: (+44) 0290 844111