Status Update Week Commencing Monday 9th February.
Due to the recent unsettled weather and the inevitable knock on effect these things have, we have had to reschedule some of of our planned reconnaissance arrangements and these will have a small effect on the posting dates for certain events.
Omagh Spring Rally at Fivemiletown
Heavy snow fell around about 10 days ago. The safety notes were due to be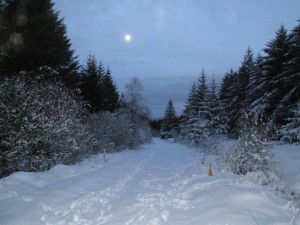 made on Thursday 5th Feb but due the the sheer volume of snow, it was decided to postpone the note making to Friday 13th Feb. We will do our best to get the notes & DVD's ready for despatch on Monday 16th Feb.
Eurocables Stages at Kirkistown.
A preliminary set of safety notes were made on Thursday the 5th Feb. A few small amendments have been introduced since then and a further recce is now required. Due to access restrictions, we are unable to make the final notes & DVD until Thursday 12th Feb. The Notes & DVD will be printed on Friday and will be available at signing – on at Kirkistown on Saturday Morning from 7.00am.
Riponian Stages
Notes & DVD made and ready for despatch this week – Thurs 12th February.
Wyedean Stages
The vast majority of competitors have had their Notes & DVD posted last week. Posting will continue until Wednesday 11th Feb.
Birr Stages
The Notes & DVD for the Birr Stages are now made and checked. Pre-event despatch will commence on Wednesday 11th Feb and orders can be placed on line or by telephone.
Mid Wales and M Wilson Rallies.
Notes reconnaissance for both these events are scheduled to take place this week.