The Northern Ireland Motor Club has confirmed that County Fermanagh will host the 37th Ulster Rally on August 23rd and 24th, with the Rally being based in and around Enniskillen town. The event will once again be sponsored by the Todds Leap activity centre in Ballygawley.
Confirming the move, Ulster Rally Clerk of the Course Lewis Boyd commented;
"It is fantastic that an event of this magnitude has, with the enthusiastic support of Fermanagh District Council, moved to the home county of the legendary Fisher family who have been, and continue to be at the forefront of international rallying. I am personally delighted that as a native of Co. Fermanagh I have the privilege of being at the forefront of this exciting move to Enniskillen.
"A number of exciting new initiatives have been introduced for this year's Ulster Rally, including a Town Centre Ceremonial Start and Finish and an accessible Spectator Special Stage on both days of the Rally at St. Angelo Airport. I also welcome our 2013 sponsors Todds Leap Activity Centre and Fermanagh District Council and I look forward, with their help, to the safe running of this event on 23rd and 24th August."
Fermanagh has enjoyed a prominent place in the history of the Ulster Rally, having hosted the traditional Saturday morning breakfast halt during the 1980's and 1990's, but this is the first time that the event has been based in and around the Fermanagh Lakelands.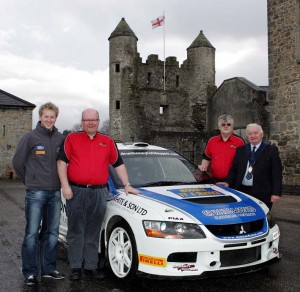 Welcoming the event's arrival the Chairman of Fermanagh District Council, Councillor Thomas O'Reilly, commented;
"Fermanagh District Council is delighted to support the 2013 Ulster Rally. County Fermanagh is internationally renowned for its motorsport heritage and we look forward to welcoming rally drivers, crews, officials and spectators from across Europe to the Fermanagh Lakelands in August. We wish everyone involved a safe and enjoyable rally."
The 2013 Ulster Rally will again host all of the premier Rally Championships from both the UK and Ireland including the British Rally Championship and the British Historic Championship as well as the Irish Tarmac and the Northern Ireland Stage Rally series.