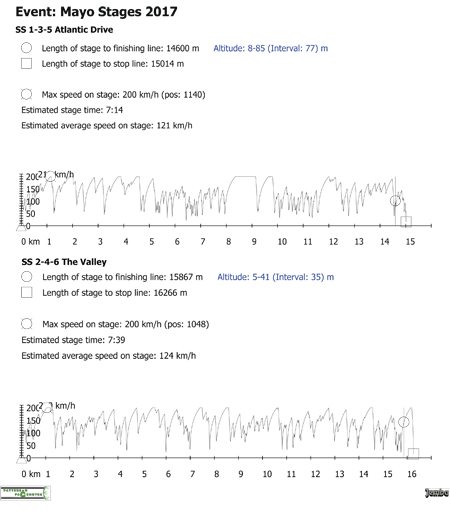 Notes & DVD now available – Order Online here.
Mayo & District Motorsport Club are busy finalising plans for the Óstán Oileán Acla/Connacht Print & Signs Mayo Stages Rally for 2017. After a break of 11 years they will return to the Island of Achill on the 11th and 12th March for the opening round of the ever popular Sligo Pallets Border Rally Championship. It promises to be an action packed motorsport weekend with spectacular stages winding along the picturesque Wild Atlantic Way, taking in some of the most beautiful picturesque beaches and the best driving roads in the country from start to finish. This is one event you won't want to miss. 
For the competitor and spectator alike, this event is like no other. It is unique to Ireland in that it is the only rally to take place off the mainland. Competitors will enjoy an equal mix of stages, from tight and twisty sections to open, flat straights. Flanked with the backdrop from the Atlantic Ocean these stages really have it all and promise to challenge both crew and machine. 

Trevor O'Connell, Clerk of the Course, "This event is a little different from what we have run in previous years. The roads are in superb shape, with a lot of clean tarmac, excellent road surface and great grip. Traditionally, due to the time of year we run at, our stages tended to be a bit tricky and slippery in places, this will not be the case this year as the Islands roads are completely different in nature and with a bit of luck we will have fine weather for a change and we will really be in for a treat". He continues "It will be breath taking for spectators too as many locations will provide excellent viewing, among some of the best you will find anywhere".

As Mayo & District Motorsport Club predominantly has members who compete in rallying, we are conscious of the fact that our sport has been dealt another hard blow this year with the rising insurance costs. Therefore, we are running a 6 stage event to keep the entry fee as low as possible at €430 + Insurance Levy of €270. The event will comprise of 96+ stage kilometres and 115 road kilometres, offering the best value for money per stage kilometre you will find this year. Rally HQ, Scrutiny, Trailer Park, Service Park, Parc Fermé and of course the stages themselves are all on Achill Island. With a compact route and an easy recce, it will help to keep costs down for the competitor.
For Junior and Historic Crews, this is an event truly not to be missed as the value for money for these classes will not be beaten anywhere else this year, at €330 + insurance Levy of €188.
Entries are still being taken for this event by contacting the Event Secretary Deirdre on +353 87 2380376 or at deirdreburkemmc@gmail.com.
We look forward to welcoming you all to Achill on the 11th and 12th March for a weekend to remember.