Marty Maximises in Donegal!

2017 Valvoline Motorsport Ireland National Forest Rally Championship-Round Three
The 2017 Valvoline Motorsport Ireland National Forest Rally Championship, entered into it's third round on Saturday for the Donegal Motor Club's Forest Rally. Based in Donegal town, the event provided it's fair share of excitement, as Marty McCormack stormed to victory in his Skoda Fabia R5. At the mid point service, McCormack said "The first stage was incredibly demanding, it was very tricky and so slippy we were very glad to get through it. I settled in better on the second stage and felt much more comfortable on the third, it was very nice. " as he and co-driver David Moynihan built up the lead and made changes to the car as the day progressed. "It's been a great day and to get the win is a great bonus, but the amount we have learned about the car in these conditions is invaluable"
In a resounding second overall was the Mitsubishi Evo 6 of Omagh's Patrick O'Brien and co-driver Stephen O'Brien, who's consistently fast pace all day brought a great result, despite a lack of recent seat-time for the former Valvoline Junior Champion. Finishing in fourth overall was another Evo, driven by Omagh's Cathan McCourt, overcoming a stage one puncture to also take the Group N class. In sixth was Cork's Ger Lucey in his venerable Evo 8. He recovered from a wrong tyre choice to climb up the leader-board, and like in 2016 he once again leads the Valvoline points race. Could this be the year that the clubman trounces the R5's? With half the season to go it's an interesting mid-term points table. Enda McCormack was delighted with ninth in his Impreza WRC, despite a costly stall on stage five. Lying an impressive third overall early in the day was young Dungiven driver Jordan Hone. Driving the Rallyhire Group N Lancer Evo 9, his fine drive came to an end as he was stuck in a ditch on stage four after one of the many jumps threw him off line.
No one expected the Valvoline Two Wheel Drive category winner to make the podium in Donegal, but that's what happened as Comber's David Crossen brought his Mark 2 Escort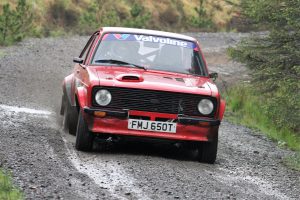 into a fabulous third place overall. With co-driver Damien Fleming on the Patterson Pacenotes, "It was a great event, and we really enjoyed the stages "said David who now leads the two-wheel drive title race. "The first stage was like something from Finland with the big jumps and bumps! We had a problem with a rear link bar during the day and had to replace a rose-joint at service, and had to put in an emergency spare front strut after stage six, but other than that the rally went very smoothly for us." Former Valvoline 2wd champions, Fermanagh's Shane McGirr and Castleblayney's Micky Conlon were left to tussle for second in what was a frenetic race. McGirr's Starlet picked up a puncture after stage four and one on stage six which cost some valuable time, but also meant that he had no spare wheel to replace the second flat tyre. Such is the camaraderie in the series that Mickey Conlon lent him his spare, as the battle raged into the final test. It was Conlon and co-driver Ciaran McPhilips who took second as McGirr and co-driver Marty McGarrity, who were choked with exhaust fumes coming into the car, dropping to eighth overall, and third placed two wheel drive runners behind were John Gordon and Thomas Wedlock in their ever enthusiastically driven Mark 2 Escort.
The Valvoline Junior Section (Class 16), where the eligible crews are competing for an automatic Motorsport Ireland Billy Coleman Award nomination at the season's end, saw Shane Kenneally take the early advantage before his Honda Civic retired with transmission trouble. Donegal driver Marty Gallagher in the 208 R2 was another retirement on stage five when the wheel studs sheared whilst in the lead of the class. Then the lead battle switched to the two Fiesta R2's of John O'Sullivan and Stephen Dickson, and it was Dickson who once again put in a late charge to take the category after blitzing the final stage.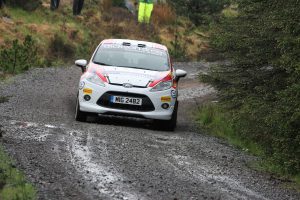 Other class winners were on the event were: Ruairi Maguire (Vauxhall Corsa)-class 9, Mike Garaghy- (MK2 Escort)-class 10, Stewart McClean (Vauxhall Nova)- class 11F, Damien McAleer (Toyota Corolla)-class 11R, Chris Simms (MK2 Escort)-class 12, Derek Mackeral (Mitsubishi Evo)-class 15.
The M. O'Brien Plant Hire Junior 1000 class for 16-18 year olds, entered its third round in Donegal and once again the Peugeot 107's of Alex Byrne and Jason Murphy lined up to do battle. It was Jason Murphy's turn to take victory this time, the Mayo driver coping with clutch issues to take the win from Alex Byrne.
Alex had built up a handsome lead on the first loop, only to run into his own more costly problems incurring over three minutes in road penalties. With a fabulous prize of a drive in an R2 car on a 2018 Irish Forest Rally round, entry vouchers for the top three on each round: €200 euro to first place, €125 euro to 2nd place and €75 euro to third place and Ears Motorsport putting up tyres as prizes the rewards are great for these youngsters.
Once again we would like to give special thanks to all our sponsors – Valvoline, Andrew Fanning Motor Factors, M. O'Brien Plant Hire, Suirway Group Forklifts & Farm Machinery, Jelf Motorsport Insurance, Exact Signs & Graphics, Pottinger Machinery, Ears Motorsport / Kumho Tyres, Colton Pump & Heating Services, Coillte, Concept Fire Services Ltd, Gordon Automotive Services, Barron Pix & SVS Incar Cameras.
Now it's time for a mid-season break in the championship, before coming back to Cork for the Jim Walsh Cork Forest Rally in July. With a County Cork man leading the driver's championship interest will be high at the end of July.
2017 Valvoline Motorsport Ireland National Forest Rally Championship-Round 3 Results
1st Marty McCormack / David Moynihan Škoda Fabia R5 28:07.8
2nd Patrick O'Brien / Stephen O Brien Mitsubishi Lancer Evo VI +1:11.5
3rd David Crossen / Damien Fleming Ford Escort MkII +1:36.0
4th Cathan McCourt / Brian Hoy Mitsubishi Lancer Evo +1:54.5
5th Mickey Conlon / Ciaran McPhillips Ford Escort MkII +2:03.5
6th Gerard Lucey / JJ Cremin Mitsubishi Lancer Evo VIII +2:06.7
7th John Gordon / Thomas Wedlock Ford Escort MkII +2:09.1
8th Shane McGirr / Martin McGarrity Toyota Starlet +2:14.5
9th Enda McCormack / Colin Fitzgerald Subaru Impreza S10 +2:31.4
10th Ian Graham / Liam McIntyre Mitsubishi Lancer Evo IX +2:53.2
2017 Valvoline Motorsport Ireland National Forest Rally Championship-Provisional Points After Round 3
1st Ger Lucey               45
2nd Josh Moffett             42
3rd David Crossen         40
4th Sam Moffett             38
5th Marty McCormack   38
6th Desi Henry                 36
7th Adrian Hetherington 34
8th Mickey Conlon          34
9th Enda McCormack     32
10th Jonny Leonard          30
2017 Valvoline Motorsport Ireland National Forest Rally Championship-Rounds
Round 1 – 12th February- Carrick on Suir Forest Rally
Round 2 – 8th April- Moonraker Forest Rally
Round 3 – 13th May- Donegal Forest Rally
Round 4 – 30th July-Jim Walsh Cork Forest Rally
Round 5 – 2nd September-Enniskillen Lakeland Stages Rally
Round 6 – 14th October-Rathfriland MC Down Forest Rally
For all the latest updates and more information of the Valvoline Motorsport Ireland Irish National Forest Rally Championship please look us up on Facebook or Twitter and even more details are available on our dedicated website: www.irishforestrally.com
F: Irish Forestry Championship T:@IrlForestchamp. Official Valvoline Motorsport Ireland National Forest Rally Championship press release issued by Andrew Bushe F: Andrew Bushe Promotions t-@andrew_bushe.