MOFFETT'S HIGH FIVE ON RAVEN'S ROCK RALLY – Report courtesy of Triton Showers – proud sponsors of the Irish National Rally Championship.
With victory in the Dooley's Hotel Raven's Rock Rally, round five of the Triton Showers National Rally Championship, Monaghan's Sam Moffett (Fiesta WRC), who was co-driven by Cork's Karl Atkinson, is just one event away from outright victory in the Triton Showers National Rally Championship following his fifth straight win of the campaign.
They finished 18.1 seconds ahead of the similar Fiesta WRC of defending champions Clonmel's Roy White and his Cork co-driver James O'Brien.
Citroen's World Rally star, Waterford's Craig Breen and co-driver Patrick Croke in a Mk. 2 Ford Escort were two minutes and 37.3 seconds further behind in third.
On the opening stage near Portlaw, Moffett opened up a four second lead over the defending Triton champion, Roy White with former triple national champion Niall Maguire seven seconds further adrift in third.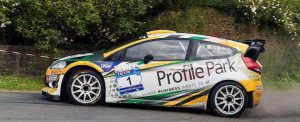 Citroen WRT driver Craig Breen was fourth overall – three seconds behind Maguire – as he set the pace in the two-wheel drive category. Brendan Cumiskey (Skoda Fabia R5) and late entry Frank Kelly (Escort) completed the top six.
In Group N, David Guest, eighth in general classification led the similar Mitsubishi of Shane Maguire by three seconds followed by Neil Tohill (Mitsubishi) and Paul Barrett (Subaru).
Moffett was also quickest through the second stage but broke the rear driveshaft following a heavy landing over a jump on the third stage and lost time and the lead.
Reigning Triton champion Roy White arrived at the Waterford service park with an 11.8 second advantage. The Clonmel driver was untroubled and remarked that his driving was of a much better standard than on the previous Triton rounds. Moffett in second had intercom issues on the entire loop as co-driver Karl Atkinson had to shout so as his notes could be heard.
Meanwhile, Breen, who was enjoying a blast through the county Waterford countryside slotted his 2.5 Millington engined Escort into third – 39.8 seconds behind Moffett and five ahead of Niall Maguire.
Maguire had an overshot on the second stage and found stage three slippery and greasy. Brendan Cumiskey (Skoda Fabia R5), who overshot on S.S. 3, was next followed by the Escorts of Enda O'Brien and Frank Kelly, both untroubled.
Shane Maguire (Mitsubishi) led Group N and was eighth overall, his rival David Guest, also in a Mitsubishi, was 3.9 seconds behind, Guest had a moment on S.S. 2 where he also had an overshoot that dented his confidence for the third stage. John McQuaid (Escort) completed the top ten. Elsewhere, Cormac Phelan (Honda Civic) slid off the road on the second stage.
Out on the second loop Niall Maguire retired his Subaru WRC from fourth place with a broken driveshaft. Meanwhile and with three fastest stage times Moffett was back in front at the final service where he led White by 7.8 seconds. "I'm doing what I have to do," commented the rally leader. The front of White's Fiesta WRC bore the impact of a high-speed 360-degree spin on S.S. 6, luckily, the damage was just cosmetic – a broken front grill and spoiler. Breen continued to entertain as he retained third – a minute and 31.4 seconds behind. Cumiskey changed the brake pads in his Skoda Fabia and was more satisfied as he occupied fourth from O'Brien and Kelly.
Maguire in seventh held sway in Group N – 20.8 seconds ahead of Guest, who damaged the front left wing on a square right S.S. 5, he reckoned that he had chosen a tyre compound that was too soft.
Mick McQuaid (Escort) was trouble free in eighth followed by Guest and Class 11R leader Richard Harney (Escort). Class 11F pacesetter Jason Ryan (Honda Civic) was eleventh.
Out on the final loop, Moffett with another trio of fastest times and victory in the Power Stage sealed his fifth win and only needs a maximum of twelve points from his next round to clinch the title. White took second and Breen was third.
The top six was unchanged. Shane Maguire (Mitsubishi) won Group N and also netted the Triton Showers Drive of the Day award, he finished 11.6 seconds ahead of showroom rival David Guest. Declan Boyle (Ford Fiesta WRC) was a non-starter.
Meanwhile, the Junior category was won by Carrick on Suir brothers Killian O'Sullivan/Conal O'Sullivan (Honda Civic) they finished 14.2 seconds in front of the similar car of Cork's Aaron Browne/Daniel Hanratty. Meath's Brian Brady/Leonard Tuille (Honda Civic) took maximum points to move into the lead of the Triton Junior Championship.
1. S. Moffett/K. Atkinson (Ford Fiesta WRC) 56m. 13.3s.
2. R. White/J. O'Brien (Ford Fiesta WRC) 56m. 31.4s.
3. C. Breen/P. Croke (Ford Escort) 59m. 08.7s.
4. B. Cumiskey/R. O'Kane (Skoda Fabia R5) 59m. 23.8s
5. E. O'Brien/J. Butler (Ford Escort) 59m. 29.3s.
6. F. Kelly/L. Kelly (Ford Escort) 59m. 52.3s.
7. J. McQuaid/T. Treanor (Ford Escort) 1h. 00m. 58.7s.
8. S. Maguire/P. McLaughlin (Mitsubishi EvoIX) 1h. 01m. 17.1s.
9. D. Guest/P. Robinson (Mitsubishi EvoIX) 1h. 01m. 28.7s.
10. A. Evans/M. Henry (Ford Escort) 1h. 03m. 08.7s.
Provisional Championship Positions after Round 5: 1. S. Moffett 104 points; 2. R. White 77pts; 3. S. Maguire 55pts; =4. D. Kelly & N. Maguire 53pts; 6. D. Guest 44pts; & 7. L. Hastings 39pts.
Martin Walsh,
Media Co-Ordinator,
Triton Showers National Rally Championship.