TRITON SHOWERS & THE MAGNIFICENT SEVEN by Martin Walsh
Achill Island, the largest island off the coast of Ireland, will host the opening round of this year's Triton Showers National Rally Championship. Linked to the mainland by Michael Davitt Bridge – the road network on Achill Island while showcasing some stunning scenery, will provide the ultimate challenge for the competitors in the Óstán Oileán Acla/Connacht Print and Signs Mayo Rally on March 11th. next.
This year's championship will consist of seven events, the Sligo Rally replaces the ALMC Rally while the Carlow Rally will not be part of the series this year due to a switch of dates. In effect, the series will be based on the best five scores from seven events.
Speaking ahead of the opening round, Kevin Barrett, MD of Tritin Showers said, "Triton Showers have decided to continue its sponsorship of the National Rally Championship. Back in 2015, we agreed to underpin the series for a three-year term. During that time and particularly in the past year Irish motorsport has experienced tough times with rising costs and depleted entry lists. With that in mind, we have agreed to continue our association with the series for 2018."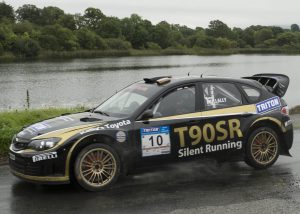 "This year, due to a fundraising event, the Carlow Rally has moved from its traditional date and as a consequence, will not form part of the series that will now consist of seven rounds with the best five scores to count."
The Triton Showers National Rally Championship will get underway with the Mayo Rally in Achill Island on March 11th. and will conclude in County Donegal in early October." Kevin added, "In our three years to date with the national championship, we have had three different champions, Monaghan's Sam Moffett last year, Clonmel's Roy White in 2016 and Donegal's Donagh Kelly in 2015. Who knows, we may have another new champion in 2018. Time and the seven rounds will reveal the outcome."
Former champion Declan Boyle is aiming for his third title. He outlined his plans, "Yes, I am going to Birr for a run out and then Mayo to sign up for the Triton and take it from there. I'm looking to do a lot of rallying before Donegal and see how I am getting on with the championship, hopefully better than last year."
Declan will have a new co-driver this year. "Brian (his cousin) is not sitting with me this year, he has too much on with work and everything. Brian did well for me and I'm sad to see him pack it in but that's life, nothing lasts for ever."
"James O Reilly from Monaghan is going to do a few events with me until we see how we get on with each other, I'm sure we will get on fine, he has plenty of experience and has been with Sam Moffett for a few years so we'll give it a go anyway." While he will campaign his usual Fiesta R5, he added, "I will get an R5 later in the year, there is more new ones coming out again soon so will have to keep an eye out to see what is the best one to get."
The Óstán Oileán Acla/Connacht Print and Signs Mayo Rally will feature a loop of three stages repeated three times for a total of 110 kilometres. Service after S.S. 3 and S.S. 6 is at the Keel Sandybanks Caravan & Camping Park in Keel. The ceremonial start takes place on Saturday March 10th in Achill Sound at 8pm. Headquarters is at the Óstán Oileán Acla.
Geographically, the seven counting rounds of the 2018 Triton Showers National Rally Championship are split as follows: the province of Munster host three rounds, Connacht and Ulster will each have two rounds. It's the first time in several years that the province of Leinster will not feature in the national series. The seven rounds are as follows:
1. Mayo Rally (March 11)
2. Circuit of Kerry Rally (April 8)
3. Cavan Rally (May 27)
4. Sligo Rally (July 8)
5. Tipperary Stonethrowers Rally (August 12)
6. Clare Rally (September 16)
7. Donegal Harvest Rally (October 6)
…………………………………………………………
Martin Walsh,
Media Co-Ordinator,
Triton Showers National Rally Championship.