Irish Notes 10th April 2019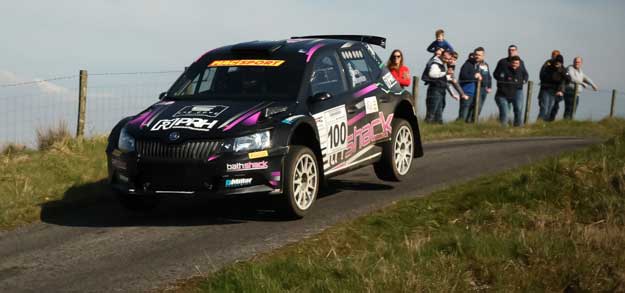 Portglenone's Desi Henry was the man to beat on last weekend's Eakin Bros Brian James Trailers Stages Rally. Co-driven by Cork's Liam Moynihan, Henry took victory in his Skoda Fabia R5 by 14s from Callum Devine/Brian Hoy in their Fiesta R5. Henry didn't have it easy at times, the handling of his Skoda not to his liking and he re-arranged the bodywork of the Fabia on one stage with a trip into the roadside banking. Callum Devine also struggled a bit with the handling of his car and then following some adjustments he got well on the pace towards the latter end of the six stages. Kevin Eves/Chris Melly produced a stunning performance in their rear wheel drive Corolla to finish 3rd o/a.
Current NI Champion Derek McGarrity, with Paddy Robinson co-driving, got off on the wrong foot with an overshoot on the opening stage, and then fitting too hard a compound tyres to his Fiesta WRC just when he was making a charge up the leaderboard towards the end. McGarrity finished 4th. Ryan Loughran/Frances Doherty were 5th in their Mk2 Escort and Derek McGeehan was 6th in his Mini WRC. Derek had his son Mark co-driving and the Draperstown crew were hampered slightly by problems with their Mini WRC paddle gear change.
The big bonus for Derek was maintaining his lead in the McGrady Insurance NI Rally Championship, of which this Maiden City MC event was round three. The remaining top ten places on the rally were taken by Sean Devine (7th), Alan Carmichael (8th), Group N Winner Niall Devine (9th) and Camillus Bradley (10th). Major retirements included Manus Kelly (accident) and Phillip Allen (fuel pressure)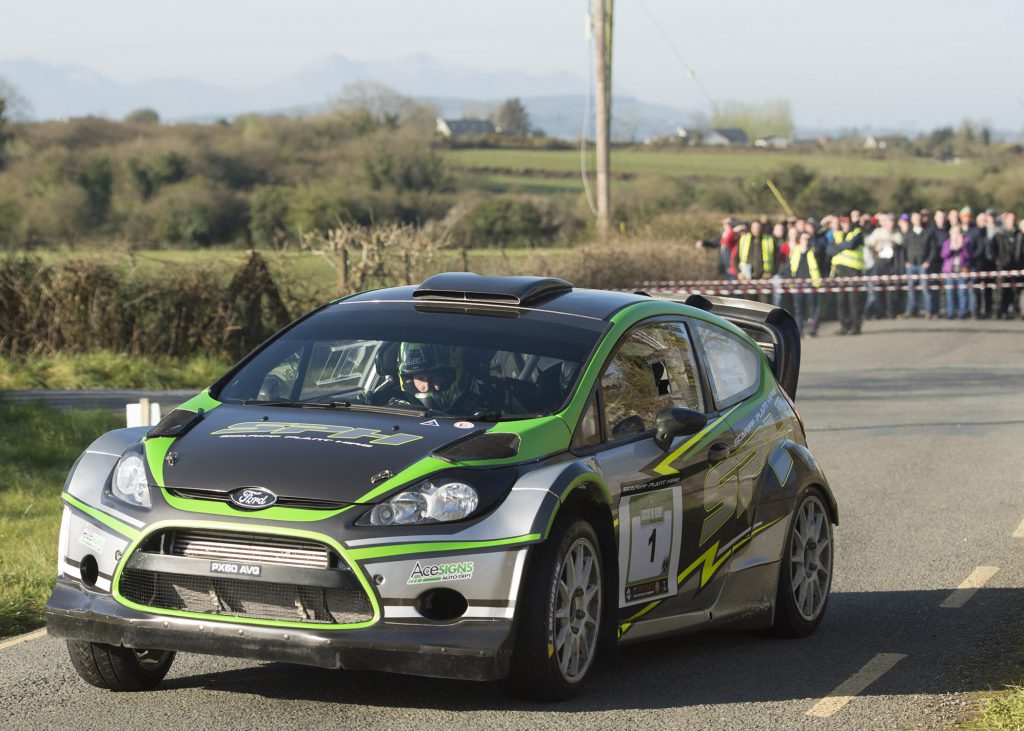 Also last weekend was the Rose Hotel Tralee backed Circuit of Kerry Stages. Ed Synan/Tom Collins in their Subaru S12B took an early lead on this classic 9 stage event from Daragh O'Riordan/Mikey Walsh in their Fiesta WRC. However, Synan retired because of a mechanical problem with his Impreza, leaving O'Riordan to take victory. Pat O'Connell/Adam Coffey made a conservative start to the day as Pat hasn't rallied much lately, but he certainly got his Lancer up to speed as the day progressed and finished a solid 2nd o/a.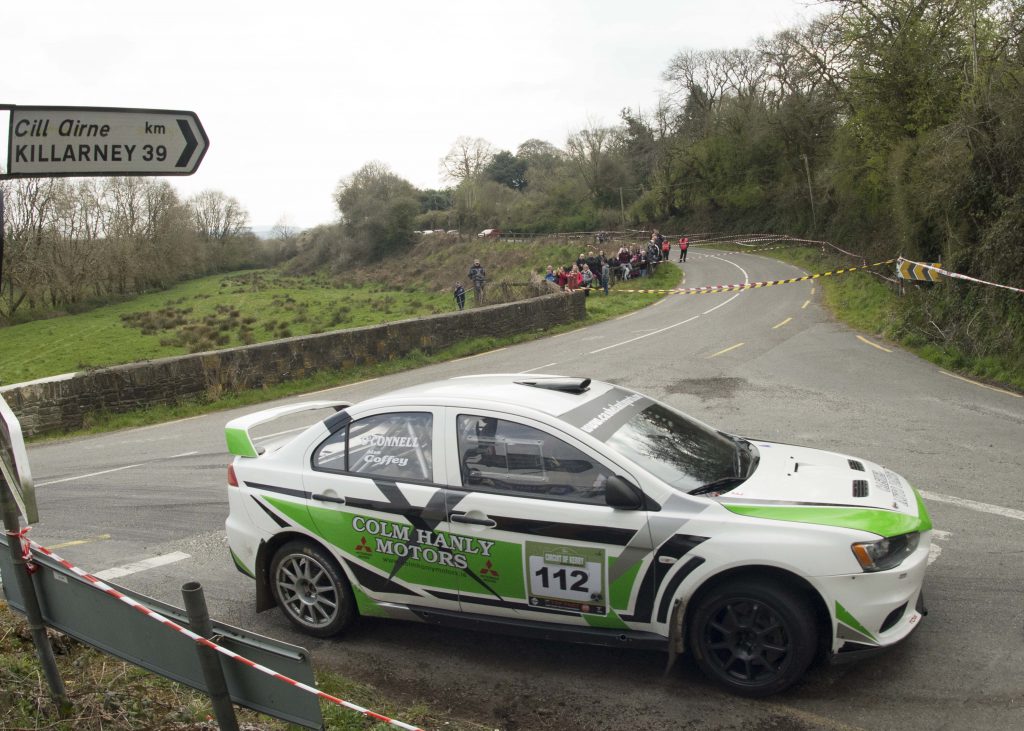 Pat said afterwards, "The conditions were good, dry all day although there was a bit of gravel pulled out in places. We weren't expecting much from the day, but when we got going it was grand and I could hardly believe it when we got 2nd." Welshman Tomas Davies, who switched for this event from his R5 to his Mk2 Escort, also had a great run finish 3rd o/a and best two wheel drive. Keith Lyons/Niall Burns were 4th in their Fiesta R5, Stuart Darcy/JJ Cremin (Escort) were 5th and Ian Roche/Anthony Nestor (Impreza S10) 6th.Maurice & Stephen Meskell won the Historics from Todd Falvey/Iarla McCarthy, both in Escorts. Donagh Crowley/Denis Nagle (Starlet) won the Junior category.
This coming weekend the rally spotlight switches to the Abbey Hotel based Moonraker Forestry Rally at Ballyvourney, the third round of this season's Valvoline series. Michael Carbin and Keith Power are currently joint points leaders and they are in the 80 plus strong line up.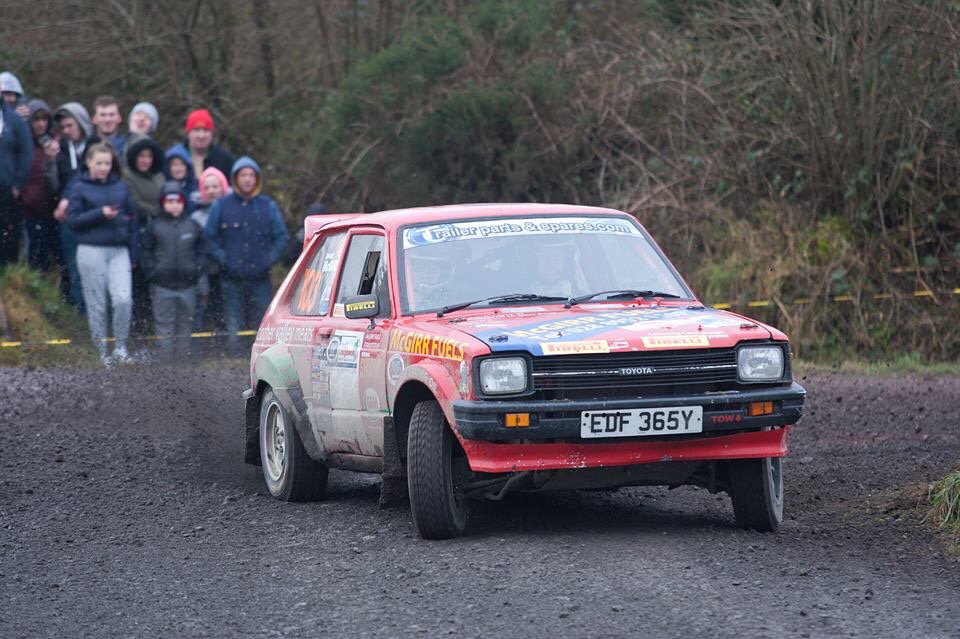 Just some of the top driver names include Barry McKenna (Fiesta R5) and Marty McKenna (Fiesta WRC). Cathan McCourt should be right in the mix, as should Niall Henry and Niall McCullough. The irrepressible Garry Jennings is a late entry in a Subaru. Some of the top two wheel protagonists include Adrian Hetherington, Mickey Conlon, David Crossen, Gary Kiernan and Shane McGirr. The R2 category should also be pretty interesting, with William Creighton (Peugeot 208) and Derek Mackerel (Corsa) sure to be in the thick of that battle. Clerk of the Course Sean Daly has laid on a cracker series of stages for this event, and if the dry weather continues into the weekend the competing crews should have a very good event.
Slightly further afield this weekend is the Rallynuts (Severn Valley) stages, 3rd round of the BTRDA series. Euan Thorburn in his Focus WRC has been the man to beat so far this year and is seeded at 1, with Northern Ireland's Connor McCloskey (Fiesta R5) at 2. Other drivers from here making the trip include Phillip Morrow in his GpN Lancer, while Frazer Mulholland moves to a modified Lancer after a couple of years in a R2 Fiesta. The rally utilises mostly mileage in the Hafren/Sweet Lamb complex plus some unused stages near Rhayader, and as well as being very good, will be quite a challenge as well.
Looking further ahead, attention is beginning to focus on the UAC's Easter Stages, round three of the Irish Tarmac Championship. The organisers have done a brilliant job in picking the stages – some of the most enjoyable roads imaginable. The icing on the cake is the quality of the entry for this Wastewater Solutions backed two day event (Friday 19th/Saturday 20th April). Craig Breen/Paul Nagle in their Fiesta R5 currently lead 'The Tarmac' and are seeded at number 1. Behind them they have just about every top name in Irish rallying, and it has the makings of a fabulous event. We will have more news next week.
Brian & Liz Patterson