Irish Notes 8th May 2019
Blessed with fine weather down the Beara Peninsula and through the Kerry countryside, last weekend's Killarney Rally of the Lakes was very memorable, and especially so for the winners, Craig Breen/Paul Nagle in their Fiesta R5. Alastair Fisher/Gordon Noble and Callum Devine/Brian Hoy, both crews also in Ford R5s,  had a tremendous battle throughout the 16 stages for 2nd place, Fisher holding his slender advantage to the end.
It was Ford Fiesta domination at the top. It is ironic then in a way, as Ford Motor Company always maintained that the road to success was to win on a Sunday and sell on a Monday. Immediately after the Lakes the news filtered out that Ford is considering transferring their Cork HQ to the UK.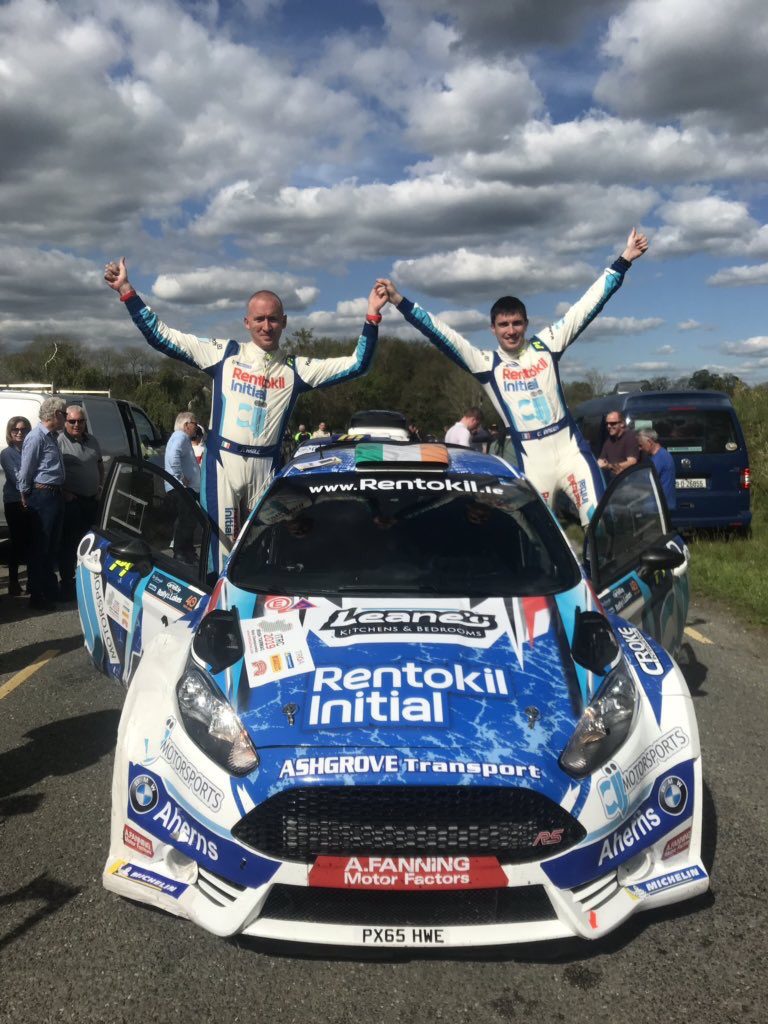 Certainly, the manner of Craig Breen's victory was impressive indeed. There was a slight intake of breath on the Sunday morning when an airborne deer came into contact with the front of his Fiesta, but apart from that, professional driver that he is, Craig displayed a copybook, unruffled supremacy. It was an especially significant win for his co-driver Paul Nagle. The Killarney man has won rallies in many parts of the globe, but a home win has always eluded him – until now.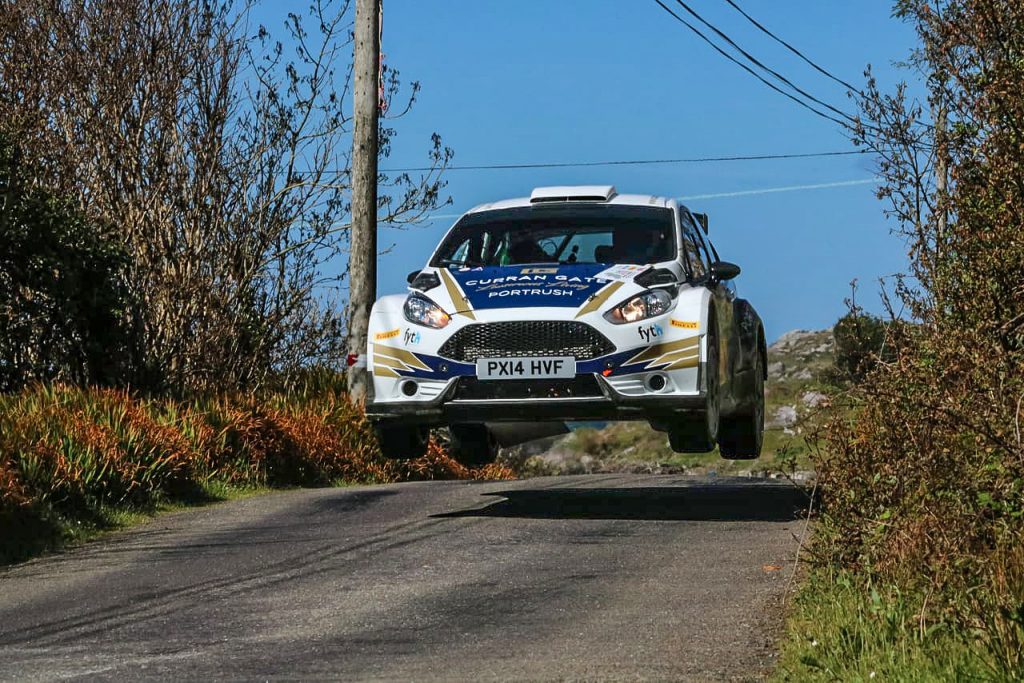 Alastair Fisher kept the pressure on Breen throughout the two days, and despite setting some cracking times Alastair couldn't squeeze into the top slot. Fisher was in turn looking over his shoulder at 'just trucking along' Callum Devine. Former Billy Coleman Award winner Callum closed to within 2 seconds of Alastair following the first run on Sunday morning over Molls Gap. Alastair then managed to pull out a little bit of time and was 12 seconds up by the finish. Desi Henry/Liam Moynihan finished 4th in their Skoda, Robert Barrable/Damien Connolly were 5th in a similar Fabia R5. William Creighton/Liam Regan had an absolutely brilliant run in their Peugeot 208 R2 to finish 6th o/a and win their category.
Top retirements from the 105 starters included Josh Moffett and Manus Kelly (accidents), while Sam Moffett's Fiesta succumbed to a broken wheel on the final stage and Johnny Greer's R5 suffered a mechanical problem early on.
Chris Armstrong/Gavin Doherty in their Escort had a good win in the National section of the rally.  Rob Duggan/Mikie Galvin put on a scorching display of speed in their fight back from an early time loss to bring their Escort into 2nd place. Aidan and Shane Buckley, also in an Escort, were 3rd. Alan Ring/Adrian Deasy have been out of rallying for some time and they did well to win the Historics, with Duncan Williams/Llion Williams 2nd in their Escort having led for much of the way. Ray Cunningham/Jared Gill were 3rd in their Mini Cooper and still lead the Historic points in the Tarmac Championship.  Damian Toner, who missed Killarney, still leads the National points. In overall terms Craig Breen, with four wins out of four, has a solid lead of 68 points, with Alastair Fisher on 50, Desi Henry 32 and Callum Devine 30.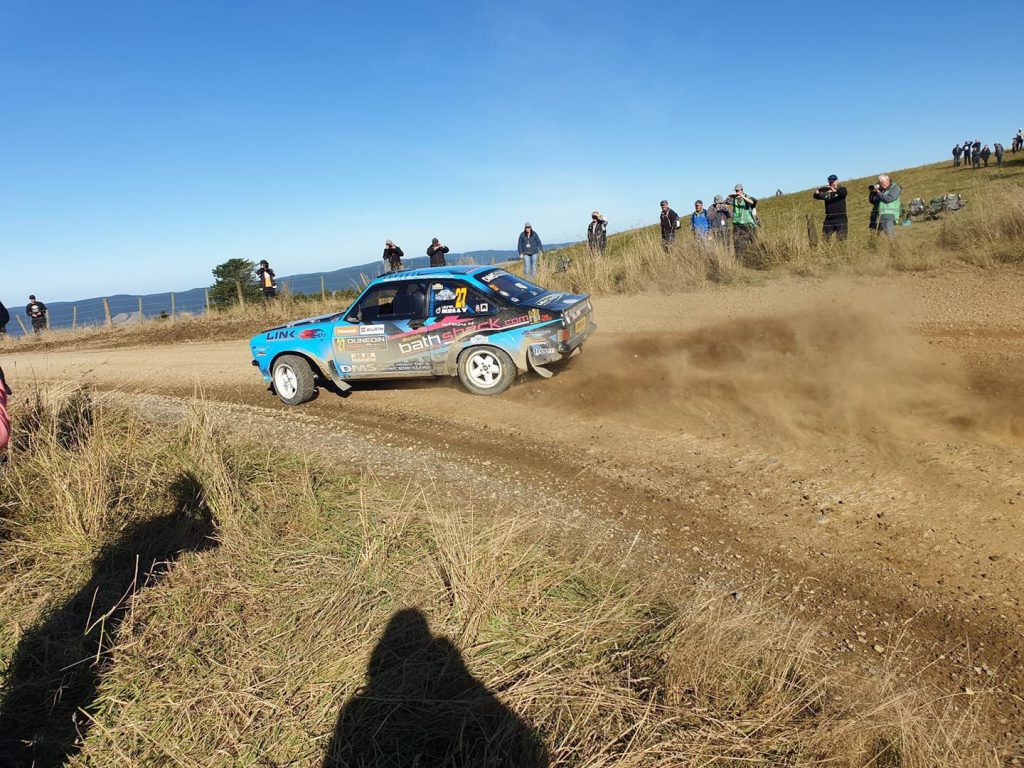 Also last weekend Frank Kelly, co driven by his daughter Lauren contested the Rally Whangarei in New Zealand.  Frank reported that the stages were fast with big wide cambered roads, some of it was twisty and technical.  He had to push very hard to keep up with the local drivers and then got one corner over a bridge wrong and his Escort dived into a field, but connected with a concrete water tank on the way which caused a bit of damage. His small dedicated team worked all night to get Baby Blue ready to day 2 and happily he completed the remainder of the stages, as usual having a ball in his own sideways style! He did admit that he obliterated many tyres….
Earlier this week the Enniskillen Club ran their Erne Skip Hire sponsored May Day Stages at St Angelo. Once again the club had a great entry of over 100 cars. To the best of our information Cathan McCourt in a Subaru S14 ran out the winner, Damien Toner and Damien Tourish, both in Escorts, were 2nd and 3rd. Derek McGarrity led for most of the day but his Fiesta R5 had throttle motor problems two stages from the end, and Derek had to pull out. Kenny McKinstry was a late entry, driving a Fiesta R5 which he has acquired to bolster his hire fleet, and without any real testing Kenny finished outside the top lot.
Looking forward to this weekend, there is quite a lot happening on the rally front, with the WRC in action in Chile, the Carlow Stages and the Magherafelt MC Targa event at home, the Manx National in the middle of the Irish Sea and the Plains Rally on in Wales.
Eleven WRC 'P1' drivers top the list in Chile. Hyundai is fielding three cars –  for points leader Neuville, Andreas Mikkelsen and 9 times World Rally Champion Sebastien Loeb. The stages will be new to all the WRC drivers, which will make it a new challenge. Tanak, Latvala and Meeke will drive for Toyota as usual, Citroen has current Champion Ogier and Lappi, while M-Sport Ford has Evans and Suninen. Privateer Lorenzo Bertelli is also making the trip, to drive an M-Sport Fiesta WRC. There is a select list of R5 drivers entered as well, with Gus Greensmith making the long trip from the UK to compete and keep the momentum going on what has been a great season for him so far.
Carlow Mini Stages COC Alan Corrigan has laid out two very tasty asphalt stages each repeated three times. The rally has again attracted a great entry of mostly two wheel drive cars, chiefly Escorts. Ironically though, there are three Darrians and a Mitsubishi in the top six! Last year's winner Barry Meade, with Colin Fitzgerald co-driving in his Escort, will lead the 100 crews away for what should be a cracking rally. James M Stafford/Jeff Case are at 2, Ian Barrett/Paul McGee at 3 and Kevin Gallagher at 4, all in Darrians. Pat O'Connell and co driver Mark Wiley, fresh from a meritorious 2nd place on the Circuit of Kerry Stages following quite a long rally lay-off are at 5 in their Lancer. David Condell/Paul Kelly are at 6 in their Mk2 Escort and behind them are a plethora of quick men in Escorts. The rally, a counter in the Midlands East Rally Championship, also features the now well established Carlow 'Mk 2 Challenge'.
Over the years the Manx National Rally has seen some strong entries from Ireland, but the logistics of competing on the Island are far from easy and there are less now making the trip. Some of those who are include Donegal men Martin Doherty/Kevin Flanagan in an Escort RS1800, another Donegal crew Aaron McLaughlin/Darren Curran (Fiesta), also John Devlin/Ashley Trimble also in an Escort, Dessie Nutt/Geraldine McBride (Porsche 911). Jason Pritchard and Hugh Hunter, both in Focus WRC machinery are the top two seeds. In the Chris Kelly Memorial part of the rally, further crews making the trip from here include Ian Chadwick/Kevin Horgan (Impreza).
On the Plains Rally, the man of the moment, leading the BTRDA Gold Star Championship is Euan Thorburn/Paul Beaton in a Focus BRC. Mark Donnelly and Connor McCloskey made the trip over for the last BTRDA rally, the RallyNuts event, and the two NI drivers in their respective Fiestas managed  a 2nd and a 4th place. No doubt they will be trying everything to move up the finishers list this time! In the Fiesta Trophy category David Kelly/Kenny Bustard are currently lying 3rd and they will almost certainly also be doing a bit of 'catch-up'.
The Magherafelt MC Targa Rally, sponsored by PPP Group, has reportedly received a full entry. Just some of the interesting 'names' entered include Eamonn Byrne (Yaris), Frank Lenehan (Starlet), Jack Brien (MX5) and Fintan McGrady (MX5).
Finally for now, it is with immense sadness that we mark the death of Bryce Sands. Bryce, from Ballygally in Co. Antrim was a very highly respected rally organiser and was associated with the Ulster Rally for most of the last forty years. He was not a man to seek the limelight, but did a huge amount of work for the Ulster and several other motor clubs and rallies. He was one very sound man and had unshakeable integrity. Rallying will miss him, and as a person he will be a big loss to society. To his wife Phyllis, his two daughters Gillian and Beverley, his son Brian and to the wider family circle and to all his friends and associates we offer our deepest condolences.
Brian and Liz Patterson and family: