Irish Notes 24thJuly 2019
Last weekend was certainly a momentous one for sports fans, as Shane Lowry was cementing his record round at Royal Portrush, Fermanagh's Jon Armstrong was chalking up his first rally win by some margin on the Carryduff Forklift backed Down event. It certainly wasn't all plain sailing for Lowry nor Armstrong on his first competitive run in a World Rally Car. Co-driven by Noel O'Sullivan, Jon settled into his first drive in a Mini Countryman WRC and he was soon right on the pace with the leaders. Then on stage 4 his Mini WRC incurred a puncture, which dropped him back and his leadership bid then really intensified.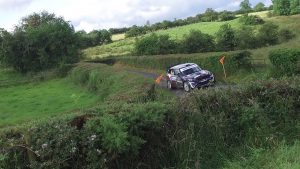 Through those early stages Jonny Greer led and looked as if he was on course to repeat his win of last year, but unfortunately for him gearbox woes intervened. Also right in the frame early on was Merion Evans, but he crunched a front wheel of his Skoda R5 into a kerb and he also was forced to retire. Stephen Wright/Liam Moynihan in their Fiesta R5 then led, but were overhauled by the Armstrong/O'Sullivan combo and they took victory by 20 seconds.  Daniel Harper/Chris Campbell made it two Mini WRCs on the podium with their 3rd place finish. Harper also had the satisfaction of being top points scorer of the Protyre Tarmac Championship contenders. Melvyn Evans/Aled Davies had a steady run in their Fabia R5 to take 4th.
Derek McGarrity/Paddy Robinson had all sorts of headaches on their way to 5th. Derek picked the wrong tyres initially, then the rear anti-roll broke and on another stage his Fiesta WRC picked up a puncture. Derek reckoned at day's end that he really only had one clean stage. Still, he was realistic in realising that he couldn't have done a whole lot better than 5th and the result keeps him in the NI Championship hunt. He did pay tribute to Jon Armstrong's drive and commented "He is certainly one of the top three fastest drivers in this country: he just needs a bundle of money to make it happen!" Steve Wood/Keith Moriarity finished 6th in Steve's recently acquired Fiesta WRC. Damien Toner/Barry McParland produced another brilliant drive to finish 7th, best two wheel drive. This result does their strong position in the NI Championship no harm at all.
Jon Armstrong wasn't registered for the NI series, so Stephen Wright was top points scorer and this result encourages him to continue with the Championship as the next round, the Lakeland Stages, which is of course a gravel rally, which Stephen says is his preferred surface. Derek McGeehan, who finished a fine 8th in his Mini WRC with his son Mark co-driving still leads the NI points, although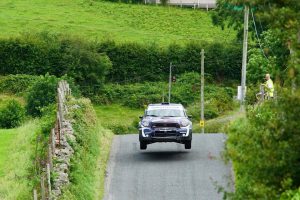 he has scored on every round and will eventually have to drop a score.
We wrote in last week's Irish Notes that Stanley Orr was one of several drivers contesting the Historic part of the Down Rally – wrong – Stanley ended up driving a Toyota GT86 and Drew Wylie/Allan Harryman were best Historic finishers in their Escort.
Hard luck stories there were aplenty including one on former NI Champion Stuart Biggerstaff. He was well on the pace but decided to pull out when his hired Fiesta R5 developed power steering problems. There were lots of meritorious drives as well on this rally, but none more so than Jon Armstrong's. He first sprang to prominence on the Ulster Rally several years ago where he aced all the BRC drivers until going off the road. He got involved in and won the World Esports Championship as he didn't have the budget to go proper rallying. A brief foray into the Dmack Cup a couple of years ago gave a taste of Jon's ability, and his reward was a drive in the WRC2 Fiesta in Rally Germany and Spain. It was great to see him out on the Down Rally and hopefully we will see him on the real stages again, the sooner the better. Armstrong commented at the finish: "That was an unreal day". Well, it looked real from the outside!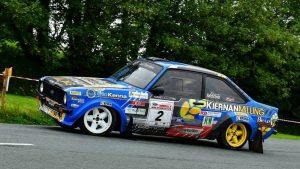 On the Sunday the rally spotlight switched to South East Ireland and the Imokilly Stages where Gary Kieran/Daren O'Brien performed a near miracle by taking victory by just over 1 second from Richie Moore/John McGrath (Fabia S2000). This was after the Kieran Escort sustained a 50 second puncture on stage 3. As, several hundred miles North of Midleton, Offaly man Shane Lowry was showing the world's best golfers how it should be done, Gary Kiernan had his own mountain to climb through the three remaining wet Imokilly stages. He 'drove like the wind' to attain his goal. Vincent McSweeney/Michael Kearney were a very good 3rd in their Lancer, David Guest (Skoda) was 4th, Frank Kelly (Escort) 5th and Welshman Tomas Davies (Escort) 6th. Frank Kelly, whose Escort was on wrong tyres in the beginning, made a slow start, but then set a fastest time on stage 3.  He said after the event: "It was a good rally and very satisfactory for me. I really enjoyed it and the format allowed me to experiment and alter the front suspension geometry as I haven't been happy with the car on fast corners recently. I think we have found the answer."
Also last weekend, slightly further away, David Higgins won the New England Forest Rally for Subaru USA. Barry McKenna/Andy Hayes were 2nd in their Fiesta. Young Oliver Solberg was fastest on three quarters of the stages but ended up 5th after some disastrously time consuming punctures on his Subaru on day one. Both Frank Cunningham and Seamus Burke were amongst the retirements.
On the European Championship Rally Di Roma Capital, Giandomenico Basso in his Skoda R5 took the win, with European Champion Lukyanuk (Citroen R5) down in 4th following road penalties. Chris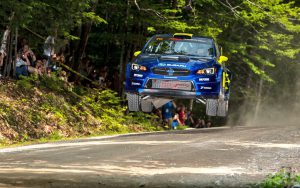 Ingram/Ross Whittock (Skoda) finished down in 6th. Chris was not particularly happy with his own driving on this one, but is still well placed in the series and was 3rd in the points after the last round in Poland, with the points still to be updated at time of writing.
On the Rally Weiz, a new round of the European Historic Championship in Austria, 'Lucky' and Fabrizia Pons took victory in a Lancia Delta Integrale.
Looking forward to this weekend, the Cork Forestry takes place over class stages on the Saturday and Sunday, and has some class drivers as well. Both the 4 wheel drive and 2 wheel drive divisions look to be very competitive. In 4WD Barry McKenna, who was a leading light on last year's Cork Rally, will face some very tough competition from the likes of Donagh Kelly, Sam Moffett, Cathan McCourt and Valvoline Forest Championship points leader Michael Carbin. In the 2 WD division, David Crossen in his Escort seems to be the man to beat at the moment, but he faces the toughest opposition from the likes of Shane McGirr, Marty McCormack, Gary Kiernan and a whole lot more. Some very talented Junior competitors to look out for include Jordan Hone in his Opel Adam R2. To add spice to the mix there are some very good 'Junior 1000' drivers such as Donegal's Kyle McBride and Peter Beaton from Scotland.
We are only skimming over the wealth of talent in all the divisions of this rally. CoC Paul Casey has put together a great combination of stages, including the Ballyhoura territory, 150 km of competitive tracks. The event is being sponsored by Crafted Fitted Furniture and the service halts are at the Annabella Complex in Mallow on the Saturday and on the Sunday at the Mallow Autograss in the heart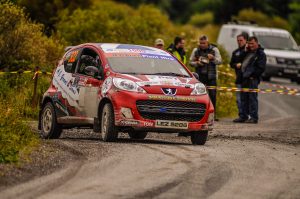 of the Ballyhoura Mountains.  The first car away from the start is at 10.00hrs on the Saturday and the Finish is at 17.15hrs on Sunday. The opening stage, Mount Hillary, is at 10.55 on Sat morning.
Missing from the Jim Walsh Cork Forestry line up is Adrian Hetherington: he is heading over to Wales for the Harry Flatters Rally, as is Stanley Orr, both contesting the British Historic Championship.
Interesting figures: on the Junior section of the BRC, with the 17th August Ulster Rally the next round, Josh McErlean has so far won £6,000 in Peugeot bonus money, William Creighton £5,500 , James Wilson £3000 and Marty Gallagher £1000. Interestingly, Wilson is to drive a Hyundai i20 R5 on this weekend's Cork Forestry. Having had a run over the Ulster stages just outside Newry, we can report that they are very good, immensely challenging, a real test and at the same time very enjoyable.
Talented and likeable New Zealander Haydon Paddon is to drive a Fiesta WRC on next weekend's Neste Rally Finland (1st – 4th Aug), so that will be another new face alongside Craig Breen (Hyundai) and Gus Greensmith (M-Sport Ford Fiesta WRC).
"The apple never falls far from the tree" is a saying that has been around for a long time but could have been created for 2013 World Rally Champion Petter Solberg and his rallying sensation son Oliver. Now Petter is to mark his rallying retirement by driving a VW Motorsport Polo GTi R5 on this October's Wales Rally GB and his son Oliver, to mark his 18th birthday and the appropriate licence, is to drive an identical VW. Stand back for fireworks! Phil Mills won the World Rally Championship with Petter and he is stepping back into the hot seat for this one last Petter rally fling.  Tyrone's Aaron Johnston will sit with Oliver.  No doubt the spectators are in for a treat.
Regards, Brian, Michael & Liz Patterson