On last weekend's Galway International Rally Fermanagh's Alastair Fisher, co-driven by 'Gordy' Noble, took a first stage lead in their Dom Buckley prepared VW Polo GTI R5, then stayed in front for the rest of the day. Donagh Kelly/Conor Foley (VW Polo GTI) and Sam Moffett/James Fulton (Hyundai i20 R5) had a massive battle throughout the day's 9 stages for the runner up spot with Sam Moffett fastest on the final stage to just ease ahead of Donagh Kelly, taking 2nd place by 1.7 seconds. Fisher won by over 20seconds.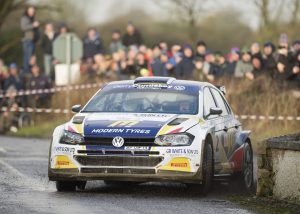 However Sam Moffett was subsequently excluded from the results by the stewards as his car did not appear at post event scrutiny as instructed. Sam Moffett has the right of appeal to this Stewards' decision, so the results remain provisional in the meantime, as they appeared at the rally finish. This does mean that all the crews who finished behind Sam Moffett will move up one place if the Sam Moffett appeal is unsuccessful. Obviously, championship points already published will need to be revised.
Earlier in the rally Desi Henry/Stuart Loudon had made a push for a top three slot but their Hyundai stopped in stage 4 because of a broken hub. Garry Jennings was expected to figure but the Subaru driver decided overnight, with thoughts of last year's rally tragedy still on his mind that, in consideration of his wife Kerry and his young children that he would not start the rally. 69 crews did start. Meirion Evans/Jonathan Jackson put up a good performance in their Polo GTI R5 to take 4th, Josh Moffett/Keith Moriarity (Hyundai) finished 5th and Stephen Wright/Liam Moynihan (Fiesta) were 6th.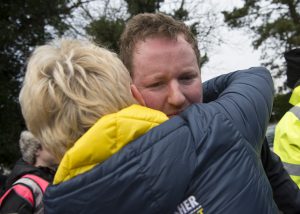 Alastair Fisher remarked at the Clayton Hotel finish of this Corrib Oil backed rally, "It is good to take our first Tarmac (Championship) win." Co-driver Gordon Noble said, "The VW was new to us, and we softened the suspension, but otherwise everything went well. We had a good run over the early stages and then managed our lead, went reasonably quick, although sharp enough at times as Donagh Kelly and Sam Moffett were battling hard behind us. That kept us on our toes. The gap was manageable, but we didn't dither. Conditions were quite tricky, heavy showers, some small puddles, mud on the road. We picked a 'wet' Pirelli tyre from the start, and stayed on them." For Alastair it was quite a relief to win, not just because this was his first run in the VW, more down to the fact that he has been so close to a 'Tarmac victory' so many times, but up to now it always eluded him.
Forestry Champion Cathan McCourt finished 7th in his Fiesta, Declan McCrory 8th. Declan is shown in the results as having won 'RC3' but his co-driver Stephen O'Hanlon told us that their Fiesta was a normal R5 car and the results 'RC3' classification was an error somewhere along the line. He also said that they had a subdued rally following a very big 'moment' early in the first stage, but they did learn a lot on the event! Paul Barrett was 9th in his Fiesta R5 and William Mavitty, in his Lancer was 10th. Eamonn Kelly won RC4 in his Fiesta R2T, with Jason Dickson 2nd in the class and Johnnie Mulholland 3rd. Early retirements from the top runners, as well as Desi Henry, included Daniel Cronin, Eugene Donnelly and Joe McGonigle. The latter was in a new Fiesta R5 and was delighted with his new car. He did manage to get on the pace in the latter part of the day but lost time early on with a puncture and then towards the end got caught in very heavy rain and the car aquaplaned into the scenery, causing some rear suspension damage and retirement for the day.
Pat O'Connell, co-driven by Mark Wiley in his Lancer, won the National part of the rally, from Jason Black/Karl Egan (Starlet RWD) and with Richard Whelan/James Whelan 3rd in their BMW 1 series. Jason McSweeney/Liam Brennan (Fiesta R5 RHD) are shown in the results as having won the National, but this is not so. They were in class 24, which really should have had its own section. Pat O'Connell, who remarkably was on his first Galway despite his years of experience, commented afterwards, "We had a really good run, no problems. I felt the conditions were not as bad as they appeared, thought it would be worse, maybe a little smooth tar on Blacks Road, but mostly pretty good grip despite all the water and mud." Maurice & Stephen Meskell (Escort) won the Historics and Noel & Jason Murphy won the Juniors by a slender 4 seconds from Gareth Deazley/Ashley Boulton, both crews in Civics.
Also last weekend Kris Meeke, driving a Mk2 Escort, took a storming victory on the Boucle de Spa Legends. Mikko Hirvonen and Craig Breen were anticipated to be his likely main rivals, but that wasn't to be. Hirvonen had some early trouble with his Mk2 Escort and finished down the order somewhat. Breen withdrew his entry when he was nominated to drive for Hyundai on Rally Sweden. Craig and his co-driver Paul Nagle are due to commence testing for Sweden this week.
Further news on Craig Breen is that it was announced yesterday that he and co-driver Paul Nagle have concluded a deal to contest the full ERC in a Team MRF Tyres Hyundai i20 R5 prepared by the Italian outfit BRC Racing. Craig said: "I am really happy to start this adventure with MRF Tyres. We worked together last year placing emphasis on tyre development. It will be a great adventure to get back to some rallies I have done in the past along with some new rallies."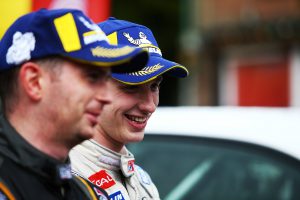 This weekend coming heralds the opening round of the British Rally Championship, the Cambrian, in North Wales. The event is also the opening BTRDA counter. Just over 20 crews have entered for the BRC part of the event, with top names including defending Champion Matt Edwards, Tom Cave and Rhys Yates. Billy Coleman award winner Josh McErlean, to be co-driven by Keaton Williams in his R5, is hoping that he will be able to mix it with the top crews. Valvoline forestry champions Cathan McCourt/Barry McNulty should also be in with a shout, as could Alan Carmichael/Claire Williams (Fiesta R5). Just some of the other drivers who are making the trip from here include David Kelly, William Creighton, Brian Brady and Brendan Cumiskey. Shane McGirr is having a crack at the BTRDA part of the rally in his Starlet, with Denver Rafferty co-driving.
Further ahead, on the 15th February, is the North Armagh Club's Kirkistown stage rally, opening round of the McGrady Insurance NI Championship. The series this year is being cut back to five tarmac events, and following Kirkistown it will be the Bishopscourt Stages (7th March), Maiden City (25th April), Sperrins (6th June) and Tyrone Stages (18th July).  There will be a separate NI Challenge series for those competitors wanting to compete in the forests.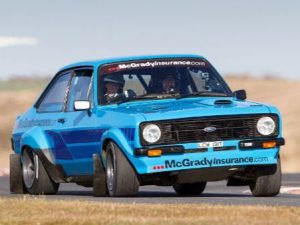 Rally Sweden will go ahead, albeit with a heavily revised route including two days in Norway. After a day of discussions and driving through the stages on Tuesday, representatives from the organisers, the FIA and WRC Promoter agreed to run the Torsby-based World Rally Championship event despite drier and warmer conditions than Rally Sweden CEO Glenn Olsson says he can ever remember. Two-time world champion co-driver Timo Rautiainen inspected the stages and, based on his report, the revised schedule of stages was agreed. The new timetable will include 112 miles of stages, with a single pass of Norwegian tests on Friday and Saturday – these replace the southerly Swedish roads initially planned. The Torntorp, Hagfors and Vargåsen stages will be dropped – meaning Colin's Crest will not be included on the route next week. Thursday night's superspecial stage in Karlstad remains, as does the Torsby Sprint test on Saturday evening. Sunday's Likenas test also stands, with the second stage becoming the power stage. The Historic segment of the Swedish has been cancelled.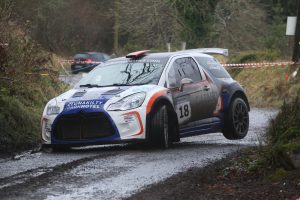 Preparations are coming on well for next month's Clonakilty Park Hotel West Cork Rally. Round 2 of both the ITC and the BRC, the event will have a rally launch this Friday (7th) in conjunction with the Clonakilty Chamber of Commerce at 8pm in the Clonakilty Park Hotel.
There is a meeting planned to take place this Wednesday evening at 8.30 in the Hibernian Hotel, Mallow. This has been prompted by clubs and competitors voicing their dissatisfaction/disillusion as to how the wind is blowing in several Irish Rallying matters.
 Regards, Brian, Liz & Michael Patterson