It was one step forward and one back for Irish Rallying this week with the news that the 1000 Shakes Navigation Trial had to be postponed, but to counter that sad tiding the entry interest, for both the William Loughman Forestry event as well as the Galway Rally, is looking healthy. The Cork based '1000 Shakes', an iconic event going back and beyond the days of Bones O'Connor, was looking good in the run up, but then had to be pulled because of an insurance worry triggered by an accident the previous weekend on the Monaghan Trial. Hopefully normal service will be resumed sooner rather than later.
This weekend's William Loughman event was boosted by the entry of Garry Jennings, to drive one of Kenny McKinstry's Subarus, with Rory Kennedy co-driving. The rally has a very strong entry in any case, with Barry McKenna the No.1 seed in his Fiesta R5, in respect of the New York based driver's 2nd place finish on the event last year. Andrew Purcell won that one, but there is no sign of an entry (as yet) from the Waterford based man. Josh Moffett and his brother Sam are seeded at 2 & 3. Garry Jennings is at 4, Marty McCormack (5) and Cathan McCourt at 6. We mentioned before that Ray Breen was aiming to come out of retirement for a blast through his local forests and he is seeded at 7, to drive an Eoin Doyle Fiesta R5. Quite a line-up, and the top rated drivers don't stop there, with Patrick O'Brien, Niall Henry and Ger Lucey making up the top ten.
There is a strong turn out of young drivers as well in R2 type machinery – amongst them James Wilson, Derek Mackarel, William Creighton, Marty Gallagher and Josh McErlean. The overall 2wd category makes for interesting reading also, with Mickey Conlon, David Crossen, Shane McGirr, Adrian Hetherington, Vivian Hamill and John Gordon just some of the expected pace setters.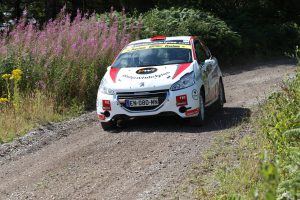 All in all the entry reflects the strong popularity of the Valvoline sponsored forestry series, and bodes well for the season. The drivers will face three stages, each repeated, on Sunday.
Meanwhile the entries continue to pour in for the 10th February Galway Int. Rally. Besides the dozen or so 'R5' machines there will be several World Rally Cars. Two times Galway Rally winner Garry Jennings has told us that his Subaru's engine is going on the 'dyno' this weekend, following a winter rebuild, and he and the car should be A1 for the event. Galway didn't run last year, and Garry won it in 2016 and 2017, so if he were to win this time that would be his hat-trick. Darren Gass has now entered, with Enda Sherry co-driving in Darren's Impreza WRC S12. Darren remarked that he hasn't driven the car for quite a while, and that he is looking forward to a day's craic in Galway, and he doesn't care if he finishes 1st, 5th or 10th! Also making the trip is Joe McGonigle/Ciaran Geaney in their Mini WRC. Quite often in past years the Galway Rally has provided wet, muddy and slippy conditions, which seems to suit the Donegal man quite well. Fresh from winning at Ballykelly a few weeks ago, Joe is now recovered from flu and raring to go on this opening 2019 Tarmac Championship round, although his main target is the Triton Showers National series, which of course doesn't begin until Birr on the 24th February.
World Rally Car drivers cannot score points in the Tarmac series, so the predominantly left hand drive R5 cars are the preferred choice for most of the top drivers. There are moves afoot on the subject of 'mirror image' right hand R5 cars, of which more news should be forthcoming in the next week or so.
Looking forward to the summer, Plum Tyndall & Beatty Crawford are organising a Donegal 'Déjà Vu', to be based in the Jackson's Hotel Ballybofey at the end of August this year. The Déjà Vu events that they have organised over the past couple of years have raised over €100,000 in total. This is a staggering achievement. The charity which has been picked for the Donegal Deja Vu is the Donegal Hospice.
Events coming up in the near future include the 9th February Mid-Antrim MC Rosspark Hotel Targa Rally. The regulations were no sooner published than the entry was more or less full. The 16th February Fivemiletown Samsonas forestry rally is also attracting interest, although not to the same extent as the Targa, and the Omagh MC has quite a few entries in already.
Finally for now, there was good news confirmed at the Autosport Show for NI co-driver Aaron Johnston – he is to partner Oscar Solberg for the season in a VW Polo GTi R5, starting with Rally Aluksne in Latvia this weekend.
Brian & Liz Patterson