'Encouraging Start' was the general verdict regarding the opening round of the Valvoline Forest series last Sunday on the William Loughman Memorial Rally. Marty McCormack/Barney Mitchell in Marty's Skoda Fabia R5 took victory by 10 seconds from Andrew Purcell/Mark Wiley (Fiesta R5) with Garry Jennings/Rory Kennedy 3rd in a McKinstry Subaru Impreza WRC. Marty McCormack commented afterwards: "I really enjoyed the day out, and it was great that all the top competitors finished, it was a great fight. I put my head down, determined to have a good run or put it upside down in a ditch. Andrew Purcell took a few seconds off me on the penultimate stage, and I could see from the state of his car against the chicanes he was taking no prisoners, so I really stayed 'on it' through the last stage!"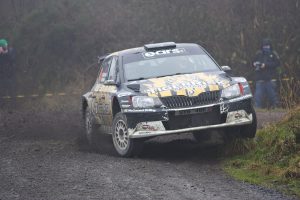 Garry Jennings had led the event after the opening stage, but a slight worry over his Subaru's gear change meant Garry being a slightly cautious through the remaining five stages. (Well, remaining four stages really as the top cars did not compete on stage 3 when intense fog made the going precarious.) Sam Moffett finished fourth, Barry McKenna, slowed by the effects of a very bad cold cold, was 5th and Niall McCullagh took 6th.
An interesting finisher was Brendan Cumiskey/Ronan O'Kane in a right hand-drive Skoda Fabia R5. This was the car's debut, and of course it has just been announced that for the first time R5 cars in right hand drive configuration will be able to compete on the Irish Tarmac Championship events, running in the newly formed class 24. The crews of these RHD R5s (derivatives) will run under the 'modified' banner but will not be eligible to win the Modified section or the overall section. They will only be eligible to win class 24, but will be allowed to score Tarmac points in the overall section. Very convoluted, but hopefully everyone gets the picture: the main thing being they will be in there competing.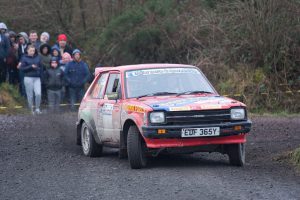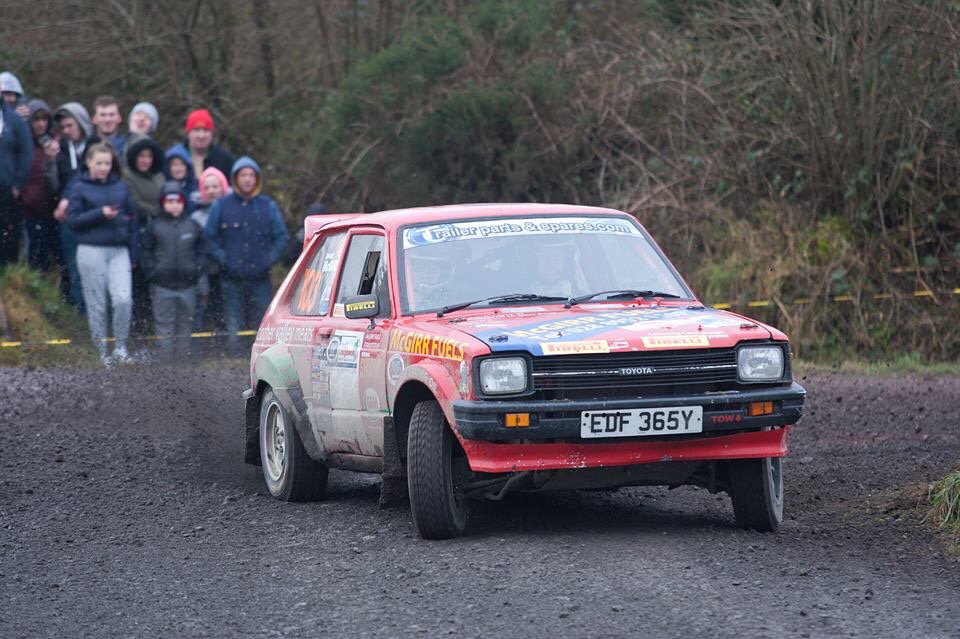 Peter McCullagh/Calum McGuire were 11th and won GpN in their Lancer. Shane McGirr/Liam McIntyre took top two wheel drive honours in their Starlet, with Adrian Hetherington and Mickey Conlon 2nd and 3rd in their respective Escorts. David Crossen set the 2wd pace initially, but his Escort was sidelined by punctures and then mechanical issues. William Creighton/Liam Regan finished best 'R2' in their Peugeot 208 and won class 2 and were a fine 20th o/a. Another class has been introduced for R2 – class 16A, and it was won by Josh McErlean/Liam Moynihan, also in a Peugeot 208. They finished 25th o/a and won the Junior Award. Reece Pollock/John Burke in their Micra won the M O'Brien sponsored J1000 category.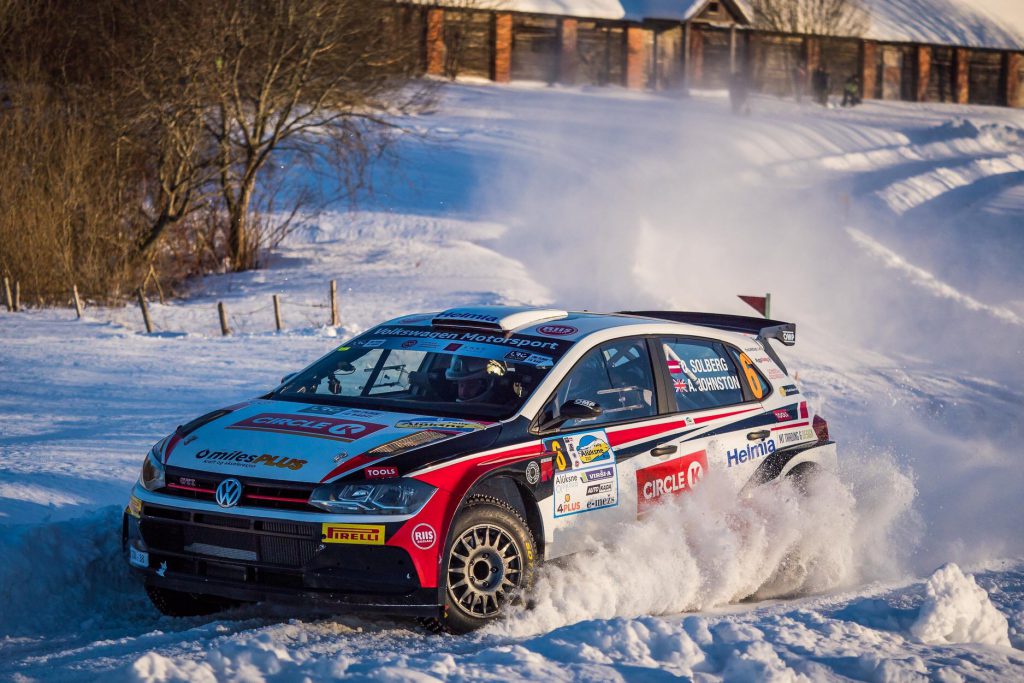 Also last weekend but a bit further away, young Oliver Solberg, with Aaron Johnston from Fintona in Co. Tyrone, co-driving in their recently acquired VW R5, took victory on the icy and snowy Rally Aluksne. Oliver is the son of WRC Champion driver Petter.
Even further away, Nasser Al Attiyah won the Dakar Rally in Peru, driving a Toyota Hi-Lux. For some unquantifiable reason it reminded us of the days when Scotland's Andrew Cowan was winning (African) Dakar events in Mitsubishis, as well as mentoring Tommi Makinen to multiple World Rally Champion titles. Nasser's Toyota on the Dakar was 'private', prepared in South Africa, but Toyota factory representatives were on hand to have a look at proceedings. Nasser, co-driven by Matthieu Baumel, did a brilliant job through the massive, non-stop dunes of Peru. Some of those dunes were as big as mountains. He is definitely king of the desert stages. Sebastien Loeb finished 3rd. He was fastest on many days, but incurred problems on others with his big 'private' Peugeot desert racer. Could we possibly some day see Dakar back in Africa, and with a Toyota 'works' team?  Hero of the Dakar for many was Toby Price, a very tough man as well as a brilliant rider – he won the motor bikes category despite a broken wrist for the whole event!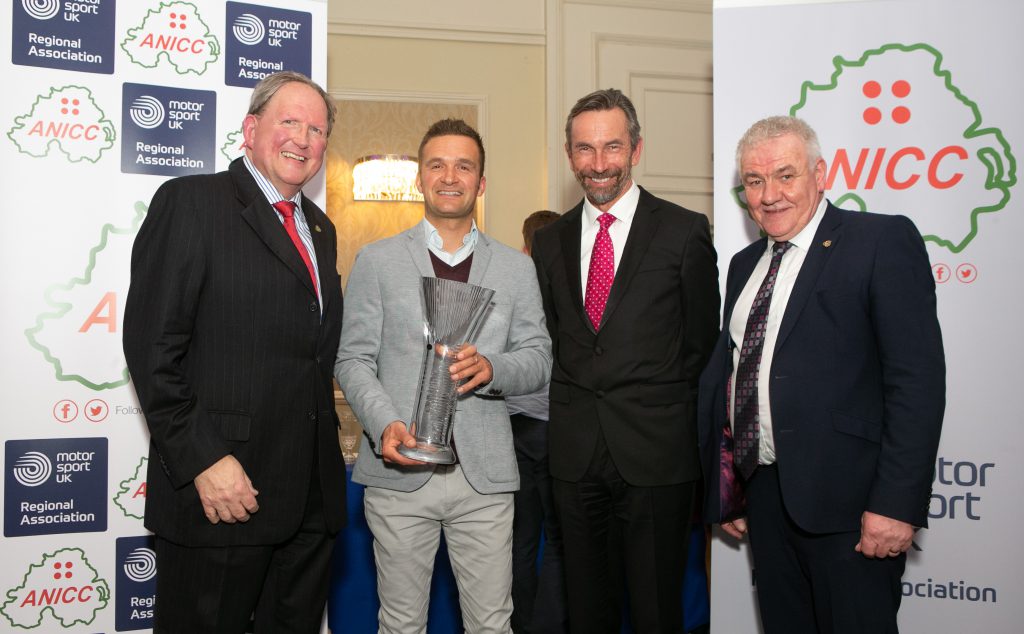 On the domestic front last weekend, at the ANICC annual awards presentation In Armagh, Colin Turkington was awarded the NI Motorsport Award winner in recognition of his third British Touring Car Championship victory in 2018. Amongst the plethora of other awards, John Comiskey received the UK Volunteer of the Year Award and William Heaney of the Thoroughbred Sports Car Club the NI Volunteer of the Year Award.  Derek McGarrity & Paddy Robinson were crowned the NI Champions and Marcus McElwee/John Henderson the Junior 1000 Rally Challenge Champions.
This weekend coming the rally spotlight switches on to the WRC Monte Carlo Rally, with the intrigue of all the new season driver/car changes. Home interest will centre on how Kris Meeke fares on his first rally for the Toyota team. The Monte is quite often a tricky event, so Meeke will be in at deep end, what with a change of car and a new to him co-driver in the shape of Seb Marshall. All in all though, with the world's best rally drivers in the top (and most expensive) rally cars on the planet, it should certainly be a fascinating three days of rally action. Interesting as well to see how Kris fares against his own team mates, Ott Tanak and Jari Matti Latvala, let alone WRC Champion Sebastien Ogier in the works Citroen. Now there is one driver, or certainly one car, that Kris Meeke will want to be showing a clean pair of heels to, let alone the likes of Thierry Neuville and Sebastien Loeb in their Hyundais.  Welsh fans of course, as well as quite a few Irish ones as well, will also be rooting for Elfyn Evans in the M-Sport Ford Fiesta WRC, complete with stunning new livery. Elfyn has Scott Martin co-driving. Their team mates are Teemu Suninen and Pontus Tidemand.
Looking forward somewhat, the 10th February Galway Rally is really shaping up this year, with over 100 entries so far, including in excess of 25 R5 cars. Latest entries include Craig Breen/Paul Nagle in a Fiesta R5, as well as Alastair Fisher/Gordon Noble, also in a Fiesta R5. Manus Kelly has entered to drive a Hyundai i20 R5. Jon Armstrong, a very sharp driver indeed, has also entered in an R5. It would appear that the event is going to have as competitive a top entry as any rally for many a year. Picking a winner is nigh on impossible. News this morning (Wed) is that Declan Boyle has placed an entry, although at this stage it is unclear what car he will use.
Later in February, the North Armagh Club is running the New Year Stages event at Kirkistown. This will be the opening round of the 2019 McGrady Insurance NI Championship and the rally is being sponsored by Pacenotes Rally Magazine.
Brian & Liz Patterson