Last weekend marked the beginning of two more home Championships, the McGrady Insurance NI series and the Triton Showers National. Stephen Wright won the former, Josh Moffett the latter. Wright, who was driving his Fiesta R5 on the Kirkistown based rally, had Keith Rainey co-driving. Wright was 2nd o/a after the opening stage, then slid back to 6th place after stage 2, fought his way back to 2nd and then led when it mattered, at the chequered flag at the finish of stage 6.

Current NI Champion Derek McGarrity appeared to be heading for the win, but a power steering pipe on Derek's Fiesta WRC developed a leak on the penultimate stage and provoked a bit of a fire alarm when the car arrived at service. This transpired to be no problem, little more than a puff of smoke, but Derek decided not to risk the £200,000 car on the final stage in case the temporary repair, that his engineer Paul had effected, gave way in the stage. Darren Gass recently acquired a Skoda R5 in Estonia and following a cautious start to the day brought it into 2nd place o/a, with Derek McGeehan 3rd in one of his Mini WRCs. Kenny McKinstry, Alan Carmichael and Joe McQuillan made up the top six finishers. Best 2wd was James and Heather Kennedy in their Escort. Colm McFall won GpN and Drew Wylie the historic category.
Just over 70 crews started this North Armagh MC Pacenotes Magazine sponsored rally. Interestingly, there were a lot of road penalties handed out to drivers who took shortcuts at chicanes. However through all the drama it was Stephen Wright and his co-driver Keith Rainey who took the kudos and now lead the NI Championship.
Meanwhile on Sunday's Birr Rally, cold, damp, foggy conditions greeted the drivers, who almost without exception described their first stage exploits akin to 'driving on ice'. Fog and damp roads featured in different degrees throughout the day. It was Josh Moffett and his co-driver Andy Hayes who made the most of the conditions and led from start to finish. Even Josh described the conditions as difficult, unsettling. His closest rival, also in a Fiesta WRC, was Declan Boyle and his co-driving cousin Brian Boyle. They did manage fastest time on the final stage, by less than a second from Josh Moffett. This earned Boyle a bonus point in the Triton Showers National Championship, but Donegal man Boyle still had to accept 2nd place in the rally and in the Championship. Roy White/James O'Brien were 3rd in their Fiesta WRC. White was unhappy with his tyre choice on the opening loop of three stages, but pulled back time as the rally progressed, to move ahead of Peadar Hurson/Damien Connolly, 4th at the end. David Bogie/John Rowan made a conservative start to the rally but set some lively times later on to move into 5th. Sam Moffett/James Fulton had a suspension problem with their Fiesta to begin with, but produced a more solid performance towards the end to take 6th.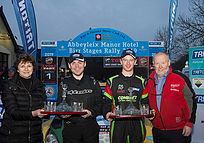 Some consolation for Declan Boyle was that his son Michael put up a brave performance, despite a clutch issue with his Mitsubishi, to win GpN from Niall Devine. Dermot McCaffrey was co-driving for the younger Boyle: Liam McIntyre for Devine. James Stafford in his Darrian put up the best 2WD showing, ahead of Kevin Eves (Corolla).
This weekend coming, the home rally focus will be on the Limerick Forestry, a counter in the Valvoline series. Top seeds will include Marty McCormack/Barney Mitchell in their Fabia R5, Cathan McCourt/Barry McNulty in a Fiesta R5 and Marty McKenna/Martin Brady in a Fiesta WRC. The two wheel drive contenders are also well represented, with David Crossen, Adrian Hetherington, Gary Kiernan, David Condell and Mickey Conlon just some of the top Mk2 men entered. Shane McGirr should be back in his Starlet for this one, to make life tough for the Ford men.
In a last minute decision Frank Kelly is hoping to be in Limerick on Sunday, but is not at all sure he will have the car ready. Frank's gravel car is on the high seas, on it's way to New Zealand where Frank is competing on two gravel rallies, the Otago and the Whangarei. Between the two events there will 600 km of gravel stages. Not having done a gravel stage for some time, and having seen the quality of the Limerick stages on the DVD, he thought it might not be a bad idea to compete in Limerick, with his daughter Lauren co-driving, as she will be in New Zealand with him. Having originally planned his first home outing this season to be West Cork, suddenly Frank is caught up in a whirlwind of flying 'Snap-On's' to get the Tarmac Escort into forest trim. He remarked from his Moy, Co. Tyrone base, "We should get there, and I could do with the seat time, I'm fighting hard to make it."
In the small engined category in Limerick, some of the top drivers include William Creighton, Marty Gallagher and Derek Mackarel. In total the event has around 80 entries, 'sign-on HQ' is in Rockchapel / Mount Collier GAA, and the three stages repeated are Fornane, Mount Eagle & Mullaghareirk.
Further news stories include West Cork Rally having a total, including Historics and Juniors, of around 180 crews, with most of the top BRC and Tarmac Championship contenders committed.
The 21st – 23rd June Donegal International Rally has received a tremendous boost with the news that World Superstar Celebrity driver Ken Block intends to compete.
Gary McElhinney was co-driving for Seb Perez last weekend in a historic Amigos Porsche 911 Carrera on the Mallorca Rally Sol De Ponet (a historic car in a modern rally), where they finished 4th o/a.
Clonakilty driver Cal McCarthy has acquired a Citroen DS3 R5 and could be amongst the front runners on his home West Cork Rally. Eamonn Dullea will return to co-drive again for Cal.
The Cartell.ie backed Killarney Rally of the Lakes (3rd/4th/5th May) has received a major boost in that actor and Killarney native Michael Fassbender is to compete on the event and also act as an ambassador for the rally.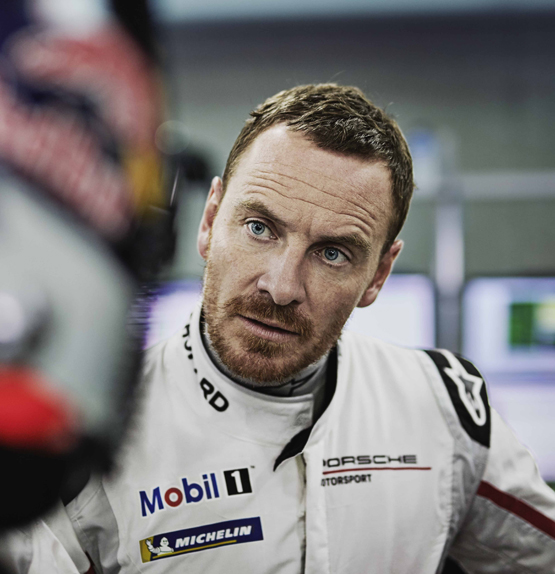 Fassbender is somewhat of a motorsport fan, having competed in the North American 488 Challenge and is currently competing in the Porsche Cup Series.
Brian & Liz Patterson