Irish Notes 20th February 2019
Well that was busy weekend's rallying, with Tanak winning the Swedish, Matt Edwards the BRC Cambrian and Niall McCullagh the Fivemiletown.
On the Swedish the level of competition was immense, the speeds equally so, with several of the top drivers paying a heavy price for attacking the snow banks too hard.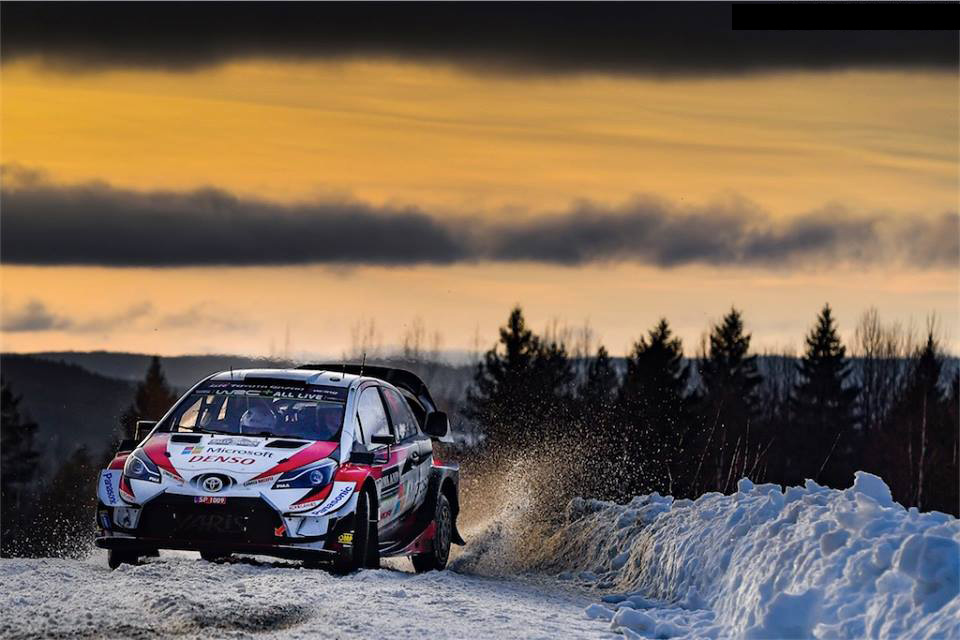 However Ott Tanak in his Toyota Yaris never put a wheel wrong, and although under pressure at times, especially from Teemu Sunninen and Thierry Neuville, Tanak and his co-driver Marko Jarveoja just kept upping the ante to win by over 50 seconds. Sunninen did lead for a while, but spun his Fiesta and lost some positions, then crashed it out of contention. Still, it was impressive from the Ford driver while it lasted. Latvala also showed great pace, but he spun his Yaris off the road. Just seconds separated Lappi, Neuville, Mikkelsen and Evans towards the end, but Lappi in his Citroen held on to finish 3 seconds ahead of Neuville in his Hyundai.
Mikkelsen (who is being dropped from the Hyundai team for Corsica while Dani Sordo steps in) lost a little momentum on the final day to take 4th, Elfyn Evans 5th and Kris Meeke, hampered by road position especially when the tracks turned slushy and gravelly, was 6th. Tanak, who also won the power stage, now leads the WRC points with 47, Neuville is 2nd on 40, Ogier, despite finishing down the order in Sweden following an 'excursion', is 3rd on 31. Kris Meeke is 4th, which is not the end of the world for the Dungannon man as the WRC circus now moves to gravel stages, with Rally Mexico.
WRC 2 in Sweden was won by Christian Ole Veiby in one of the new VW Polo GTI R5s, with Gus Greensmith (Fiesta R5) finishing quite a few places further back after a steep learning curve of a rally which still earned him enough points to retain his WRC Junior lead. Rhys Yates also managed a decent finish in his similar Skoda R5. In the Historic section Petter Solberg took victory once again in his Escort.
On the British Championship Cambrian Rally, the opening counter of this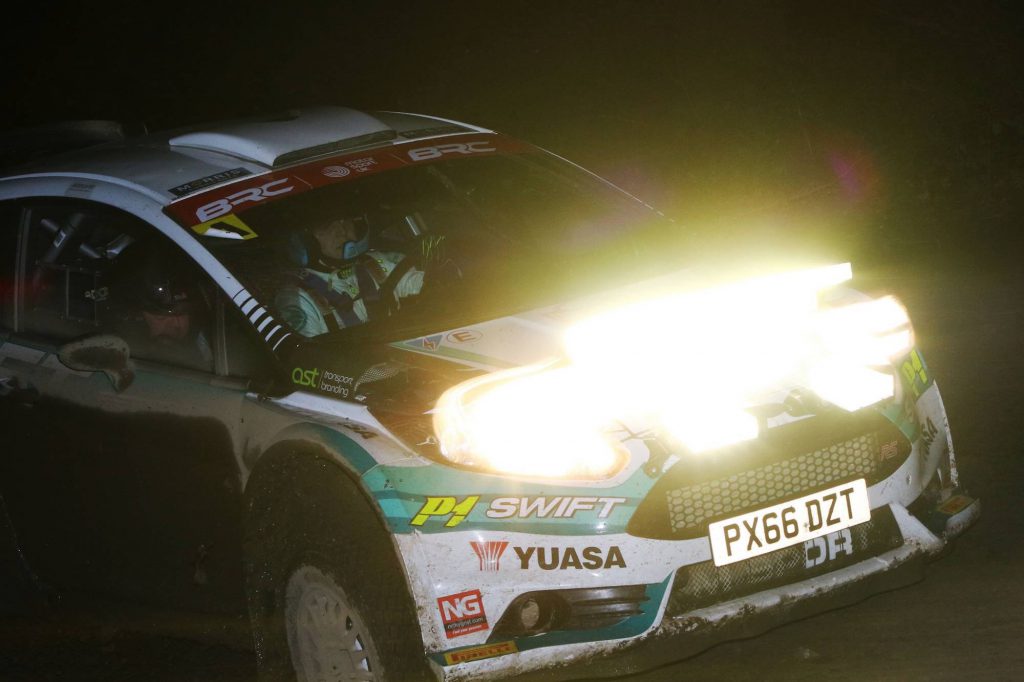 year's British Rally Championship as well as the BTRDA, British Rally Champion Matt Edwards in his Fiesta R5 scored a start to finish win on what is effectively his home rally. Matt was pushed all the way by Tom Cave, but his Hyundai was sidelined after the final stage and within sight of the Llandudno finish, because of three punctures. This left David Bogie 2nd, Marty McCormack 3rd, Desi Henry 4th, Josh Moffett 5th and Alberto Heller 6th. Jonny Greer did seem to be heading for a top six finish but his Fiesta R5 succumbed to a blown radiator. There was a fascinating battle through the rally by the five Junior competitors from here who made the trip. At times during the rally just over a second covered the five drivers, until William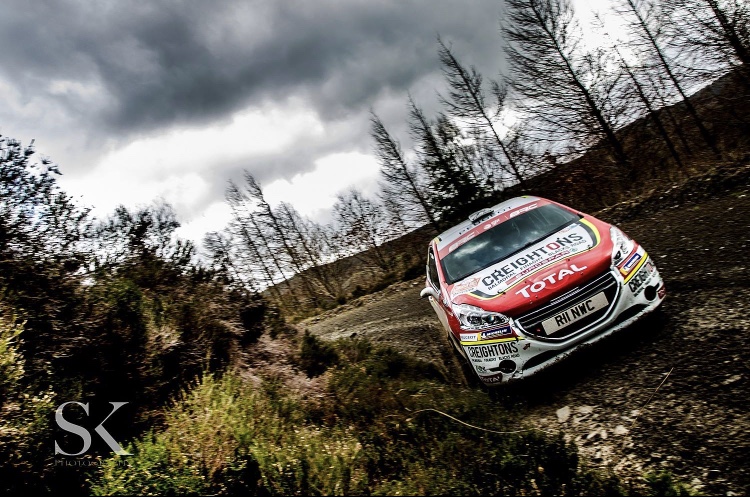 Creighton very impressively pulled ahead. However James Wilson eventually came out on top when Creighton's Peugeot 208 suffered a puncture, Creighton closing to within 1.9 seconds of Wilson at the finish. Marty Gallagher was 22s back after the 10 stages, Josh McErlean 1.6 seconds further back and Jordan Hone another 5s down. Euan Thorburn made an impressive return to rallying and won the BTRDA section by 3 seconds from Charlie Payne.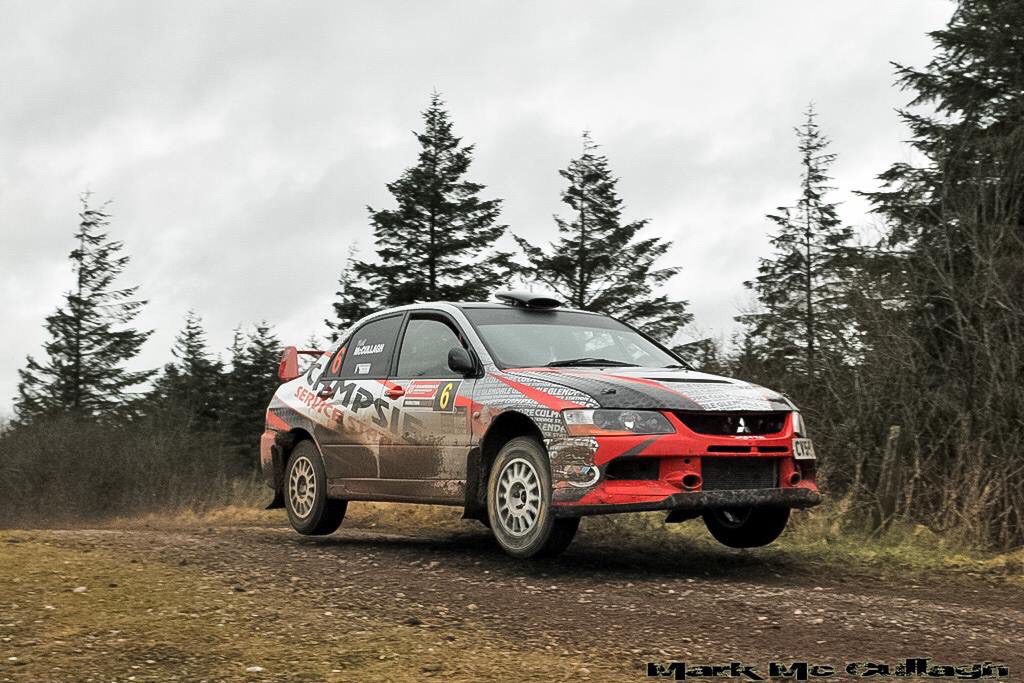 The Fivemiletown forest rally, or to give it its full title 'Samsonas Spring Rally', was won by Niall McCullagh/Ryan McCloskey in their GpN Lancer. This was a great result for McCullagh. Cathan McCourt appeared to be heading for the winning frame but crashed his Fiesta R5 out towards the end. Michael Carbin, also in a Lancer, finished 2nd, Martin Cairns was 3rd. Adrian Hetherington was running a different type of engine in his Escort for this one and, co-driven by Gary Nolan, achieved a great result, 4th overall and best two wheel drive. Shane McGirr was 2nd best 2 wheel drive, this time in his Escort as his Starlet is having its engine overhauled.
This weekend coming we have several good rallies on the cards, including the North Armagh Club's stage rally at Kirkistown as well as the opening Triton Showers National series counter, the Birr Stages.
Birr, or the Abbeyleix Manor Hotel Rally to give this Triton Showers National Championship 2019 opener it's proper title, has a top ten bulging with former Champions. No.1 seed is last year's winner Roy White with James O'Brien co-driving again in their Fiesta WRC. Behind them is current National title holder Declan Boyle who reverts to his revamped and re-liveried Fiesta WRC for this season, and also has Brian Boyle back in the co-driver's seat. Making up the top six is Josh Moffett, Sam Moffett, Peadar Hurson and Joe McGonigle. The latter will drive the only 'non Ford' from those six, the McGeehan Mini WRC. Making up the top ten is multiple Scottish Champion David Bogie, followed by Niall Maguire, Kevin Barrett and Steve Wood. It would be fair to say that any one of the top ten seeds could grab a big result as well as a bagful of Triton points. CoC Bill Ryan has laid out a very interesting set of three stages close to Borris-In-Ossiry, each repeated three times, which should provide for a great day's competition. The service area is at Donaghmore Agricultural Museum Workhouse.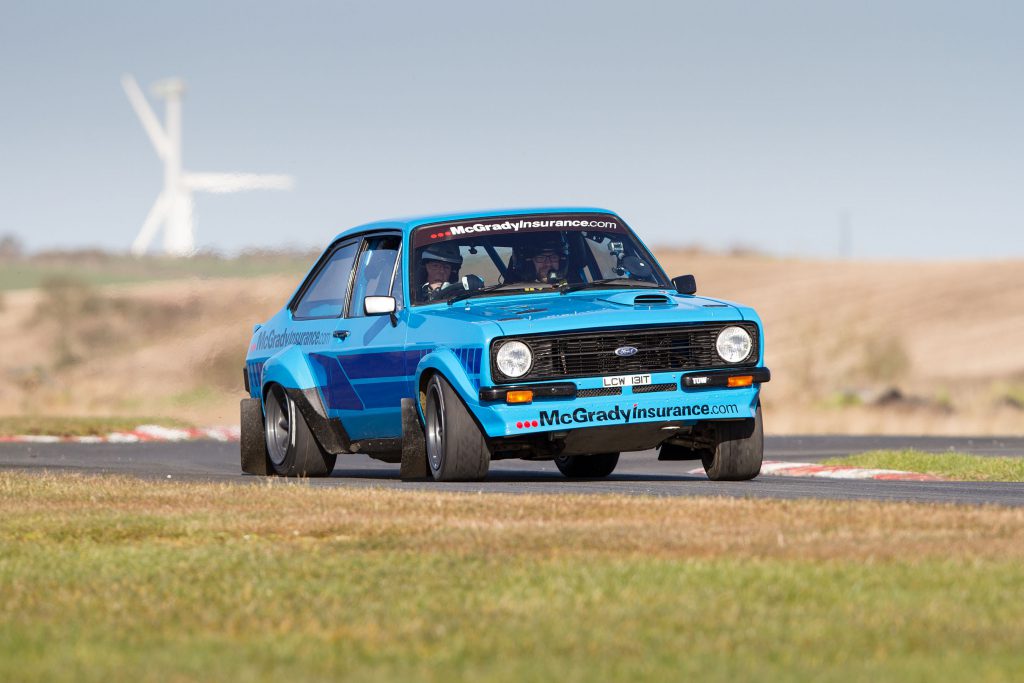 The North Armagh Club's Kirkistown based Pacenotes Rally Magazine Stages is the opening round of this year's McGrady Insurance Northern Ireland Championship and the 75 entries will be headed by current Champion Derek McGarrity driving a Fiesta WRC. Derek McGeehan (Mini WRC) and Alan Carmichael (Mini WRC) make up the top three seeds.
Recent news releases include the always popular Carlow Stages having a
launch night on the 20th April, and the actual rally on the 12th May. The event is not a round of the Triton Showers National series, but is a counter in the Midlands East Championship. The format is as per 'Mini Stages', 2 x 3 format, HQ is the Seven Oaks in Carlow and the entry fee is €580. As usual on the Carlow Stages, really enjoyable stages are on the menu.
Bob McKeown is the co-ordinator for the McGrady Insurance NI Championship and he reminds us that the only way to register for the Championship this year is on Paddy McCollum's Rally Score results website – www.rallyscore.net.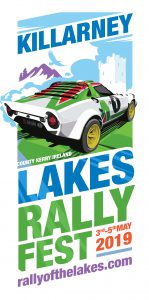 The Killarney Rally of the Lakes organisers have been working hard to increase the scope of their May Bank holiday event, and working in conjunction with Motorsport Ireland have introduced a new category, catering for a pre 1990 section aimed at GpB and the early GpA cars. Although not actually timed through the stages, the drivers will enjoy all the classic stages such as Molls Gap and Healy Pass, which should be quite a sight for the spectators.
The forthcoming Limerick Forestry Stages event (3rd March) is well advanced in the planning. Clerk of the Course Anthony Nestor and many key members of his team have even gone to all the trouble of a dress rehearsal of the stages set up, which was brilliant for people like ourselves to make the notes. There are three smooth good stages, each run twice, and the rally is round two of the Valvoline forestry series.
The UAC has announced that the Wastewater Solutions backed Easter Stages, round three of the Irish Tarmac Championship, has published their regulations and entry form, which can be checked out on www.uaceasterstages.com
West Cork Rally organisers report that the entries are cascading in at a great rate of knots, and that they are up to 125 crews, taking all categories into consideration. The event is the 2nd round of both the Irish Tarmac and the British Rally Championship. Strangely though the top BRC drivers haven't entered as yet, although maybe it is too soon after the Cambrian. Alastair Fisher, Josh Moffett and Daniel Cronin are amongst the 'Tarmac' entries although Josh is also contesting the BRC. Miko Hirvonen has confirmed his participation in the Historics. The rally press officer Kevin O'Driscoll tells us that the event is receiving a lot of interest from '1st time' Welsh crews, mostly in the Modified category.
Brian & Liz Patterson