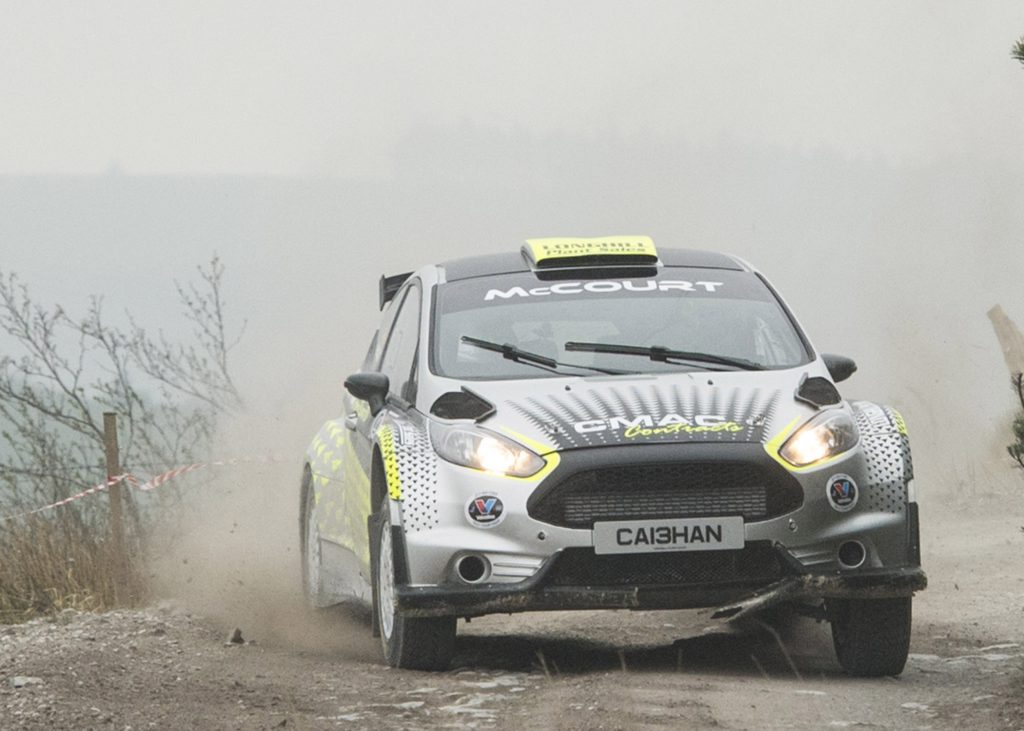 Cathan McCourt in his Fiesta R5, co-driven by Barry McNulty, took a clear win on last Saturday's Moonraker Rally. McCourt finished over a minute ahead of Niall Henry/Damien Duffin (Citroen DS3R5), while Donal Sweeney/Dean O'Sullivan had a very decent run to take 3rd in their Lancer. Joe Hegarty was 4th. Michael Carbin finished 5th and David Crossen 6th. Carbin was jointly leading the Valvoline points with Keith Power starting the rally, but moved clear of the pack with this result, and now has 44 points, Niall Henry has 40 and Cathan McCourt 37. Power finished down in 16th on the rally following a puncture and is now equal 6th in the Valvoline points with David Crossen. Some consolation for Power is that he currently leads the Suirway Group South East Stages points on 48, Casey Jay Coleman has 46 and Mike Garahy 41. David Crossen, with Aileen Kelly co-driving, had a brilliant run in his Mk2 Escort to finish 6th o/a on the rally, with Shane McGirr coming through strongly towards the end to finish 7th, just over 20 seconds behind Crossen. Mickey Conlon was the highest placed 2wd contender in the points before the start, but his Escort slid into a ditch on a tightening right hander and got stuck. Another brilliant drive came from young William Creighton/Liam Regan in their Peugeot 208 R2 who finished just 0.1 second behind McGirr. This earned Finaghy man William a class win. Another young driver, Derek Mackrel, also went well, winning his class in his Nova and 11th o/a. Notable retirements included Garry Jennings, who was pushing for the lead but rain made the stage surface very slippy and he slid his Subaru into a ditch and got stuck. The same fate befell early rally leader Barry McKenna, while Omagh's Patrick O'Brien also retired, having been right in the hunt early on.
Also last Saturday was the Dungannon Club's Springfling Rally. Reportedly the competing crews had a ball down the lanes on this well organised event. David Crothers/Barbara Kane in their Mazda MX5 took the victory, by 27 seconds from Robert & John Whelan (Starlet), with Steven Cromie/Taylor Gribben (Mazda MX5) 3rd.
Slighty further afield, across the Irish Sea, Euan Thorburn/Paul Beaton extended their winning form by taking victory on the BTRDA Championship Rallynuts Severn Valley event. Thorburn was driving a Focus WRC. Omagh's Mark Donnelly, with Dai Roberts co-driving were 2nd in a Fiesta R5, Stephen Petch was 3rd, Connor McCloskey/Noel O'Sullivan (Fiesta R5+) were 4th and Charlie Payne was 5th. Phillip Morrow was running in the top 5 all day but then indulged his Lancer in a 'soft roll' (not the bread variety) on the last corner of the last stage! Hillsborough man Phillip finished the stage ok, but, although his Mitsubishi was undamaged, he didn't clock in to the final control. Fraser Mulholland/Geoff Patterson in their Lancer finished 12th o/a and 3rd in class.
Even further afield, Craig Breen/Paul Nagle in their Skoda staged a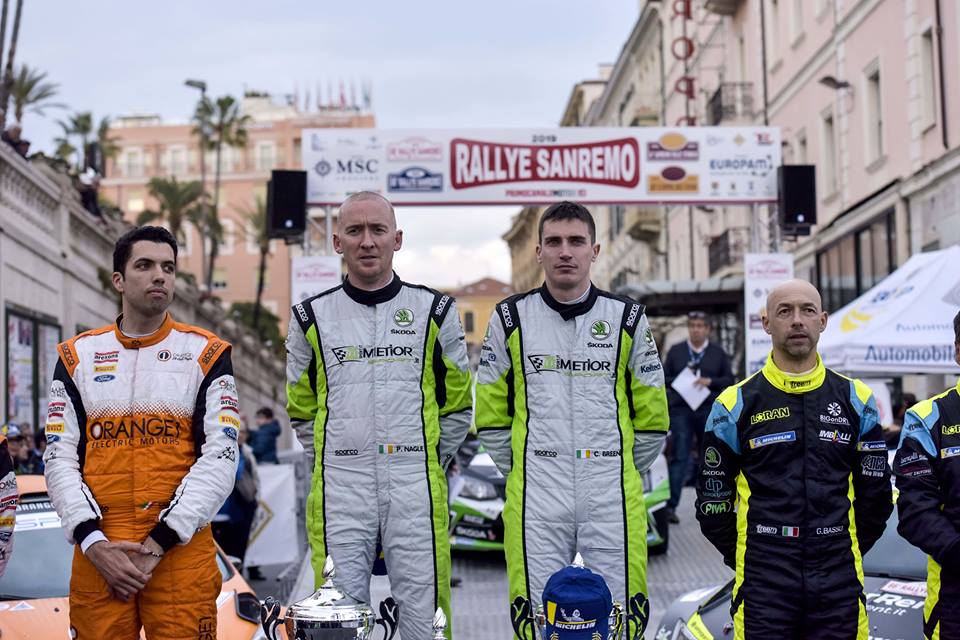 magnificent last stage charge to take outright victory on Rally San Remo. Simone Campedelli (Fiesta R5) was 2nd on this Italian Championship event, with Giandomenico Basso in his Skoda 3rd.
Now, looking forward to this weekend coming, the Easter stages, with six stages on Good Friday and nine on Saturday, is shaping up to be a highly competitive event. Craig Breen/Paul Nagle will return from their successful Italian foray to head a strong list of contenders bidding for Irish Tarmac Championship points on this 3rd round. Out of the top six, virtually any one of them is capable of taking the win – Josh Moffett/Keith Moriarity, Alastair Fisher/Gordon Noble, Sam Moffett/James Fulton, Declan Boyle/Brian Boyle, Derek McGarrity/Paddy Robinson. The latter is in a World Rally Car, which makes him ineligible to score Tarmac Championship points. Derek, a multiple Circuit of Ireland winner, just wants a good blast over his home stages – and to win this rally of course! Otherwise, apart from Derek's WRC machine, the story is all about R5 machinery.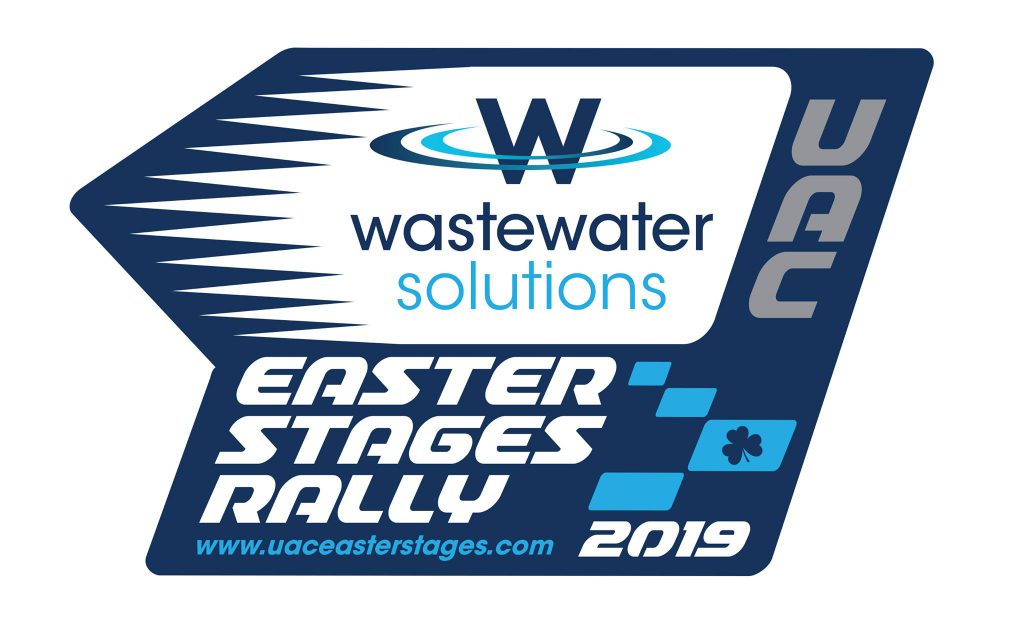 Indeed, the remainder of the top ten and beyond is dominated by R5 cars – Manus Kelly is at 7, Callum Devine at 8, Jonny Greer at 9 and Desi Henry at 10 – all in R5's. Indeed, the organisers, the Ulster Automobile Club, must have had quite a job seeding the 80 strong entries – it is not possible to put a quart into a pint pot – just outside the top ten we have Meirion Evans, Alan Carmichael and multiple Tarmac Champion Eugene Donnelly debuting a Proton R5. In the R2 department there is more than a couple of talented young drivers, with William Creighton and Kyle White springing to mind. In the modified division Damien Toner, Camillus Bradley and Keith White are just three of the front runners. The Historic division is also well supported – think Andy Johnston and Andrew Bushe, both in Chevettes, Ernie Graham in his Escort, Adrian Kermode in his fabulous Porsche 911 – all good stuff.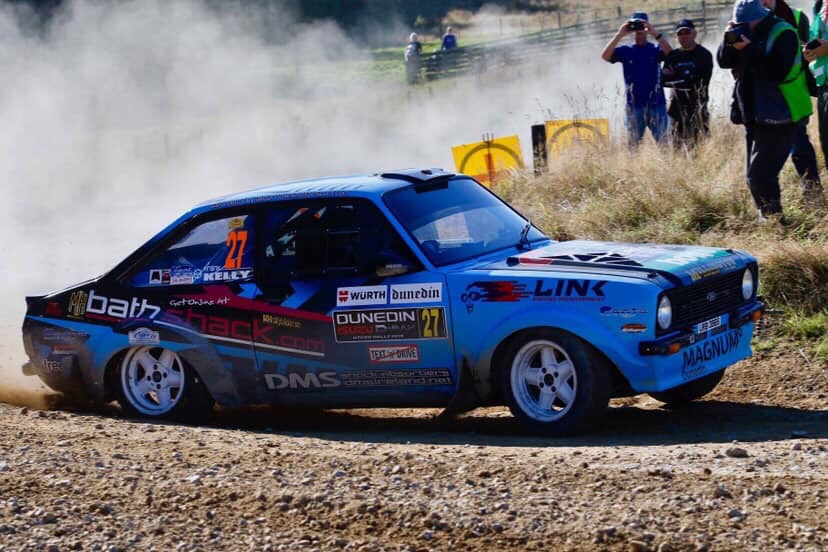 Family Affair – further, much further afield, Frank Kelly, co-driven by his daughter Lauren on the New Zealand Rally Otago had a great run over the gravel stages to bring his Escort into 3rd in the Open two wheel drive class.
Coming up fast then after Easter is the Monaghan Stages, which is looking really good – terrific stages and a top line entry for this Triton Showers counter. That same weekend (27th/28th April) we have Rally Argentina, the Pirelli Rally, the Tendring and Clacton stages and the MG Club (Ulster Centre) Derek Walker Trial. Enough to be going on with!