Iconic, traditionally classic as well as very tough, more or less sums up the Rally of Portugal, so Ott Tanak and his co-driver Martin Jarveija in their Toyota Yaris WRC scoring their first victory there last weekend is certainly one for the record books. They also steered clear of the dust problems which caused some controversies.
Thierry Neuville/Nicolas Gilsoul were 2nd in their Hyundai, with World Rally Champions Sebastien Ogier/Julian Ingrassia (Citroen) 3rd. Estonian Tanak described the event as one of his toughest. He overcame brake woes and damaged suspension maladies to withstand an onslaught of determined driving from both his Toyota team-mates and his opposition. First of all it was Latvala putting all the pressure on Tanak, but the Finn dropped a load of time when his Yaris front suspension gave up the ghost over Portugal's rough terrain.
No sooner had Latvala dropped out than Kris Meeke took up the cudgel. The Dungannon man survived intercom problems and hydraulic handbrake woes to move to within a couple of seconds of Tanak in the closing stages of the rally. With Neuville poised just a few seconds further back, neither Toyota driver could afford to give an inch. Stage after stage through the final morning just seconds separated these top three. Sadly it was the Northern Ireland driver, Meeke, who cracked, spinning his Yaris on the penultimate stage, and then in the power stage cutting a right hand bend too tight, clipped something solid and broke the front right steering/suspension. There was even the ignominy for Kris of blocking the stage, which was delayed while the Toyota was lifted out. This was most unfortunate.
The spotlight then focused on the power stage points, with Ogier taking fastest time and 5 points. Neuville was just 0.9 of a second slower. Tanak took the decision to slow ever so slightly before the famous Fafe jump so that he wouldn't win the stage and then have to run first on the road on the next event in Sardinia. Whether that was a good decision, to sacrifice points now in order to gain a limited advantage on the next round, is certainly open to debate. Only time will reveal the answer to that one.
Certainly Tanak seems to be on the boil, at the very peak of his game, so maybe it will pay off. Otherwise the story of the rally was mostly one of hard luck for many of the drivers. Elfyn Evans was going very well until his Fiesta stopped for many minutes because of throttle maladies. Something similar afflicted the Hyundais of both Sordo and Loeb. Lappi retired his Citroen after a gentle Sunday morning roll which led to broken suspension.
One of the biggest misfortunes befell young English driver Gus Greensmith. Generally he did a decent job on his first rally in the M-Sort Fiesta WRC, but was relegated to Rally 2 for the Sunday run and his Fiesta then seemed to have an awry front left wheel on take-off over the big Fafe jump and subsequently crashed heavily on landing. On a more cheerful note, young Kalle Rovanpera had another great result in his Skoda R5, winning RC2 and finishing 6th o/a. As regards the overall WRC title race, it looks very much like a three horse race now after this 7th round, between Ogier (142 points), Tanak (140) and Neuville (132). Round 8, Sardinia, is on 13th/14th/15th/16th June.
Here at home, the Circuit of Munster, supported by Lyons of Limerick, provided another clear win for Josh Moffett/Andy Hayes in their Fiesta WRC. This will almost certainly be one more stepping stone to the Triton Showers National rally title which has so far eluded Monaghan man Josh. He didn't have it all his own way in Limerick. Donagh Kelly in his Focus WRC led initially but some small problems became a big one when the throttle jammed open and he couldn't finish the last loop. Declan Boyle recorded three fastest times in the middle of the day, when Moffett went off the boil.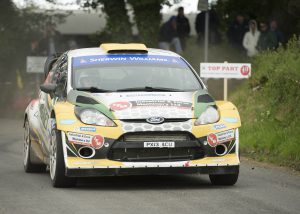 However status quo returned on the final loop and Moffett won by 21+ seconds from Declan Boyle and his co-driver Brian Boyle, with Roy White/James O'Brien third to make it a Fiesta WRC top three. Cathan McCourt overcame a few niggly problems with his Subaru to take 4th, Welsh visitor Hugh Hunter (Focus WRC) was 5th and Stephen Wright (Fiesta R5) finished 6th. Steve Wood/Keith Moriarity had their first outing in the ex O'Riordan Fiesta WRC and were 8th. Paul Reid & Karl Reid in their Escort were the best 2wd finishers, 9th o/a, despite a damaged exhaust at one point.  Early 2wd leader was Kevin Eves, but he retired with oil pressure worries about his Corolla engine. Niall Devine/Mac Kierans won GpN with their Lancer, from Michael Boyle/Dermot McCaffrey in a similar Mitsubishi. 
Junior winners were Jordan Hone/Aileen Kelly in their Opel Adam R2, while the alternative Junior Class was won by Kieren Reen/Mark O'Leary (Civic).
Luke McCarthy/David Hogan won the Historics in their Escort.
Overall points in the Triton Showers Championship read: – Josh Moffett 80 points, Roy White 63 and Declan Boyle 51.
This weekend coming we have the Carlisle Forest Rally as well as the Heartlands Mini Stages at Portlaoise. Stanley Orr, Adrian Hetherington and David Crossen, all three in Escorts, are amongst the drivers who will be heading for the Cairnryan ferry this weekend to tackle some fine forest stages around Newcastleton. Also this Saturday, the TSCC (Thoroughbred and Sports Car Club) is holding a classic sprint and display at Kirkistown. The MG (Ulster Centre) Club will also be in attendance and will be running an autotest on Thursday evening the 13th June at the Dundrod pits. The event was originally scheduled to run at the Transport Training School at Nutts Corner, but on-going resurfacing work has ruled this out for the moment.
Looking further forward, the Sligo Stages Rally is well on schedule for the 14th July. The rally is the next round of the Triton Showers National Championship, as well as a counter in the Sligo Pallets Border series. Once again the Faac Simply Automatic Company as well the Sligo Park Hotel is title sponsors of the rally. The route will consist of an attractive loop of three stages run three times. Road mileage has been kept to a minimum and the service is both central and convenient. There are all sorts of cash incentives for the drivers, including a draw on the morning of the rally.
The Donegal Rally (June 21st/22nd & 23rd) is also well advanced, and indeed the entries are now released, with last year's winners Manus Kelly/Donal Barrett listed at 1 in their Hyundai i20 R5, Craig Breen/Paul Nagle  in a Fiesta are at 2 and Donagh Kelly/Conor Foley at 3 in a Ford Focus WRC. Behind them is an exceptional line up, with the likes of Alastair Fisher at 7 and Josh Moffett at 8.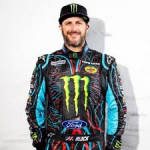 It is refreshing to see supreme motorbike road racer Michael Dunlop's name in the list, while the USA's Ken Block is another very interesting entry. YouTube sensation Block, is to drive his famous Escort Cosworth.
Donegal is of course a counting round in the Irish Tarmac Championship. Current points leader is Craig Breen, but he has opted to drive a 2013 Fiesta WRC in Donegal. The top of the Championship is limited to R5 cars, which means that Craig cannot score points this time. Another interesting bit of news concerning Craig is that he has entered the Ypres Rally, which takes place on the weekend following Donegal. Craig will drive a VW R5 on the Belgian classic.  Reportedly Darren Gass is also going to compete in his Skoda R5 – More news next week…..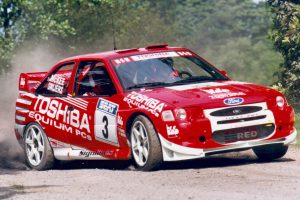 Other stories include Belgian rally legend Patrick Snijers is due to visit Donegal on the 30-31st August for the Déjà vu, with proceeds in aid of the Donegal Hospice. Patrick, a former European, Belgian and Dutch Rally Champion  became somewhat of a rallying heartthrob in Northern Ireland during his many times competing on the Lurgan Park Rally, as well as the Toshiba Antrim forest rally and of course the Manx. His Bastos/Castrol liveried BMW M3 had that certain charisma, especially with Patrick, nicknamed by some of the Irish rally fans as Paddy O'Snijers, driving.
Finally, on another nostalgic note, the RIAC is holding the annual 'Picnic in the Park' at Marlay Park, Rathfarnham Dublin on 12th June from 4pm to 8.30pm. Former British Touring Car Champion Alec Poole will be in attendance and Mini devotee that he is, will also celebrate the 60th birthday of the original Mini. The evening's proceeds will go towards Laura Lynn, Ireland's only children's hospice.
Brian & Liz Patterson