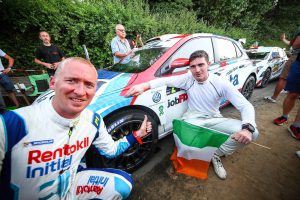 Copybook' more or less sums up the performance of Craig Breen & Paul Nagle regarding their
dominant win on last weekend's Renties Ypres Rally. Their VW Polo Gti R5 performed impeccably throughout this tough 23 special stage rally. Sky high temperatures made the rally even more daunting than usual, and many drivers paid the penalty of sliding into the sometimes unforgiving ditches, and of course with all the cutting of corners punctures were an ever present danger. Kevin Abbring finished 2nd o/a and Kris Princen 3rd, to make it a Volkswagen top three. 'Fast' Freddy Loix, for so many years the master of the Ypres Rally, was 4th in a Skoda.   Following the devastating events in Donegal last weekend, this win was just the fillip Craig Breen needed as he prepares for his Hyundai outing on Rally Finland. Craig commented after the Ypres Square finish ramp, "This is a very special feeling, to win the Ypres Rally. A massive thanks also to BMA Autosport for a sublime car.        
                                      The event was also a counter in the British Rally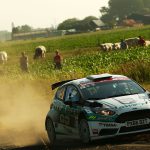 Championship, with current Champion Matt Edwards in his Swift Caravans Fiesta R5 surviving a couple of punctures to take maximum BRC points with 6th o/a. His closest rival Tom Cave (Hyundai R5) was 7th o/a, 56 seconds back. Another driver contending the BRC is Alex Laffey (Fiesta R5) and he clawed his way back to 9th.  Marty McCormack/Barney Mitchell were well into the top ten despite several overshoots and jumping their Skoda so hard on the Kemmelberg stage they broke the windscreen! However in stage 10 Marty ditch-hooked the car too hard and broke a rear suspension arm: end of rally but he had a ball while he was going!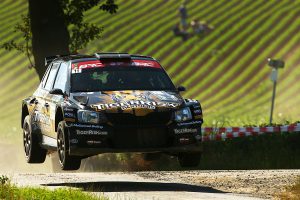 It was a mixed picture for the Junior category drivers from here who were competing in Belgium, and only William Creighton/Liam Regan made the BRC Junior podium, 3rd Junior home behind James Williams/Tom Woodburn and Ruari Bell/Darren Garrod (Fiesta R2T). James Williams had an exemplary drive, having switched from an Opel Adam to a new Fiesta R2T just before the rally, and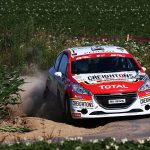 with little or no testing had a dream run. Creighton got knocked back early on when his Peugeot 208 R2 sustained a puncture, but he stuck at it and stage by stage worked his way back up the classification. Josh McErlean/Keaton Williams (Peugeot) did make the finish, but they were a long way back, in Rally 2, as was Jordan Hone/Aileen Kelly (Opel Adam R2) and they did receive some points. James Wilson was on the back foot from the start after a shakedown accident. He retired from the event after he started to feel unwell. Marty Gallagher retired with overheating issues.
Also last weekend, round 5 of this year's Triton Showers National Championship was won by Josh Moffett/Andy Hayes in their Fiesta WRC, with Roy White/James O'Brien 2nd in their Fiesta WRC. White led by a couple of seconds from Moffett at service after three stages. Visiting drivers Hugh Hunter and Sebastien Ling (Focus WRC & Citroen DS3 R5 respectively) retired their respective machines following contact with the Waterford scenery. In the middle loop of three stages, White's Fiesta WRC misbehaved and Moffett surged ahead, eventually winning by 18.7 seconds. Having won four of the five rounds to date, Moffett has amassed 100 points to White's 87. 3rd and 4th in the points, Declan Boyle and Peadar Hurson gave this counter a miss. Bit of a shame really, as the stages around Dungarvan were absolutely brilliant.
Wexford's Richard Moore and his co-driver John McGrath made a terrific charge and finished 3rd in their Mk2 Escort, relegating Welsh crew John Dalton/Gwynfor Jones (Darrian T90 GTR) to 4th. David Guest/Jonathan McGrath (Skoda Fabia S2000) were 5th and Daniel Harper/Chris Campbell (Mini WRC) 6th. Shane Maguire/Anthony Nestor were 10th o/a and won GpN with their Lancer. Brian Brady/Gary McNamee (Civic) won the Junior Category, while Colin Donoghue/Sean Collins (Escort) won the 16A Cup category.
Next round of the Triton Showers National Championship is the 13th/14th July Sligo Stages. We had a run through the Sligo stages earlier this week, and they are very good, with a bit of everything!
This weekend coming it is the turn of the North Armagh Club's Loughgall Stages, the event backed by Rainbow Communications. There are still a few places left on this superb event through the roads of this attractive park. The man to contact is rally secretary Barry Taggart on 07771892423. The entry list, at time of writing was not finalised, but it has to be five times winner Damien Toner at the top of it!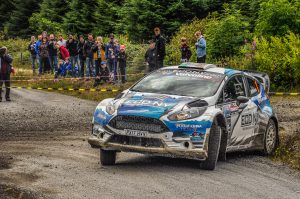 Looking forward to the end of July, (27th/28th) Cork Motor Club is again running the Mallow based forestry rally as a two day event, following the success of this format last year. CoC Paul Casey has put together a 'fast flowing and exciting route for spectators, utilising a number of two stage loops with regular service intervals throughout both days.' The Sunday leg marks a return to the Ballyhoura Mountains for 8 stages, which should be really special. The event is being sponsored for the fifth year by Mallow company Crafted Fitted Furniture. Scrutiny is at EARS Motorsport. The stages are a mixture of old and new, more info next week. All the signs are that competitor involvement for this Valvoline Championship round will be high.
Following the Manus Kelly tragedy on the Donegal International last week, little was reported on co-driver Donal Barrett. Thankfully he was soon out and about, although his arm is in a sling following a damaged collar bone.
Speculation continues to rumble that the WRC will have a round in NI next year. However Bobby Willis, whose brainchild it is, refuses to confirm or deny any progress on this front. Indeed if it comes about, it possibly may be 2021 and not 2020. However Willis will not comment, nor indeed will he give an indication as to which part of the year it is likely to take place. Although autumn is considered a strong possibility. He also deflected any thoughts about the Ulster Automobile Club using the Circuit of Ireland tag in 2020 for what is currently known as the Easter Stages. However it is mooted to be strongly possible. There are mixed feelings on this. On the one hand the Easter Stages has built up its own identity. On the other hand, the 'Circuit of Ireland' tag is known in worldwide rallying circles and has a tremendous heritage. One other point is that the Easter Stages may not necessarily be at Easter – some would prefer the expediency of a fixed date. Heads you win, tails you lose!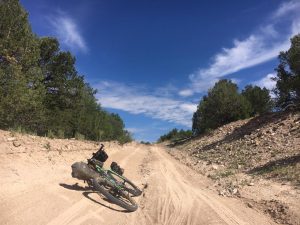 Last week we mentioned our own Davy Patterson and his pushbike exploits on the Tour Divide from Banff in Canada down to the Mexican Border at Antelope Wells. Davy is still going strong averaging over 100 miles a day over the at times rocky/snowy/flooded, gooey mud filled tracks, through rain, hail and headwinds. Cycling through these tracks is described as 'like riding through peanut butter'. He is on schedule, fingers crossed, to finish later this week, within his target. As this was being typed he had over 2000 miles chalked up through the Rocky mountains. He has had a few problems with the bike's rear wheel/gears which he has managed to sort. 
Latest text from Davy received yesterday "Caught in storms in Polvedera Mesa crossing . Peanut butter mud track no way around . Push pull carry clean ride, chain and transmission derails. X 50. Many hours lost . But many others same . Was careful to protect transmission as much as possible , use rivers to clean and water bottles to clean wash chain as riding. Ride with Geoff Blanche a lot, one of the best TD riders out there. On a single speed bike, strength like you can't believe , and knows the course and resupply points real cool guy. We try to go together to finish. He can be the first person in history to finish in geared bike, single speed and tandem… weather is critical now between here and AW.  Grants tomorr. Pie Town wed. Silver City thurs. rain stops the game because of mud. It's impassable no way thru. So it needs to go a strategy because after rain the tracks dry quick a few hours.  Bike and kit serviced every day"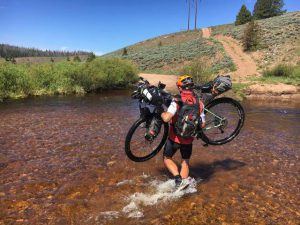 There are 'waypoints' along the route, to aid the tracking, and just some of the later ones as he moves into New Mexico from Colorado include 'Abiquiu, Pueblo Pintando, Grants, Gila Wilderness, Silver City' and so on. It all sounds really exciting and adventurous, but looks like a pure nightmare to us sitting at home in Co. Antrim!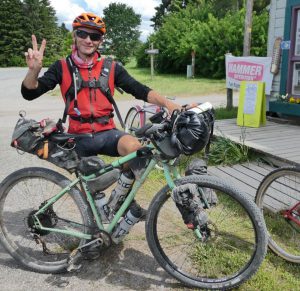 Brian & Liz & Michael Patterson