Slightly damp conditions initially which then metamorphosed into a beautifully sunny day made last Saturday's Rainbow Communications Loughgall Stages pretty idyllic, especially so for Damien Toner as he powered his Escort to his sixth win at the venue. Toner, co-driven by Ronan Comerford, led from the start on this North Armagh organised event, and never looked like being headed. The rally was principally for 2wd cars, and indeed it was Mk2 Ford Escorts that dominated proceedings. John Bradley/Paul McKenna were 2nd in their Escort, albeit over 50 seconds behind the flying Toner. Also in one of Boreham's finest was Wesley Patterson/Johnny Baird, just over 2 seconds further back. The remainder of the top half dozen, in finishing order were, James and Rebecca Kennedy, Barry Morris/Declan Campbell and Joe Hegarty/Niall Magee.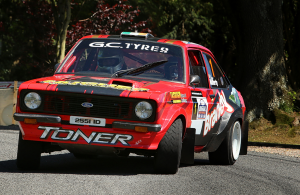 Also last Saturday was the North Ulster Car Club's TOC Utilities Targa Rally, based around Garvagh and Aghadowey. The warm dry conditions meant that the opening tests were dusty and gravelly, which slowed the front runners on the opening loop, but status quo asserted itself and Mark Francis/Katie Lemon in their Mazda MX-5 came through to win by just a fraction from Eric Patterson/Raymond Donaldson, also in an MX-5. Paul and Brendan Mooney overcame an early difficulty to finish strongly in their Nova and take 3rd place, just a couple of seconds ahead of 4th placed Matthew Mason/Marshall Kennedy (Micra). David Burns/Connor Murphy (Fiesta ST) and Steven Cromie/Taylor Gribbon (MX-5) made up the top six finishers.
This weekend coming there are several interesting rallies on the cards – Estonia, Nicky Grist and Sligo Stages. The Estonian event is seen as a great promotional tool for the country and for Ott Tanak, as well as being a terrific 'warm up' for the WRC Rally Finland, or 1000 Lakes as some people still call it. The Estonian government is backing the rally this weekend, possibly with an eye to the future also as a round of the WRC. Indeed, this Shell Helix backed Estonia rally resembles a mini WRC rally, with Ott Tanak at number 1 in the works Toyota Yaris WRC, Elfyn Evans at 2 in the M-Sport Ford Fiesta WRC, Andreas Mikkelsen at 3 in the Hyundai i20 WRC, Esapekka Lappi at 4 in the factory Citroen WRC and our own Craig Breen at 5, on his first competitive outing in the Hyundai i20 WRC. Craig will have Paul Nagle co-driving, and for the Irish pair this will indeed be the chance they so desire to break back into the World Championship ranks.
There are several more very top names in the list, such as Markko Martin and Teemu Sunninen, while tucked away at number 14 is the sensational 17 year old Oliver Solberg and his co-driver Aaron Johnston, to drive a Volkswagen Polo GTi R5. This is a big opportunity for young Solberg, and indeed Johnston, to continue their stellar rise through the rallying ranks. Aaron has been with Petter Solberg's son Oliver for a while now, but the young Tyrone man still has his feet firmly on the ground. For example he was out competing last weekend in a Fiat Panda, with Tony Kelly co-driving, on the TOC Utilities North Ulster Targa Rally! Aaron finished down the list, but commented afterwards, "Just a little bit of cheap fun, thoroughly enjoyed the day!"
In Wales, it is the turn of the Nicky Grist Stages, a round of the BTRDA series. Euan Thorburn/Paul Beaton in their Focus WRC will be bidding to tie up the title on this attractive rally through the forests and gravel tracks in and around Epynt military range. Making the trip over from here are such drivers as Connor McCloskey (Fiesta R5) and Brendan Cumiskey (Fiesta WRC). There is a historic section as well, with Builth Wells man Jason Pritchard in his Escort reckoned to be the man to beat on that part. Going over to scatter some stones, and also try to beat Jason, is Marty McCormack in his Escort, to be co-driven by Barney Mitchell.
Also this weekend is the FAAC Simply Automatic/Sligo Park Hotel Sligo Stages Rally, fifth round of this season's eight round Triton Showers National Championship and also round of the Sligo Pallets Border series. The battle at the top of the series has crystallised into a title fight between former National Champion Roy White and Josh Moffett, both driving Fiesta WRCs. At the moment the odds are stacked in favour of Moffett following a series of outright wins, only a puncture on his home Monaghan Rally depriving him of a clean victory sheet. However Cork '20' winner Roy White can be a model of consistency and this battle for the Triton title is far from over. Seeded at 3 in Sligo is Jonny Greer/Kirsty Riddick, driving a Fiesta R5. The Carryduff man was the winner of his home Down Rally last season and this run in Sligo will serve as a useful warm up for him. Former Tarmac Champion Derek McGarrity is seeded at 5, and like Greer wants some match practice before the Down event. Certainly the Sligo Stages will provide some really excellent mileage for the two NI drivers.
There will be many driver battles of interest on these Sligo Stages, not least for GpN supremacy between Shane Maguire and Niall Devine, both in Lancers. The battle for best modified should be pretty hot as well, with the likes of JF Shovelin, 3rd o/a last year in Sligo, driving his Escort, against such modified 'hot-shots' as Kevin Eves, Damien Toner and Johnny Jordan.
Looking further forward, to one week after Sligo, the entry list for the Carryduff Forklift backed Down Rally (20th July) shows a talented variety of drivers. Reportedly the event, a round of the MSA National, BRDA Tarmac Championship, was oversubscribed within hours of the regulations being published. Jonny Greer/Kirsty Riddick head the list in their Fiesta R5, with British Rally Champion Matt Edwards at 2 in his Fiesta R5, and with Welsh crew Melvyn Evans/Aled Davies at 3 in a Skoda Fabia R5. Behind those top three are loads of really good drivers, which should make this challenging rally, with the stages over and around the drumlins, as well as one over a slice of the Mourne Mountains, really enjoyable for the drivers, and entertaining as well for the spectators.
Also next weekend is the Imokilly Stages, what was once a small rally and is growing steadily into a big rally, with great stages outside Midleton. More news on both rallies next week.
Further bits of news include a statement from the Donegal Motor Club that the decision has been taken not to run the new Lagoon Donegal Mini Stages which was scheduled for 10th August. The decision was taken as a mark of respect to Manus Kelly's family, friends and the many people deeply saddened by the recent tragedy. The event will hopefully go ahead in 2020.  
Shane Kenneally has taken the lead of the Motorsport Ireland Junior Rally series and the next event is the first day of the two day Jim Walsh Cork Forestry Rally (27th/28th July). On the class based Suirway Group South East Stages, Casey Jay Coleman is the current overall points leader, and obviously class leader as well. The Sligo Pallets Border series is also class based and Brian Armstrong currently leads the points. The Cookstown Club is changing tack slightly by running a Targa Rally at Benone on Saturday 27th July. The six tests will not be difficult or confusing, rather 'straightforward linear tests'. There is even tea coffee, biscuits and afternoon meal included for the competitors! CoC is Bob McKeown, who can be contacted on 07866253696.
Eoin Longworth has sent us notification regarding the Birr Multi Venue Autotest on 21st July – which promises to be a fun packed day of autotesting and passengers can be carried. The tests are described as simple, easy to remember and will be suitable for multi-venue, Endurance, retro and road cars. Drivers must have either a valid competition licence or a 1 event licence which are available for this event. The well respected Bill Ryan is CoC and the multi venue event starts at Donaghmore Famine and Agricultural Museum, Donaghmore, Borris in Ossory, Co. Laois.
The Connacht Motor Club will be presenting the Martin Kearns Award on this weekend's Sligo Stages to the highest placed finisher on the event, not in receipt of any other award, where one of the crew is a fully paid up Connacht MC member. The Award recognises the clubman, a cause close to the heart of the late Martin Kearns.
Finally, we are delighted to report that our Davy (Patterson) completed the Tour Divide Endurance cycling event unscathed after 21 days hard slog over 2731 miles of dirt tracks through the Rockies from Canada to Mexico, and has just arrived back in Straid, complete with bike. He wasn't first home, far from it, but there were many behind him and also plenty of retirements. As this piece is being typed there are still many riders battling to make the finish! There are no prizes, no accolades, definitely no finish ramp. There is just the great satisfaction of finishing this demanding event. A fascinating aspect of this enormous challenge is the lack of rules. In contrast to rallying, with its hundreds of cross referenced pages in blue books, green books, FIA yellow books and goodness knows what else, the Tour has just four short rules: For example:  ' You must follow the route' and 'No outside assistance allowed" 
The four rules are followed by the short pithy quote –
"To thine own self be true" Which is from Hamlet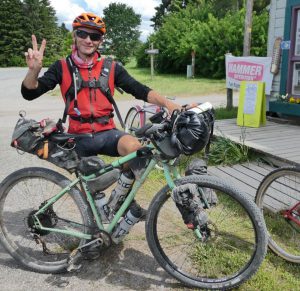 Brian & Liz Patterson