Irish Notes 31st July 2019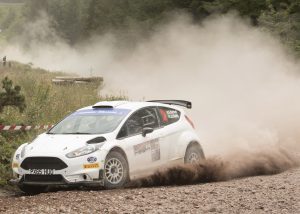 Shades of two years ago when he won the Valvoline Forestry Championship  (as well as the Triton & the Tarmac) sprang to mind when Sam Moffett surged into the lead of last weekend's two day Cork Forestry Rally, the double header penultimate counter in this year's Valvoline series. Barry McKenna/Andy Hayes in their Fiesta R5 held a slender lead for a day and a half of this superb Cork MC forestry rally, but in the Ballyhoura Mountain stages Moffett, co-driven by James O'Reilly in a similar R5 to McKenna's, seemed to go up a gear while McKenna appeared to drop down a cog. Time and again over recent years Moffett has displayed this ability to stick close to the leaders and then when it mattered, move into a lead. These two, McKenna and Moffett, were separated by only a few seconds stage after stage, and then when Sam made his move the lead ballooned to 20 seconds. It was some drive and quite a
rally. In all fairness though, McKenna had to ease off as his Fiesta radiator took a hammering over a jump and the temperature reading soared so much McKenna switched off the 'anti-lag' on the final stage.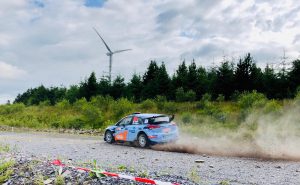 Billy Coleman Award winner James Wilson meanwhile did his reputation no harm at all by taking a start to finish 3rd. Keady man Wilson was driving a Hyundai i20 R5, his first real 4wd adventure through the forests. His next outing will be on the Ulster where the stages around Newry, while not quite on his home patch, are not a million miles away. Cathan McCourt/Barry McNulty (Fiesta) finished 4th o/a and scored a bundle of Valvoline points on this double header, and have moved into the lead of the Championship. It would appear, even with one round remaining, that Cathan McCourt has done enough to secure the Valvoline Champion title. Michael Carbin had led the series before Cork and he scored decent points in Cork, but is now 12 points behind McCourt with just the 7th September Lakeland to go and presumably when dropped scores are taken into account can't catch Cathan McCourt.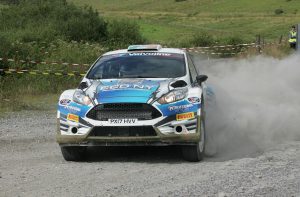 Making up the top half dozen finishers in Cork were Donagh Kelly/Conor Foley in their Skoda Fabia R5, Donagh still gaining experience with the Fabia. Conor McCourt/Brian Hoy were 6th in their Fiesta R5.
In the two wheel drive category David Condell/Paul Kelly had an excellent run in their Escort, finishing 12th o/a, best 2 wheel drive and winning class 14. Gary Kiernan, more usually seen on the asphalt stages, was 13th and won class 13. Interestingly William Creighton/Liam Regan were 3rd in two wheel drive with their Peugeot 208 R2 and were a brave class winning 15th o/a. In the normal run of things David Crossen/Aileen Kelly would be the 2WD crew to beat, but on this occasion David's Mk2 gave problems – wonky power steering on the first two stages, a delay behind Mickey Conlon's excursion, and then a snookered gearbox on the final Saturday stage which meant freewheeling over the finish line, all meaning he had to give best to David Condell on day one by half a second. With no spare gearbox Crossen couldn't restart on the Sunday.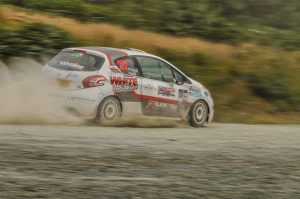 Still, it is not all doom and gloom for the Comber man: he leads the two- wheel drive category in the Championship and hopes to have the gearbox sorted in time for the Lakeland. His closest pursuer for 2WD honours is William Creighton, and Finaghy man William would need to finish in the top five overall on the Fermanagh event, with Crossen not scoring, to take the 2WD honours. (Crossen was 2nd o/a and won the 2WD category in 2017.) Other 2WD exponents in the wars included Mickey Conlon, his Escort bursting a brake pipe in stage 3 on the Saturday and then sailing off the road at the ensuing chicane. Mickey recovered well for the Sunday when he was fastest in his class. Shane McGirr was trying a G3 Escort in Cork, the car reportedly still needing a touch of tailoring so that it suits Shane and he retired on both days.
Big interest in Cork was centred on the Junior sections. In some ways the Junior rating is a tad confusing: the winner of class 16 may be considered best Junior, or class 16A, and indeed some people feel that the class 2 winner, in this case William Creighton in his fully homologated Peugeot 208 R2, should qualify for the moniker. Then there is the Junior 1000 class, which is a different category altogether.
In class 16 Brian Brady/Gary McNamee (Civic) were the clear winners from Kieran Lynch/Adam Power (Civic).  Class 16A winners were Kyle White/Sean Topping (Peugeot 208 R2) from Derek Mackarel/Muireann Hayes (Adam R2). 23 year old Kyle from Dunmurry had a fraught time even before the rally started.  He had to work at night in the family garage to change his 208 from tarmac to gravel spec following the Down Rally, where he also tasted Junior success. Then in Cork he had fuel feed and clutch issues with the Peugeot, so it was a great result in the end!
Jordan Hone had led 16A in the early part of the Saturday, but his Opel Adam gearbox played up more and more as the day wore on and he finished the day 2nd to Mackarel. His co-driving father Paul agreed with the decision not to continue into the Sunday leg, to save the car for the Ulster. Brian Brady/Gary McNamee's class winning performance earned them the Junior Academy (mixed surface) champion's title for 2019, an MI scheme backed financially by John Coyne and which is designed to provide €15,000 support for next season. Their result is all the more remarkable as Brady has no real loose surface experience and his forest preparation consisted of a couple of hours sliding around a fifteen acre field belonging to Breen McNamee. They also didn't check the notes for Cork – just left that to Breen, drove the rally to the notes and had a great time plus a terrific result.
In the Junior 1000 category, Kyle & Kieran McBride in a Toyota Ago took victory. This win places Kyle in an uncatchable position in the Mick O'Brien sponsored J1000 series. 2nd place went to absolute novice Ioan Lloyd; son of Welsh Area Rally Spares chief Gareth Lloyd, no stranger to Irish rallying. Ioan had an absolute, total enthusiastic ball through the Cork Forests and put out the following (slightly edited) e-mail after the rally: "Class weekend in Cork for the Jim Walsh Forestry! We managed 2 fastest (class) stage times and had great fun all weekend battling along! Must say thanks to everyone! The car was great and we jelled into it well thanks to Tom Gahan. Dai was a magician on the notes. We had a great laugh all weekend and he kept me on it on every stage. Hero! Thanks to mum and dad for all the support and on the spanners and catering as well as David Byrne for a great job spannering. Thanks to Patterson Pacenotes for top notch notes!  The Coalman's for the class hospitality and Walter for our stay! Thanks to all our sponsors"
Must be great to be young!
We know one Civic crew were hospitalised following their Cork accident, and we wish them a full recovery. All in all though, everyone we have talked to thought the two day rally, the stages, the organisation, was great. Take a bow Paul Casey and all the Cork MC organisers, plus all those who came from further afield to help out. It is a courageous matter for a relatively small club to run a two day forest event of this magnitude.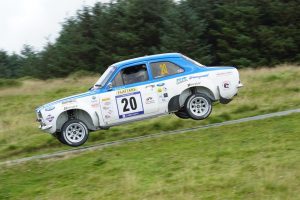 Also last weekend both Stanley Orr and Adrian Hetherington headed over to Wales for the Epynt based Harry Flatters Rally. Both drivers were out of luck – Adrian's Escort succumbed early on to a fuel related problem, while Stanley and his co-driver Graham Henderson were going very well and in a strong position of not just winning their class but of taking maximum British Historic points until on the long penultimate stage his Mk1 went off song and he thought it best to call it a day.
Looking forward to this weekend coming, much rally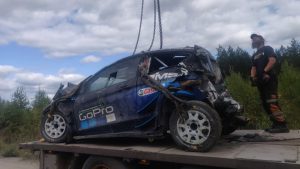 attention will be focused on the Neste Rally Finland. One shattering piece of early news is that Haydon Paddon had no sooner put the story out regarding how pleased he was testing with his M-Sport Fiesta WRC than he wrecked the car in further familiarisation runs. The Fiesta WRC is now considerably shorter, front and back, than it was when it left Cockermouth. M-Sport has been forced to withdraw the entry. The only bright side is that Haydon Paddon and his co-driver John Kennard were able to walk away. The accident happened on a flat out 6th gear absolute right, slightly hidden behind a small crest. Unfortunately there was a rock 'on the line'. The car hit it so hard it split the sump guard and catapulted the Fiesta into the trees. Kiwi Haydon said later, "You have to push the car to the limit to make it work. In a sport like this you can't have roses every day. For the absolute highs to matter and mean so much you have to have absolute lows and this is one of them." That is a sentiment most rally crews would echo!
This leaves the top WRC entries much the same as usual, apart from Gus Greensmith replacing the injured Elfyn Evans in the M-Sport Ford team. Gus has Elliott Edmondsen co-driving in the Fiesta and they join Teemu Suninen/Jarmo Lehtinen for Ford. Of course another variation from the norm is Craig Breen/Paul Nagle appearing for Hyundai, joining regulars Thierry Neuville and Andreas Mikkelsen. Citroen has World Rally Champion Sebastien Ogier/Julien Ingrassia and Esapekka Lappi/Janne Ferm in C3 WRCs. For Toyota we have Meeke, Tanak and Latvala. Another new face in the WRC's is Jouni Virtananen, who is in a Fiesta WRC. There are lots of Scandanavians in R5s, and they will be joined by Welsh crew Rhys Yates/James Morgan in their Skoda Fabia R5.
Not for nothing has Rally Finland earned the reputation of rallying's F1. It could be a fascinating event, not least from the aspect of Tanak's ongoing meteoric bid to wrest the world title away from Ogier, with Neuville right there in the thick of it. Tanak has 150 points: Ogier 146 and Neuville 143. It is just a couple of years ago since Kris Meeke won the rally and Craig Breen was 3rd. A touch of that again wouldn't be so bad, in any order!
Closer to home this weekend, Maiden City MC is running the Dogleap Stage Rally at Shackleton on Saturday and have attracted a wide variety of entries such as, from Dominic McNeill/Tommy Speers in a Fiesta WRC to Gareth Sayers/Gareth Gilchrist in a Fiesta R5 and Eugene Meegan/Sarah Whelan in a Citroen DS3R5. There is a wide selection of Escort pilots as well, including John Bonner, Paul McErlean, Seamus McDaid, Tommy O'Connell, Ryan McCusker and a whole more. Indeed there is a very wide variety of cars listed: from Lancers to Civics to Subarus etc!
Regards: Brian, Liz and Michael Patterson