Incredibly high speeds were once again the hallmark of Rally Finland, with Estonian Ott Tanak in his Toyota Yaris WRC, just like last year, fastest of all over the Finnish gravel tracks, huge jumps, blind corners over crests, rutted sandy tracks, all at a zillion miles an hour. It was Tanak's two Toyota team mates Meeke and Latvala who were his closest challengers for much of the early part of the rally, with Citroen driver Lappi in the mix as well. Eventually Latvala backed off slightly and Meeke's Yaris was side-lined. Instead it was Esapekka Lappi who flew the flag magnificently for Citroen to take 2nd, sandwiched between the Toyotas of Tanak in 1st and Latvala in 3rd.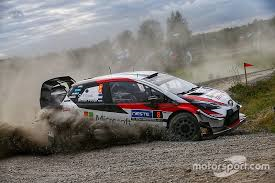 The importance of co-drivers on this rally, indeed any rally, was emphasised when news came through that Gus Greensmith, standing in for Elfyn Evans in the works Ford M-Sport Fiesta WRC crashed out on the final day after doing a good job for M-Sport. Greensmith reported the accident was a result of a 'misunderstanding' with his notes. Of course, it should always be remembered that it takes two to tango and who knows exactly what happened in the car. 
Ott Tanak had Martin Jarveoja co-driving, Esapekka had Janne Ferm, and Latvala was accompanied by Mikka Anttila. Such was the pressure on the co-drivers in this high speed helter-skelter of a rally that they all deserve a medal. Meeke's mishap had nothing to do with notes or his co-driver Seb Marshall, but seemed to be because a rock had appeared at the side of the track. Latvala's Yaris reportedly touched that rock and he escaped with a slow puncture on the left rear wheel.  Kris's Toyota clipped the rock a little harder and the impact took out the driver's side rear suspension. To make it an even worse weekend for Meeke, he re-joined the event on the Sunday and competed in Super Rally, only to retire again – this time damaging the front left suspension skimming along a grass verge and hedge on a left hand bend.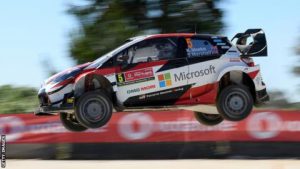 Tanak's two principal current rivals for the World Rally Champion's title, Sebastien Ogier and Thierry Neuville, made heavy weather of this high speed chase through the Finnish countryside. Ogier struggled with his road position on the Friday, although Tanak was faced with much the same proposition and managed very well, but World Rally Champion Ogier found himself in 7th going into the final two days and then, although not feeling very well, drove his Citroen as hard as he knew how, to get into 5th, albeit just a few seconds behind Andreas Mikkelsen in the Hyundai.
Thierry Neuville, by his own high standards, never really got into the groove and he finished 6th, having been further back for most of the rally. Indeed the Belgian could just have easily finished 7th but for Craig Breen taking a 20 second lateness penalty going to the start of the penultimate stage. Craig, co-driven by Paul Nagle, wasn't complaining at all about perhaps having to do his team mate a favour in garnering a few extra WRC points. Craig was just delighted that Hyundai had opened the WRC door for him after many months in the wilderness. It is all very well contesting European and Irish Tarmac events, but there is nothing, just absolutely zilch, that compares with the World Rally Championship. And Craig did a good job for Hyundai, especially considering it was his first time in the i20 WRC. He was in the top half dozen from the start, mixing it with the best in the world and on the fastest and most competitive gravel stages in the Championship.  Craig certainly did not let himself down. Teemu Sunninen in the M-Sport WRC finished 8th, over a minute on stage times down on Craig. A very possible future WRC Champion, young Kalle Rovanpera was a solid, unflurried 9th – driving an R5 car. Admittedly he was a long way behind the WRC machinery, but on this type of ultra-quick stages, that is only to be expected.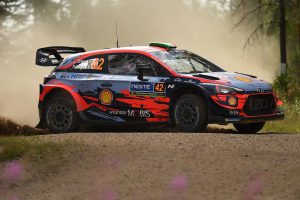 Just to underline his class, Tanak rounded off his victory by setting fastest time in the Power Stage. This leaves Ott on 180 points, Ogier on 158 and Neuville 155. The next round of the Championship is over the asphalt stages of Rally Germany on 22nd – 25th August. (One week after the Ulster.)
Meanwhile nearer home, Aaron and Noelle McLaughlin in a Fiesta took victory on the Maiden City MC's MJM Dogleap Rally at Shackleton, finishing 1m 16s ahead of Barry Morris/Declan Campbell (Darrian T90 GTR. Trevor McConnell/Gareth Deazlay (Lancer) were 3rd. Gareth Sayers/Gareth Gilchrist in their Fiesta R5 had been up to 2nd by midpoint, but retired in the latter part of the 6 stage event.
The next major home rally is the Ulster, (August 16th/17th). The event is a counter in the Irish Tarmac Championship as well as the British Rally Championship and Historics. There will be a shakedown stage on Friday 16th, and then on the Saturday there will be three stages repeated three times. The "Today's" supermarket chain backed event will have a service area at Newry High School and there will be regroup controls in the centre of Banbridge. Entries have reportedly been finalised, and Craig Breen commented at the end of Rally Finland that he will be back in action on the Ulster.
Craig won the opening three events in this year's Tarmac Championship – the Galway, Easter Stages and Killarney Lakes, so is well placed to take the title. He drove a Fiesta R5 on those three rounds, and switches to a Hyundai i20 R5 for the Ulster. Fresh from their Rally Finland exploits, Craig and his co-driver Paul Nagle should be in top form for this event and indeed have to be considered the odds on favourites. However, the opposition will be tough, relentlessly so.  There are quite a few very talented drivers in the best of R5 cars at the top of the entry, both from the Tarmac Championship and the BRC perspective. Craig will want to win the rally outright, quite apart from trying for maximum points to reinforce his Tarmac lead.  Just some of the drivers who could give Craig problems are Alastair Fisher, Callum Devine, Sam and Josh Moffett, Jonny Greer, Desi Henry, Daniel Cronin, Marty McCormack. For the record, Craig has four maximum scores, 68 points; Alistair Fisher has 62, Callum Devine 47 and Josh Moffett 38.
The principal BRC contenders will almost certainly be Matt Edwards, Tom Cave, Merion Evans or Alex Laffey. (Small in quantity, high in quality).  That is just skimming the surface of the talented drivers who will be contesting the rally and will surely be in the hunt. Further back there will certainly be a good turnout of talented juniors, the best for years, plus some interesting and very fast Historic crews. More news on the Ulster next week and also more news on the Galway Summer: next counter in the Triton Showers National Championship. The always popular Galway Summer rally is on 24th/25th August, and is reportedly looking really good and at the last count had 125 entries and counting. The rally is based in Gort.
Brian, Michael & Liz Patterson