Irish Notes 14th Aug 2019
Just a couple of days to go to the 'Today' backed Ulster Rally, now based in Newry and an important event indeed in that it could be pivotal for many driver's 2019 aspirations. The thing is, the Rally is a counter in so many Championships at this critical time that many drivers will have a fair idea by Saturday night as just how their rally year is going to pan out. At the top of the Tarmac the story is all about Craig Breen and his closest challenger Alastair Fisher, while on the BRC the position at the top couldn't be any more poised with Matt Edwards and Tom Cave tying. There are lots of other parts of the Championship to be decided also of course.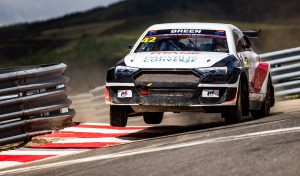 In the Tarmac Craig Breen is on 68 points and Fisher on 62. For Breen this Hyundai i20 R5 will be a different car, but with all his WRC experience it should be no problem at all for the Waterford man to quickly bed himself in. Alastair Fisher hasn't been in a rally car since Donegal, and he is hoping for a short test this Thursday in his Fiesta R5, then a run over the 'shakedown stage'. Alastair commented from his Fermanagh base earlier this week, "We have had a look at the DVD of the stages, and there seems to be a lot of work in the roads. It will be quite a challenge." When asked could he beat Breen, Alastair, whose wife Fiona has just given birth to a baby girl, Zara, to keep wee Tommy company and  make it a 'gentleman's family', continued, "I don't know. There has been that wee difference between us all season: and anyone who questions if Craig is really flat out should be assured that he is!"  One of the surprise packets in the Tarmac has been the performance of Callum Devine, and he is lying 3rd in the points, with Josh Moffett 4th. Even though there are bonus points on the final Tarmac round in Cork, it seems unlikely that either of these two will however make any impression on the top rung of the points ladder. Never say never in rallying of course.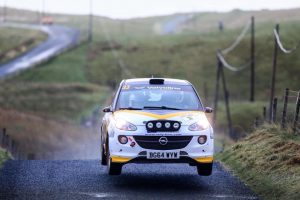 In the Junior section of the Tarmac, William Creighton leads from Johnny Mulholland and in GpN, William Mavitty leads from Andy Davies. In the BRC, behind the tying Edwards and Cave, David Bogie is in 3rd and Marty McCormack 4th. Bogie seems to have given up on the Championship, while McCormack is adamant that his rallying this year is all about having fun in his Mk2 Escort as well as his 'Tiger Risk' backed Skoda. As well as enjoying his 'home International Ulster Rally', Marty admits he will also be trying to win it!  But then as Marty points out, most of the top ten crews will be trying for, and capable of, a win. As well as the drivers we have mentioned above, that top ten includes Sam Moffett, Desi Henry, and Jonny Greer. Just outside the magical ten are some more very handy drivers – think for example of Alex Laffey, Daniel Cronin and James Wilson. Seeded amongst the top International drivers are a few 'National' entrants, Alan Carmichael in a Hyundai R5 and Stuart Biggerstaff in a Fiesta amongst them. The rally more or less passes the Biggerstaff 'home' place, so it should be a great thrill for Stuart to be rallying in this territory. It has to be remembered though that even if former NI Champion Stuart Biggerstaff is the fastest driver overall 'on the day', he can't win the Ulster International Rally and that the Ulster National Rally has its own prizes.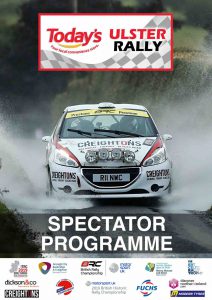 One of the real highlights of this Ulster International Rally is likely to be the battle between the BRC Junior contenders. Josh McErlean heads the points from William Creighton. (Josh is going for his 3rd win: Creighton's aim is to deny him so he can claim his first). James Williams is 3rd following his brilliant drive on the Ypres Rally. Other Junior drivers who will no doubt be right in the thick of the action include Jordan Hone, Marty Gallagher, Finlay Retson and Ruari Bell. (The latter driver leads the M-Sport/Pirelli Junior Fiesta R2T points, a separate challenge). In addition to all the different classes there will be a great Historic battle going on, as the rally is a counter in the Fuschs Motorsport UK Historic series – where drivers such as Stanley Orr (Escort), Adrian Hetherington (Escort) and Ray Cunningham (Mini) will do battle with top drivers from further afield, including Simon Webster, Rudi Lancaster and Joe Price, all in Escorts. There are three Porsches entered – two of them in Historic guise, to be driven by Rikki Proffitt and Adrian Kermode, and a more modern one, a 993 GT3, in the hands of John Coyne. On the subject of Escorts, some of the fastest state of the art Mk2s in the country will be out on Saturday – the top three in the hands of Damian Toner, Camillus Bradley and Frank Kelly. Something for every petrol-head enthusiast then on this rally: the first of the 9 special stages is 'McGaffin's Corner' which starts at 08.36 on Saturday morning. From there it is down to a Regroup in Banbridge at 9.21. Following that, stage 2 Bronte Homeland will be at 9.36 and stage 3 Shinn Bridge at 10.06 Then it is on to service in Newry, with that complete loop repeated twice more during the day before the ramp ceremony back in Newry at 17.40.
 Further rally news away from the Ulster includes Eric Patterson winning last Saturday's Ratfriland MC J McClimond Engineering Targa Rally. Patterson was driving an MX-5 and was co-driven by Raymond Donaldson. Mark Francis/Adam Hilditch were 2nd, 12s back and Steven Cromie/Taylor Gribbon were 3rd, to make it an MX-5 top three.
Over in Scotland last weekend, Euan Thorburn/Paul Beaton won the Grampian Rally in their Focus WRC to clinch this season's Scottish Championship. Jock Armstrong/Kirsty Riddick in their Subaru finished 2nd on the rally, 27 seconds back.
Early news on the Galway Summer Stages: a round of the Triton Showers National series, as well as the West Coast and the Sligo Pallets Border Championship. The rally is being sponsored by and is centred at the Lady Gregory Hotel in Gort. CoC Aiden Connolly reports some of the leading early entries from the 125 plus received include Josh Moffett, Hugh Hunter, James Stafford, Frank Kelly and Gary Kiernan.
The MG Car Club (Ulster Centre) has put out regulation details for their MG Ulster Trial which is based in Co. Down and takes place on the evening of Friday 30th August.
On the WRC front it has been confirmed that Elfyn Evans is to miss the next WRC round, which is Germany, to give his back injury more time to heal. Gus Greensmith will again drive Elfyn's M-Sport Fiesta.
Motorsport Ireland has unveiled early details of a new co-drivers academy. Greg Shinnors, who co-drove for the brilliant late Rory Galligan as well as Roy White and Keith Cronin, is one of the men behind this initiative, along with the Billy Coleman Award co-ordinator Sean McHugh. There are lots of benefits sure to help an aspiring co-driver. Further enquiries to greg@joeshinnorsmotorsales.ie or seanmac135@hotmail.com
Brian, Michael and Liz Patterson.