Favourites romped to victory on both rallies that took place at the weekend which were of particular interest to us: in Germany it was Ott Tanak and on the Galway Summer Josh Moffett did the business. As ever the ADAC Rallye Deutschland provided high speed action over a variety of different types of asphalt stages through vineyards and over testing military stages. Ott Tanak in his Toyota Yaris WRC led initially then Thierry Neuville managed to get his Hyundai's nose in front after stage 2, but by just 0.7 of a second. Tanak immediately retook the lead. These two battled it out through the rest of the Friday stages and most of the Saturday ones. This was a superbly close and intense battle, with Tanak only ever able to increase his lead to half a dozen seconds. Kris Meeke, Jari Matti Latvala and Dani Sordo all had lots of pace, but the front two competitors were on this occasion untouchable.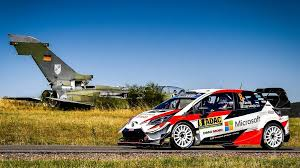 Then on stage 13 Panzerplatte, the Neuville Hyundai collected a puncture. The Belgian driver Thierry and his co-driver Nicolas Gilsoul changed the punctured tyre in record time, not a whole lot over a minute, but still it knocked them out of the podium places. For the remainder of the rally, it was a formation performance really from the three Toyota drivers at the front. They safely held on to the finish, to make it a Yaris WRC wonder finish – Tanak 1st, Meeke 2nd and Latvala 3rd. Thierry was fastest through the Power stage which brought bonus WRC points. Another small bonus for Thierry was that his Hyundai team mate Dani Sordo was able to take a road penalty and put himself down a place, which moved Thierry up one to 4th. Still, that puncture put paid to the chance of a wonderful result.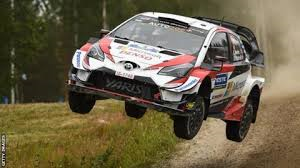 For Tanak on the other hand, this win was seventh heaven: it made it a hat-trick of Rally Germany victories for the Estonian and must also increase his World Rally Championship chances enormously. It was typical Tanak that he just shrugged off brake problems with his car towards the finish of the rally. Tanak currently, with four rounds remaining, has 205 points, Neuville has 172 and Ogier 165. World Champion Ogier seemed to really struggle with the under-steering handling of his Citroen on this rally, his cause not helped by a puncture. At times during the event Ogier looked really distraught. He seemed to be driving his heart out, but just not cracking the times. No doubt the Frenchman could feel his chances of retaining his World Rally Crown slowly slipping away with every mediocre stage time.
Ogier's fellow Citroen 'pilote' Esapekka Lappi also had a troubled rally. Still Lappi ended up one place ahead of Ogier, but sacrificed that by taking a road penalty to move Ogier up to 7th. It wasn't a great rally for the M-Sport Ford drivers either. Teemu Sunninen lost time early in the rally with a 'technical' problem on his Fiesta WRC, but at least there was the consolation of him setting some brilliant times in the latter part of the rally: right on the pace. Gus Greensmith was driving the other M-Sport Fiesta, and on only his second rally at this level he did very well indeed, but still a few seconds per stage off the pace of these best drivers in the world. Jan Kopecky had a very impressive run to win RC2 in his Skoda R5. Eric Camilli debuted the latest M-Sport Fiesta R5 and finished 2nd in the 'Pro' R5 division, and that was despite some road penalties. Camilli was delighted with this latest Ford.
Here at home on the Galway Summer Stages, Josh Moffett's supremacy was absolute. Josh and his co-driver Andy Hayes in their Fiesta WRC led from start to finish. Josh's main task for the day was to collect sufficient points to clinch the Triton Showers National Championship. Josh admitted during this Galway event that he wasn't just in full flow following his accident last week on the Ulster. As it transpired he wasn't under any real pressure during the course of the 9 stage event. Certainly the one crew who could have pushed him for the title, Roy White/James O'Brien, retired their Fiesta WRC because of broken transmission after the opening stage. Moffett went on to win the rally by 37 seconds from Cathan McCourt/Grace O'Brien. They were also in a Fiesta. Ian Barrett/Paul McGee survived an early spin with their Subaru and went on to take 3rd overall. Gary Kiernan/Ryan Moore scored a very meritorious 4th overall and 'best Escort' tag to win 'King of the Mark 2' Award. Welsh visitor Hugh Hunter, with Rob Fagg co-driving in his Ford Focus WRC was 5th and former multiple National Champion Niall Maguire, with James O'Reilly co-driving in his Subaru, was 6th.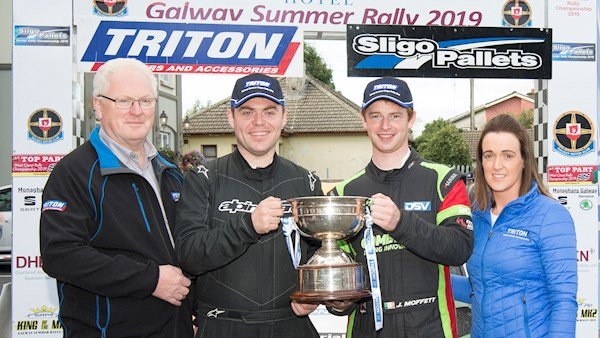 Niall's son Shane co-driven this time by Conor Foley was 8th in his Mitsubishi Lancer. They won GpN on the rally and in the Triton Showers National Championship. 9th o/a went to Frank Kelly/Sean Hayde. Frank found his Escort to be wanting in the grip department on the opening stage, and then he got stuck behind a stage 2 incident, so he was well back in the classification by first service. However Frank got into the groove and fought back well to get into the top 10 overall and 2nd in class 14 by the Lady Gregory Hotel finish ramp. JF Shovelin/Emmet Brosnan also had a fine run to 10th in their Escort and they reinforced their position in the Mk2 Escort Challenge.
Once again Gary McNamee/Brian Brady turned in a superb performance in their Civic to win their class, Tom Holton in his Mitsubishi won the class 20 and Ian Roche/Anthony Nestor won class 15 in their Subaru. David Armstrong/Podge Newe (Escort) won the Historic category and in the Juniors the Cavan/Roscommon duo of Jack Brunton/Daragh Kelly won class 16 and the 16A victors were the Kerry/Kilkenny combination of Colin O'Donoghue/Eddie Doherty (Ford Escort).
Some leading retirements, as well as Roy White, were James Stafford (Darrian) and Jonathan Pringle (Escort), Richard Whelan (Escort) as well as Kevin Eves (Toyota) on the final stage, having clipped a wall on an earlier stage. Eves is still the 'top modified' in the Triton points.
Looking forward to this weekend the interesting Ludlow based Eventssigns Woodpecker Rally takes place on Saturday. Top entries include Stephen Petch/Michael Wilkinson in their Fiesta WRC, Ollie Mellors/Ian Windress in one of the new Proton Iriz R5s and Charlie Payne/Carl Williamson in a Fiesta R5. Drivers making the trip from here include Sean Devine (Fiesta R5), Martin Cairns (Fiesta WRC), Paul Britton (Subaru Impreza N16) & Marty McCormack (Mk2 Escort).
Closer to home, some 150 cars, including many classics, will be on a tour through the classic stages in Donegal on the Déjà Vu adventure, which should bring lots of funds to go to the Donegal Hospice. Twelve former winners of the Donegal International will be taking part, many in 'period' cars.  Also this Friday evening, the MG Car Club (Ulster) is running its Night Trial in Co. Down, starting and finishing at Ballyblack Hall outside Newtownards. This week the 'recce' starts for the Wexford Volkswagen Stages Rally, with the main event the following weekend 7th/8th September. The event had attracted over 90 entries at the last count, more info next week. Documentation is at the Riverbank House Hotel in Wexford.
One small correction we must make is that the Dougie Hughes Memorial Clare Stages Rally (14th/15th September) is not having a shakedown stage. CoC Gerry O'Brien remarked when we were talking to him a couple of weeks ago that the event would be a good shakedown for Mull – and we took him up wrongly! So, just 9 very good stages in Clare and entries are building up. The rally is based at the Hotel Woodstock in Ennis and the main sponsors are M Fitzgibbon Contractors Ltd. as well as EMC Autos.
Regards, Brian, Michael & Liz Patterson