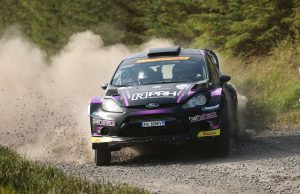 Last Saturday's McKelvey Asbestos backed Bushwhacker rally produced a predicted winner in Desi Henry, but a complete surprise in the leader for most of the day, Martynas Samsonas in his very special rocket ship BMW. Desi Henry, co-driven by Conor Mohan in his Fiesta WRC, was hampered initially by being first on the road, sweeping the top layer of loose gravel. As the day progressed Henry gradually closed up on the flying BMW at the front. Suspension specialist Samsonas from Lithuania lost some momentum when his BMW engine suffered a clogged breather pipe, and allowed Henry to lead when it mattered, for the chequered flag.
Niall McCullagh also put in a storming finish aided by some other drivers having problems. They included Patrick O'Brien/Stephen O'Hanlon, their R5 blowing its turbo and blowing as well an almost certain podium place. As it was Niall McCullagh, co-driven by Ryan McCloskey in his Fiesta R5, scored one of his best results with 3rd place.
The overall win for Desi Henry means that, more than ever, he could take the McGrady Insurance NI Championship title despite missing some of the earlier rounds. Derek McGeehan, Derek McGarrity and Stephen Wright are the three who on paper are in contention for the Championship, with Desi Henry well back but coming into the picture like an express train. McGeehan, co-driven by his son Mark, finished down in 11th place having lost some time when he spun his Mini WRC. Derek McGarrity/Paddy Robinson were once again plagued by an elusive misfire in their Fiesta WRC and they finished 8th. Stephen Wright /Liam Moynihan (Fiesta R5) were 7th, Stephen still gaining gravel experience but still leads the Championship points.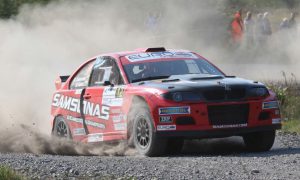 Just outside the top three on this McKelvey Asbestos sponsored Bushwhacker, Conor McCourt/Caolan McKenna finished 4th in their Fiesta R5 and Jock Armstrong made the trip from Dumfries worthwhile by taking 5th. Jock was co-driven in his Subaru by Graham Henderson. The 2 wheel drive battle eventually went to Adrian Hetherington/Gary Nolan in their Mk2 Escort. They finished just 3 seconds ahead of Shane McGirr/Denver Rafferty (Starlet) after a marvellous day long battle.
Some of the other class winners included Drew Chambers/Wendy Blackledge (Peugeot 206 GTI), Austin Snow/John Henderson (Lancer), Damien Conlin/Gareth Lewthwaite (Nova), Ruari Maguire/Cathan McCourt (Corsa) Hugh McQuaid/Enda Gerety (Escort).
Also last weekend, Kenneth Murray/Gordon Noble won the Dungannon based Moonraker Rally from Philip & Kyle Somerville in a Rover Mini. John & Jonathan Henderson were 3rd in their Micra and Michael Reid/John Lindsay 4th in their MG Midget. The event took place over the back roads West of Dungannon.
This weekend the main home rally focus will be on the CB Toolhire backed Cork '20'. The rally has received a strong entry and in the sign of the times the top end of the list is dominated by R5 machinery. Callum Devine/Brian Hoy are the top seeds in a Fiesta, then it is Jonny Greer/Kirsty Riddick in a similar Fiesta. Marty McCormack/Barney Mitchell are at 3 in a Dom Buckley VW Polo GTi R5 and it will be interesting to see how they go on the car's Irish debut. Merion Evans/Jonathan Jackson are at 4 in a Skoda, Daniel Cronin/JJ Cremin, 2nd here last year, are at 5 in their Fiesta, and Andrew Purcell/Liam Brennan start at 6 in their Fiesta, hopefully fully repaired since its Wexford mishap. Then at 7 we have Cathan McCourt and listed at 8 is Eugene Donnelly, just back from his honeymoon. However, reportedly Rob Duggan in an R5 is taking over that entry, which should add yet another dimension to the leaderboard battle. At 9 is David Guest and at 10 Sacha Kakad. Jordan and Paul Hone are slotted in at 14 for their first run in an R5 car (it was mooted to be a Hyundai, but that has been changed to Fiesta R5).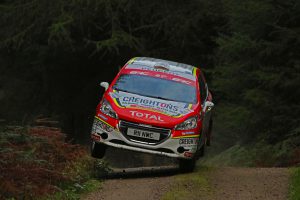 Top two wheel drive exponents are Damien Toner/Michael Coady and David Condell/Paul Kelly, both in Mk2 Escorts. William Creighton/Liam Regan are seeded at 41 in their Peugeot 208 R2, just ahead of Johnnie Mulholland/Charles Gallagher in their Fiesta R2T.
The Cork '20' is the final round of the Irish Tarmac Championship and carries 'points and a half' so both William and Johnnie still have a chance of winning the 'R2' category. The overall title has of course gone the way of Craig Breen/Paul Nagle on the Ulster Rally.
Besides the interest in the top of the Cork '20' list as to who will be doing the winning and losing through the rallies' 12 glorious stages, there are many interesting drivers and cars entered. Owen Murphy/Anthony Nestor for example will be battling it out for Historic honours in a Lotus Sunbeam. John & Stephen Coyne are in a fabulous Porsche 997 GT3. Adrian Kermode/Paula Swinscoe are in a Porsche 911, as are Brendan McAree/Niall Kelly. Alan Ring/Adrian Deasy are out in a BMW M3. Aaron Browne/Daniel Hanratty head the Junior contingent in their Civic.
The rally, which was originally to be based in Macroom but is now stationed in Little Island to the East of Cork City near Midleton. The event starts at 10.30 on Saturday morning, main service is at Macroom, overnight halt back at the Radisson Blu in Little Island and the finish is there on Sunday afternoon at approximately 5pm.
Also this weekend the Trackrod Rally will run through the classic Yorkshire forests. The event is a counter in the BTRDA as well as the British Historic Rally Championship. The Historic entries include Matt Edwards in a Fiat 131 Abarth, Bob Bean in a Lotus Cortina and the always very fast Nick Elliott in his Escort. Two crews making the trip from here include Stanley Orr/Graham Henderson and they will drive their Mark 1 Escort, while in a Mk2 will be Adrian Hetherington/Ronan O'Neill. In the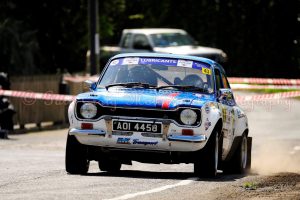 BTRDA section just some of the top seeds include Stephen Petch in his Fiesta WRC and Ollie Mellors in a Proton R5. The historic category will tackle a big stage on Friday night, and then resume on Saturday morning, which will be a great warm-up for the Roger Albert Clark. When we contacted him at his Co Down workshop, Stanley Orr commented on the big Friday night stage, "Yes, it is so fast, it is going to take a big commitment in the dark. I have been going over the DVD of the stages, and trying to really pin down the distances." Stanley has had a brilliant year in the British Historics, except for a major disappointment on the Epynt event when his Mk1's engine went off a cylinder and he had to switch it off. He went on to say, "Other than that, I could have had the overall Championship sewn up, five class wins out of six rallies, five to count. I have the class won ok, but the overall win is not going to be easy. We are 2nd o/a at the moment The car is good, the engine was great on the Ulster. Simon Webster (Mk2 BDA) is the man to beat. Like myself he is not a youngster, and he has been at the top, led rallies, for many years, but luck hasn't been on his side. This year it is all going well for him, and he has good experience in Yorkshire, whereas the last time I was there was in the Eighties." We will watch the Trackrod results with interest!
News this week includes the arrival of a new, latest homologated version of the VW Polo GTi R5 to come to Ireland. The car is headed for the Donagh Kelly stable. Donagh's Skoda R5 is now at Derek McGarrity's business in Co. Antrim. Robin Phillips competed in the Bushwhacker with his immaculate Subaru Impreza WRC. Robin won the rally 25 years ago and the organisers gave him the number 25 in recognition! News of another star is that Jimmy McRae is competing on the National section of Wales Rally GB in a Porsche 911. The next round of the NI Rally Championship is the Tyrone Stages on the 19th October. Once again the Cookstown MC event will have super smooth asphalt stages around the Magilligan complex fornenst Benone Beach.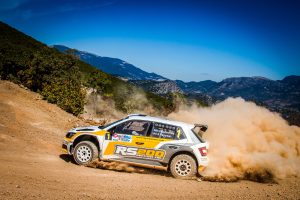 Bangor's Allan Harryman had a great result at the weekend, co-driving John Papadimitriou in his Skoda Fabia R5 to victory on the MyKteo Fthinoporino Rally. British Rally Champion Matt Edwards is to drive a Hyundai R5 and not his usual Fiesta R5 on next week's Wales Rally GB. Matt will have Mark Glennerster co-driving as usual, and they will have Josh McErlean/Keaton Williams as team-mates for the weekend.
The very tough European Championship Cyprus rally takes place this coming weekend, with Chris Ingram/Ross Whittock the No.1 seeds in their Skoda Fabia R5 'Evo'. Previous winner Nasser Al-Attiyah is seeded at number 4 in a VW Polo GTI R5. Mikko Hirvonen is at 6 and to drive a Fiesta R5. Fermanagh's Marshall Clarke is co-driving for Abdulaziz Al-Kuwari in a Skoda R5.
Multiple rally winner Oliver Solberg has just celebrated his 18th birthday, so should be 'legal' to drive as planned on next week's Wales Rally GB, with Tyrone's Aaron Johnston co-driving in his VW Polo GTi R5. It should be quite an occasion for the Solberg family with father Petter completing his retirement tour on the same event, also driving a VW Polo R5. It was on Wales Rally GB 16 years ago of course that Petter clinched his World Rally Championship victory, with Phil Mills co-driving then and is co-driving again this time.
Regards, Brian, Liz & Michael Patterson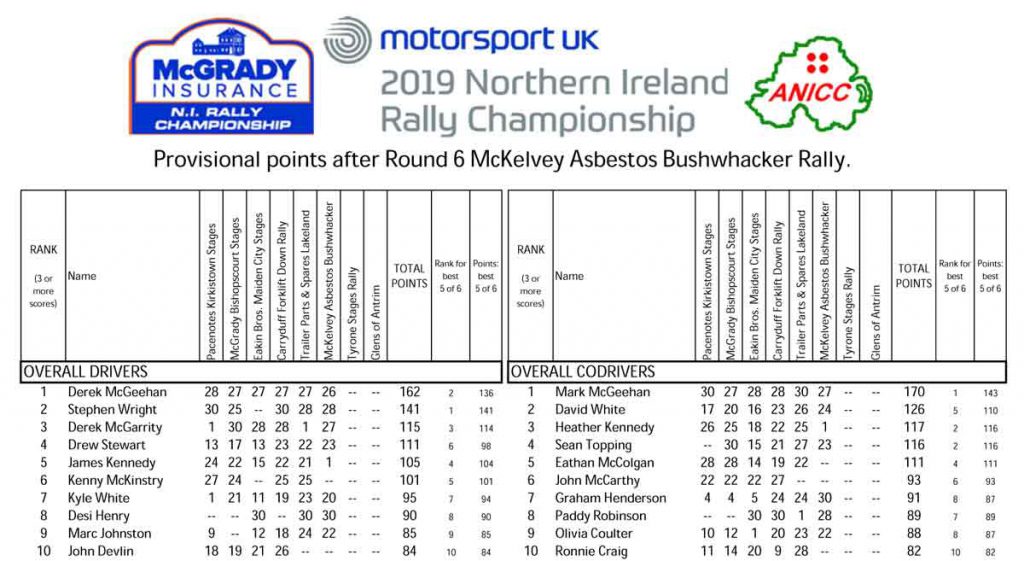 NI Championship Points after Bushwhacker Rally (PDF Document)