Irish Notes 18th September 2019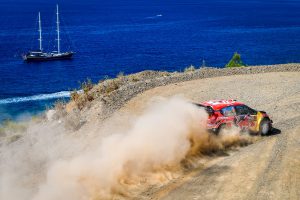 Breathtaking terrain no doubt, but the WRC Rally Turkey's rock strewn, dusty, tyre shredding tracks made the going very tough for the drivers. Oh and there were bouts of torrential rain interrupting the searing heat. It was World Rally Champion Sebastien Ogier, very much on his mettle, who shrugged of these most difficult rally conditions and took a hard earned victory just ahead of his Citroen teammate Esapekka Lappi. This Citroen 'one–two' result not only rejuvenated the Citroen team, it added real impetus to Ogier's challenge to retain his Champion's crown. Ott Tanak still heads the WRC driver's points but his run of wins ground to a halt in Turkey when the electrics of his Yaris WRC stopped playing ball. Tanak did rejoin for the final day and set fastest time in the power stage.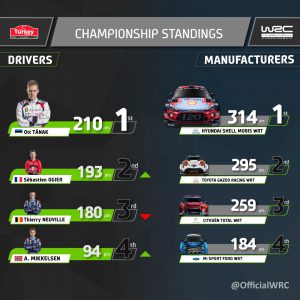 The other main player in the WRC title battle is Thierry Neuville. The Belgian battled hard in Turkey but got caught out in the dust on Saturday afternoon and his Hyundai became stuck off the road for four minutes. This did his WRC title hopes no favours at all. He eventually finished 8th, with Meeke 7th. Andreas Mikkelsen did keep the Hyundai flag flying with his 3rd place finish. Teemu Suninen in the pace-setting M-Sport Ford Fiesta WRC was 4th, Dani Sordo (Hyundai) was 5th and Jari-Matti Latvala (Yaris), following punctures, was 6th.
One of the drives of the rally came from Gus Greensmith who was 10th o/a and won the R5 division in his very battered Fiesta R5 Mk2 – battered because he crashed at the finish of the penultimate stage but managed to keep going. Confusingly the R5 class is now divided into two sections so it is not easy to figure out who is winning what, but Jan Kopecky finished 11th o/a in his Skoda R5. In overall terms, Hyundai continues to lead the WRC Manufacturer's points, while in the driver's points Ott Tanak has 210, Ogier 193 and Neuville 180.
Meanwhile Frank Kelly, co-driven by his daughter Lauren, took a trip to Belgium last weekend and had a ball on his way to 2nd place on Escort Rally Special, based at Chimay. Frank lost some time early in the event, firstly with difficult visibility, then with clouting a couple of straw bales. As the rally progressed he started to mix in with the fastest times to finish 2nd o/a. Frank paid great tribute to his fellow driver from home Jack Newman, who put up great times and was ahead of Frank most of the way, but then Jack was forced to retire his Mk2 on the final stage. Francois Duval was the outright winner, while Welshman Tomas Davies did well to finish 3rd. Alister McRae made the trip from Australia and he finished 4th.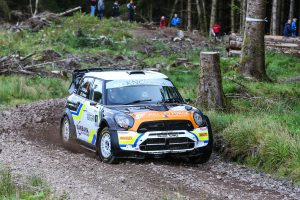 Slightly closer to home, Tom Cave/Dale Bowen in their rebuilt Hyundai R5 were fastest on all 9 stages (the rally should have had 9 stages, but the event was running so late the final test was abandoned) to take a clear victory on the Galloway Hills Rally, final round of this season's British Rally Championship. Despite this dazzling display, Cave didn't win the Championship, that honour going to Matt Edwards/Patrick Walsh in their Fiesta R5. Edwards knew be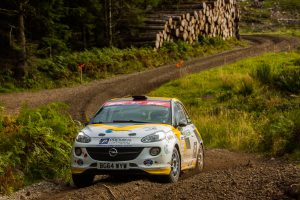 fore the start he didn't have to win the rally to retain his British Rally Champion's crown and his best plan was to keep his Fiesta's nose clean, adopt a steady pace through the difficult and technical Galloway stages and the title would be his. That is exactly what the North Wales man did do. Jonny Greer, co-driven this time by Dai Roberts in his Fiesta R5, had a very good rally to finish 2nd o/a, 54 seconds behind Cave, over a minute ahead of Edwards.
James Wilson continued his R5 learning curve with a solid 4th in his Hyundai, guided once again by Arthur Kierans.
William Creighton/Liam Regan were stars of the show, recovering from an early puncture on their Peugeot 208 R2 to take 5th o/a and win the BRC Junior section. Marty Gallagher/Dean O'Sullivan also gave the rally a real good go and finished just over 5 seconds behind Creighton. Marty was driving a Fiesta R2T and both drivers will receive a substantial slice of the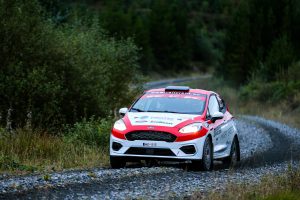 junior prize fund. Earlier in the day it had been Jordan Hone/Keaton Williams who had set the Junior pace in their Opel Adam. However a rear wheel of the Opel dropped into the ditch in stage 6, the car then catapulted across the track into the
other ditch. They were able to finish the stage but could go no further because of radiator and other damage. Ruari Bell/Darren Garrod finished in 11th o/a and they won the €60,000 voucher from M-Sport and Pirelli for topping the Ford Fiesta R2 Trophy standings. In the Scottish Championship part of Galloway, run over a lesser mileage, David Bogie, driving Derek McGeehan's Mini WRC, had a clear win over Jock Armstrong in his Subaru.
Also last weekend we had the Clare stages rally and Roy White/James O'Brien in their Fiesta WRC took the victory, with Daniel Cronin/JJ Cremin 2nd in their Fiesta R5, just 15 seconds back. Ian Barrett/Paul McGee brought their Darrian into 3rd. Roy commented after the rally that it hadn't been an easy event. Although he thought the stages were very good, he found the constant damp and mizzly conditions throughout the day made it very challenging. He also said that Daniel Cronin had set some very good times, so the pressure was constantly on. Having said that, Roy did admit that his main aim for the day was to get his Fiesta WRC to the finish in a good enough position to clinch the West Coast Championship, which he did.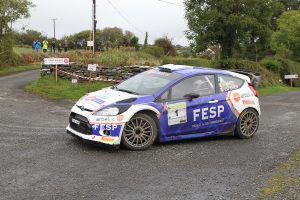 Ian Roche/Anthony Nestor brought their Impreza WRC into 4th, Declan McCrory/Stephen O'Hanlon (Fiesta R5) were 5th and Aidan Wray/Kieran McGrath did well to bring their GpN Lancer Evo 10 into 6th o/a. Third placed Ian Barrett took the accolade for highest 2wd finisher, while best Escort tag went to Sean Moran in 12th o/a and a class winner. Ed Synan/Tom Collins in their Subaru Impreza WRC had a bit of an overheating issue on the opening stage then put in some decent times until a gearbox worry brought their rally to a premature end. Mike Quinn non-started following engine problems with his Subaru on the Wexford rally. Niall O'Sullivan/Sean Crowley won class 11F in their Citroen C2 and Niall O'Connell/Tommy O'Connor finished 1st in class 2 with their Citroen C2 R2 Max. Best Juniors were Cathal Nolan/Emel McNamara in their Civic and they won class 16. The other junior winners, who won class 16A and also drove a Civic, were Jake Lennon/Aaron Lennon.
Looking forward to this weekend's Bushwhacker Rally, a counter in the NI Championship, there is certainly an interesting entry. Top drivers include current Championship leader Derek McGeehan in his Mini WRC, Connor McCloskey and Derek McGarrity in their respective Fiestas, Stephen Wright, who has a fighting chance of the Championship, Jock Armstrong, who makes the trip from Scotland to compete in his Subaru, with Graham Henderson co-driving. Drivers in two wheel drive machinery include Shane McGirr and Adrian Hetherington.
News this week includes young Oliver Solberg winning another rally in the USA, driving for Subaru America. As mentioned above, Roy White has won the West Coast Rally series following his Clare win, and former National Champion Roy and last year's Cork 20 winner, told us that his racing overalls are washed and on top of the wardrobe in a bag until next year! Roy says he has no plans to change his 2010 Fiesta WRC, but at the same time he is keeping a close eye on the progress of the new Polo R5 and the latest Fiesta R5. Roy reckons his rallying schedule for next year will be something similar to this season.
Former GpN National and forestry champion Owen Murphy got married to Ciara (Deasey) last weekend at Thurles X. Very Best wishes to them for the future. Reportedly it was a very pleasant day indeed!
Niall O'Connell/Tommy O'Connor in their Citroen C2R2 Max have won the 2wd division of the West Coast Championship and we are happy to report that they were using Patterson Notes.
On the Susquehannock Trail Performance Rally last weekend, Cornelius O'Sullivan/Aileen Kelly finished a very creditable 4th o/a in their Lancer, while John O'Sullivan/Shane Farrell were 7th in a Fiesta.
Looming large on the rally horizon, as well as the Omagh based Bushwhacker this weekend is the Cheviot Rally on Otterburn and also the McRae stages at Knockhill. Next weekend 27th/28th/29th September we have the Trackrod Rally in Yorkshire, the Cork '20' and the iconic European Championship Cyprus Rally. The Cork '20', as well as having fabulous stages, is shaping up to have a really good entry as well. Latest addition to the top entry which includes Callum Devine and Jonny Greer in Fiesta R5's, along with Merion Evans in a Skoda R5 The biggest story is that Marty McCormack to drive one of the new Polo R5's. This will be the Irish debut for the VW, which has already proved itself a winner in different parts of the world. The following weekend of course it is the turn of the WRC Wales Rally GB. We will have more news on all these next week.
Regards: Brian, Liz & Michael Patterson