Another new name was added to the Irish Tarmac Championship winners list last weekend when Marty McCormack, co-driven by Barney Mitchell in their hired VW Polo GTi R5, took victory on the Cork '20'. Not only was it Marty and Barney's first Tarmac Championship win, it was the Volkswagen's debut win in Ireland and the first win ever for a VW on the Irish Tarmac series. Draperstown man Marty would have no real knowledge of the classic Cork stages utilised for the rally, but he switched on to the roads and the VW very quickly. His biggest 'moment' of the event was probably sliding the car into the scenery on the road section to the opening Sunday stage, knocking off the front bumper!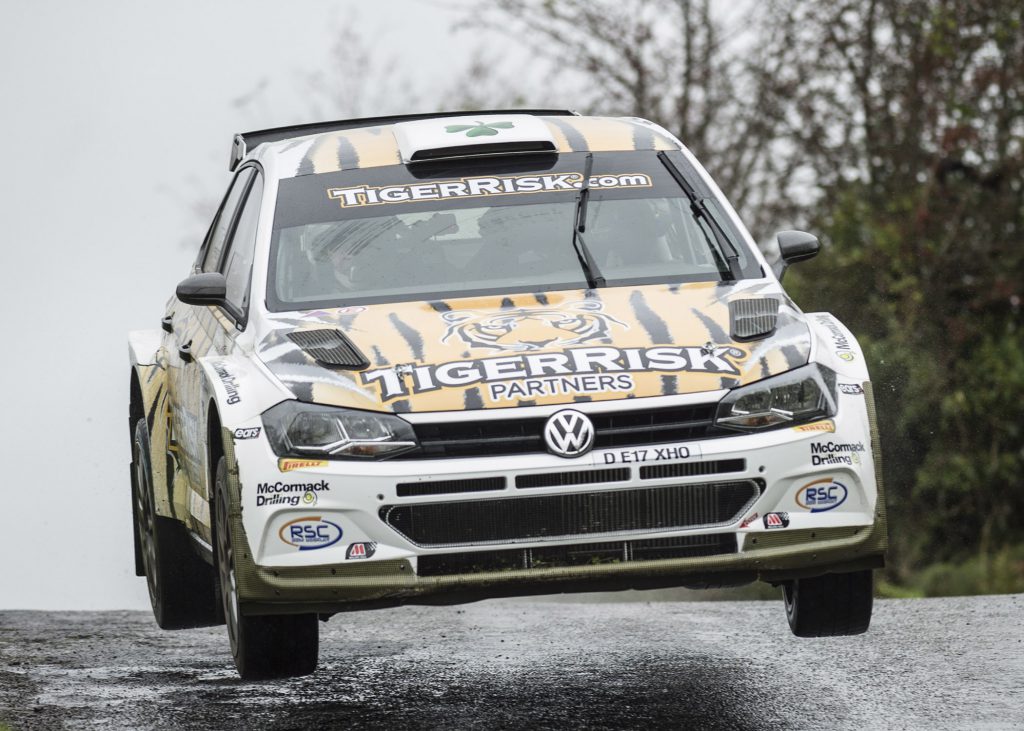 At the finish Marty said, "The VW was insanely superb!" Craig Breen had already tied up the Championship and wasn't able to compete on this event (although his father Ray did in his MG Metro 6R4), but the fact that there was no battle for the Tarmac crown didn't lessen the competition and excitement at the front. Callum Devine led through most of Saturday, but lost time with a broken driveshaft on his Fiesta. This left Daniel Cronin leading, but both put their cars off the road on the Sunday morning. Cathan McCourt was another front runner to fall by the wayside. From then on McCormack was relatively untroubled at the front though Merion Evans/Jonathan Jackson in their Fabia R5  pushed hard throughout and were rewarded with a fine 2nd place, leaving McCormack little room to relax on the final stages. Jonny Greer/Kirsty Riddick were hampered a little through the wet Saturday stages with some gearbox worries but they finished well and took the final podium place.
Former multiple Tarmac Champion Eugene Donnelly was 4th. This was a surprise turnaround for Donnelly who was going to give his Proton over to Rob Duggan, but that didn't work out so Donnelly drove it himself, with Alister Wylie stepping in to co-drive. David Guest/Jonathan McGrath took 5th in their older model Fabia S2000 and Denis Moynihan/Martin O'Brien (Fiesta R5) rounded off the top six.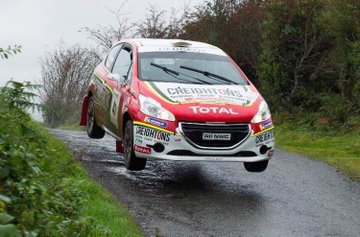 William Creighton/Liam Regan in 8th o/a had a very good run in their Peugeot 208 to win the R2 category on the rally and for the  seasons championship. Andy Davies/Michael Gilbey (Subaru) were sandwiched in between these latter two and they finished 7th and winners of GpN on both the rally and the Championship.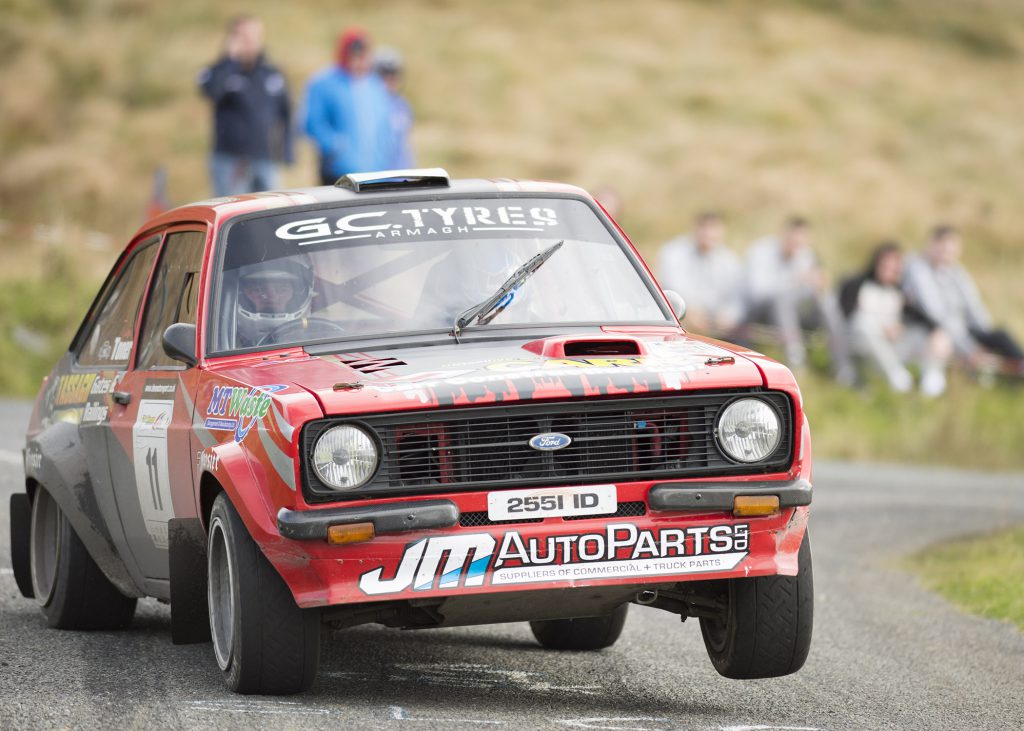 Similarly Damien Toner/Michael Cody in their Mk2 Escort won the National category of the event and also took the spoils in that part of the Championship. Toner and David Condell had the most marvellous battle through the rally, but Condell's Escort gearbox cried enough before the end and he retired. Colin O'Donoghue was also right in the mix throughout with his Escort, but he had to accept 2nd place in the end, 32 seconds behind Toner.
In the Historic part of the rally Owen Murphy/Anthony Nestor were in a league of their own, and despite a few mechanical problems with their Lotus Sunbeam finished over 2 minutes ahead of Robert Barrable/Damien Connolly (Escort). Top historic contender Ray Cunningham uncharacteristically retired when his Mini Cooper clattered into a stone bridge parapet. Kieran Reed/Mark O'Leary (Civic) won the Junior section from Aaron Browne/Daniel Hanratty in a similar Honda. 4th placed Aaron McEvoy/Killian O'Brien in yet another Civic took the Junior title.
Other events outside Ireland last weekend included the Trackrod Rally as well as the European Championship Cyprus Rally. On the latter Nasser Al Attiyah in his VW Polo GTI R5 took a superb win. Chris Ingram (Skoda) was 2nd on this very tough event, Mikko Hirvonen (Fiesta R5) 3rd. Ingram, who is co-driven by Ross Whittock, now leads the European Championship, with just the Hungarian round to go. On the Trackrod, the spotlight was very much on the Historic section and was won by Matthew Robinson (Escort) from Matt Edwards (Fiat 131) and with the amazing Steve Bannister (Escort) 3rd. Adrian Hetherington in his RS1800 scored at least one fastest time on his way to 5th.
Stanley Orr in his Mk1 Escort slipped from 4th to 7th after a losing a bit of time on a couple of the Saturday morning stages when his Escort didn't seem to be getting grip. In addition, with reverse seeding, the Mk1 Escort will always struggle a bit more than a Mk2 over rough surfaces. Stanley still won his class in the rally and the Championship, and also finished 2nd o/a in the Championship, so the Killinchy man wasn't too downhearted. Simon Webster in his Mk2 was able to pace himself and finished 4 seconds ahead of Orr to clinch the British Historic series, although in reality Stanley would have had to finish about 6 places ahead of him to take the title. Although Stanley has won his class throughout the season, a 'DNF' at the Epynt rally spoiled his chances of the overall title.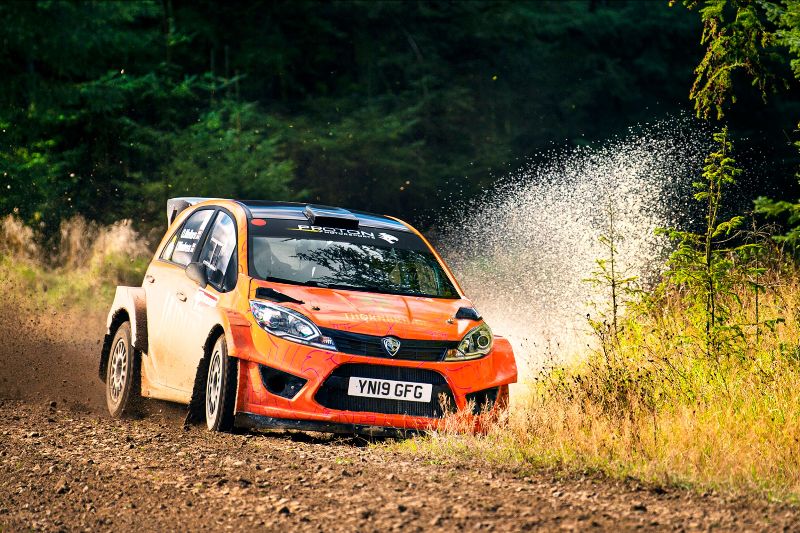 In the section of the rally for modern machinery Ollie Mellors/Ian Windress took outright victory in their Proton Iriz R5, from Mat Smith/Giles Dykes in a Fiesta. Top BTRDA points scorer was Stephen Petch/Michael Wilkinson in 3rd place with their Fiesta WRC.
Now it is time to look forward to this weekend coming and observe the best rally drivers in the world strut their stuff through the magnificent Welsh forest stages such as Hafren, Dyfi, Myherin, Penmachno and Dyfnant on Wales Rally GB. Three drivers in three different makes of car can still win this season's World Rally Champion Driver title: current World Rally Champion Sebastien Ogier in his Citroen, Ott Tanak in his Toyota and Thierry Neuville for Hyundai. All these modern WRC cars produce around 330 brake horsepower and with their current 'aero' packages and ever improving suspension, trick differentials, brakes, electronic gizmos and tyres, the speed of these top guys is just jaw dropping.
No matter if the Welsh forests are wet and muddy or dry and dusty, the former the more likely, the pace will almost certainly be the highest ever witnessed through these forests. Such is the depth of talent and competition amongst the top drivers that it is impossible to guess who will head the leaderboard over the four days of the event. Who for example would bet against Kris Meeke in his Yaris WRC? Or Elfyn Evans, on a comeback drive following his back injury earlier in the season? The Welshman is now bursting to get back into the fray. He is hoping and planning that in his M-Sport Ford Focus WRC he can recapture the form that immortalised him to the Welsh Rally fans when he took that superb Wales Rally GB victory two years ago. Craig Breen gets another WRC chance with the Hyundai team, both Esapekka Lappi(Citroen) and Andreas Mikkelsen (Hyundai) have both hit sweet spots recently and could make the rally headlines before this weekend is out. So it goes on, all very talented WRC drivers, and virtually any one of them is capable of taking victory. The bookie's favourite must though be Ott Tanak!
The event kicks off with a spectator stage on Thursday evening in Oulton Park. Many rally enthusiasts decry 'artificial' type stages, but this one looks as if it could be very special. Oulton is a fine circuit and the drivers will also use many very slippy link roads as well as some gravel sections, and then with a fireworks display thrown in for good measure. After that it is back to Llandudno for the Thursday night halt before the forest stages proper on Friday morning. Then it is an early start for the drivers before travelling into the Elsi, Penmachno and Dyfnant forests. There are 22 stages on the agenda before the Sunday lunchtime finish and only then will we know whose name goes on the Trophy for winning this 75th running of the event.
Outside of those world stars at the front of the field there is plenty more interest. For instance, it is a story of its own, former World Rally Champion Petter Solberg making his swansong on this event, 16 years after clinching the World Rally Driver Champion title here in Wales. Petter's sensational son Oliver, just days after his 18th birthday and already with several rally wins under his belt, is running in his father's wheel tracks in a similar VW Polo GTI R5. Petter has his former co-driver, Welshman Phil Mills in the hot seat, while Oliver has Tyrone man Aaron Johnston. We can expect some fireworks in the Norwegian department!
Indeed the R5 category has plenty of interesting drivers – Mads Ostberg, Hayden Paddon, Jan Kopecky, Gus Greensmith, to name just a few. Tucked in behind some of the 'superstars' is Rhys Yates, the Welshman reckoned to be one of best drivers in Britain, but also very under-funded. Rhys will be co-driven in his Hyundai R5 by James Morgan. Also in i20 R5s will be British Champion Matt Edwards, Tom Cave and Josh McErlean. Josh, just 20 years old and from Kilrea gets this drive as his reward for winning the Junior category in the British Rally Championship. He will be co-driven in the Melvyn Evans supplied Hyundai i20 R5 by Keaton Williams. For Josh this is a very big step: his first proper run in a four wheel drive car, and his maiden voyage in a World Championship Rally. Other 'home' connections include Eamonn Boland to drive his Fiesta R5.  Niall Burns will co-drive for the American competitor Keanna Erickson-Chang in a Fiesta R2. Young Ruari Bell, the young Englishman 'adopted' by many Irish fans, will drive his Fiesta R2.
News this week, although not initially about rallying, includes Ballynure man Jonathan Rea on his Kawasaki clinching his fifth consecutive World Superbike title at Magny Cours, even with a couple of races still to run. Superstar Rea, one of the nicest guys ever to throw his leg over a motorbike saddle, recounted that this was his toughest season ever. However, always courteous and calm, Jonathan overcame every difficulty with consummate style. On the four wheel racing front,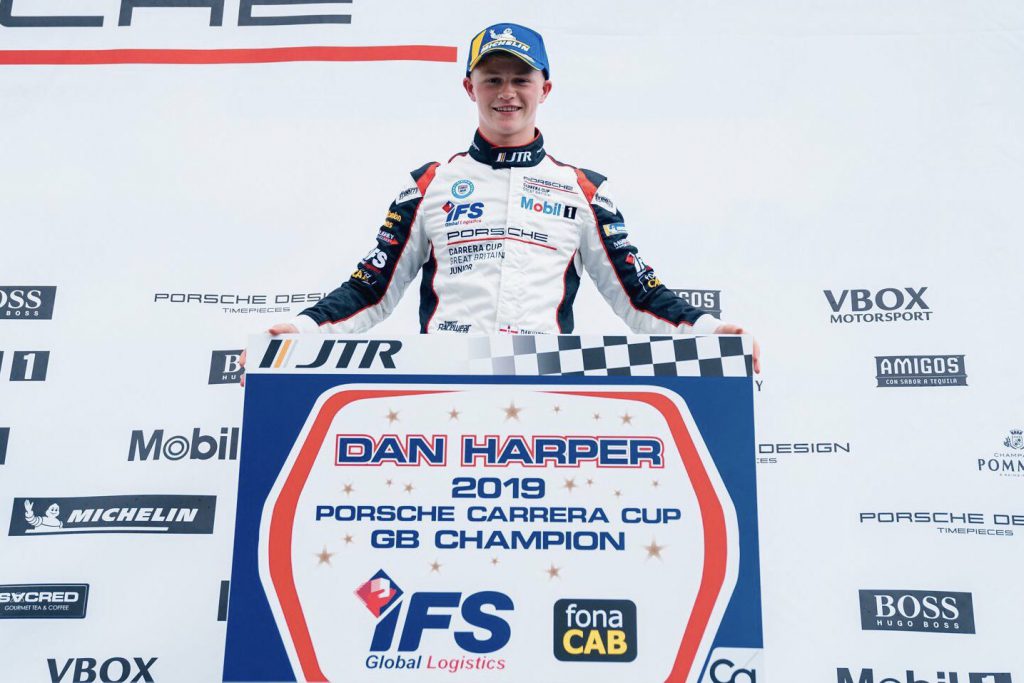 Co. Down's Daniel Harper won the Porsche Carrera Cup GB, which is pretty special. Daniel, only 18 years old, won 7 races outright this season. Charlie Eastwood, MI Young Racing Driver of the Year was an integral part of the team that won the Blancpain Pro-Am Championship, which again is very noteworthy.
Reverting to rallying, coming up shortly is the East African Safari Classic Rally, where the 2017 'joint' winner Ryan Champion will be back in Tuthill Porsche 911 action. Interestingly, the just released FIA WRC calendar for 2020 includes the main Safari Rally, the first time for many years (17) that the African classic has been a counter. There is no mention in that calendar of a WRC round in Northern Ireland. Perhaps that will happen in 2021. Rally GB is shifted more towards its traditional date, (29th Oct to 1st Nov 2020)and is referred to on some paperwork as the final dirt event of the season. Rally Spain has gone from the calendar, as has Australia, to be replaced by New Zealand. Japan is included and Corsica has gone, to make it 14 rounds once again, but with less emphasis on Europe.
Closer to home Larne MC is running a lanes rally this weekend, the Autodock Laharna Lanes Rally and the MG Club (Ulster Centre) is running a production car trial at Cunningham outside Newtownards. Coming up soon, on the 19th October, Cookstown MC is running the Tyrone Stages Rally at Magilligan/Benone Beach. This is a counter in the McGrady Insurance series, with 14 short, super smooth asphalt stages. Service is in the Benone Beach Complex, so road miles are at a minimum. The event is backed by MJE Wheel Repair Specialists Cookstown. Already entered is Derek McGeehan (Mini WRC), current points leader of the NI series. More information on this rally, which certainly should be very enjoyable for the competitors, will be available next week.
Just one more aspect to this weekend's Rally Wales GB is that the final of the eSports WRC Championship will take place this Saturday in Llandudno. Nine elite pilots from five countries, including current Champion Jon Armstrong from Fermanagh (Winner of this year's Down Rally) will battle 'head to head' for the coveted eSports WRC Champion title.
Regards, Brian, Liz and Michael Patterson.