Close, oh so close, were the stage times on last weekend's long tough Wales Rally GB with Estonian Ott Tanak in his Yaris WRC coming out on top from Thierry Neuville (Hyundai), but only 10 seconds between them after the three and a bit days of rallying.  World Rally Champion Sebastien Ogier in his Citroen was 3rd, a further 12 seconds back. Interestingly on this rally Tanak didn't set a huge number of fastest times. Both Neuville and Ogier had their fair share, Elfyn Evans had quite a few (7) after an unfortunate stage 3 puncture, and Kris Meeke was the man to beat in the early part of the rally, topping the time sheets. Inexorably though the NI man dropped out of contention as the pace stepped up and up.
What Ott Tanak and his co-driver Martin Jarveoja did do was stay consistent once they had taken the lead on the Friday evening. Even a damaged light pod through the Friday evening stages in darkness did not deter the Estonian too much. The icing on the cake for Tanak was winning the Brenig power stage for maximum bonus WRC points. Both Neuville and Ogier tried so very hard to reel in Tanak and keep their own World Rally Championship hopes alive. But it wasn't to be. It was quite stunning how, on stage after long treacherous stage, these top drivers were separated by just a second here and there. There are two rallies left in the series, so it isn't over as yet, but it will take something extraordinary to happen if Tanak is to be denied the 2019 World Driver's Crown.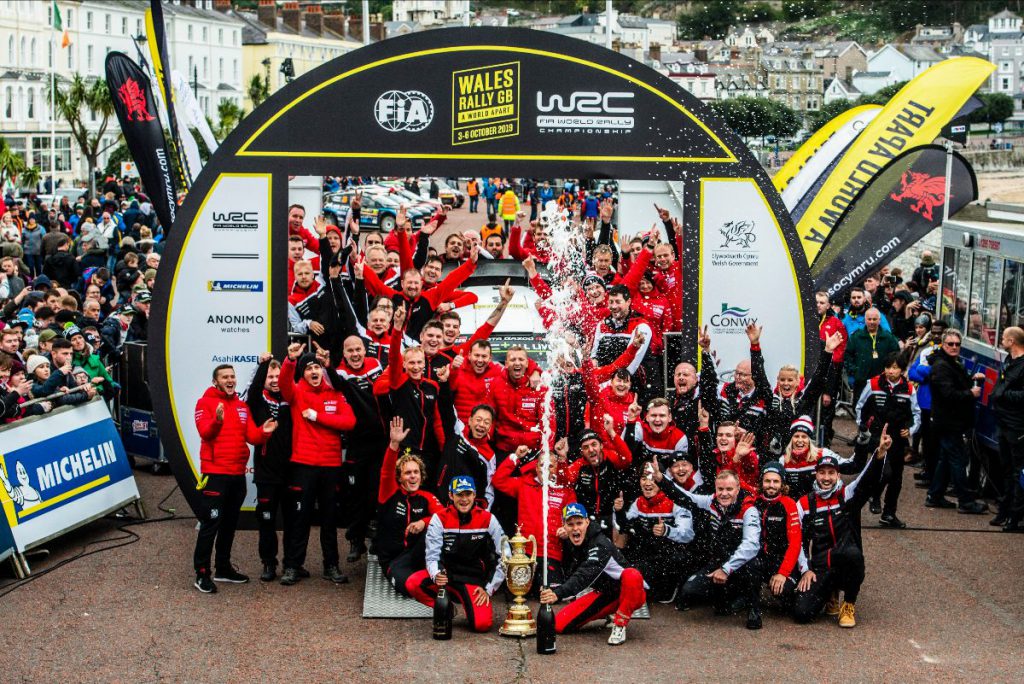 Kris Meeke eventually finished 4th, so possibly it was a slightly disappointing rally for him and his co-driver Seb Marshall having led for the first 9 stages. Elfyn Evans in his Fiesta WRC was 5th. The Welsh driver, just back from an injury enforced lay-off, was fastest in stage 2 Elsi. But then he dropped 40 seconds in stage 3 as his Fiesta suffered a puncture and possibly some suspension malady. Normally that 40 seconds wouldn't be the end of the world, but on this rally, despite the wet weather and muddy inconsistent roads, it was to prove too much to pull back, such was the unrelenting and metronome like huge pace at the front.
Elfyn was magnificent through the Saturday stages, on his 'home patch', but despite his heroics and bravery he could only pull back a second here and there because of the massive pace at the front. Andreas Mikkelsen (Hyundai) rounded off the top six. Pontus Tidemand (Fiesta WRC) was 7th and Craig Breen 8th in his Hyundai.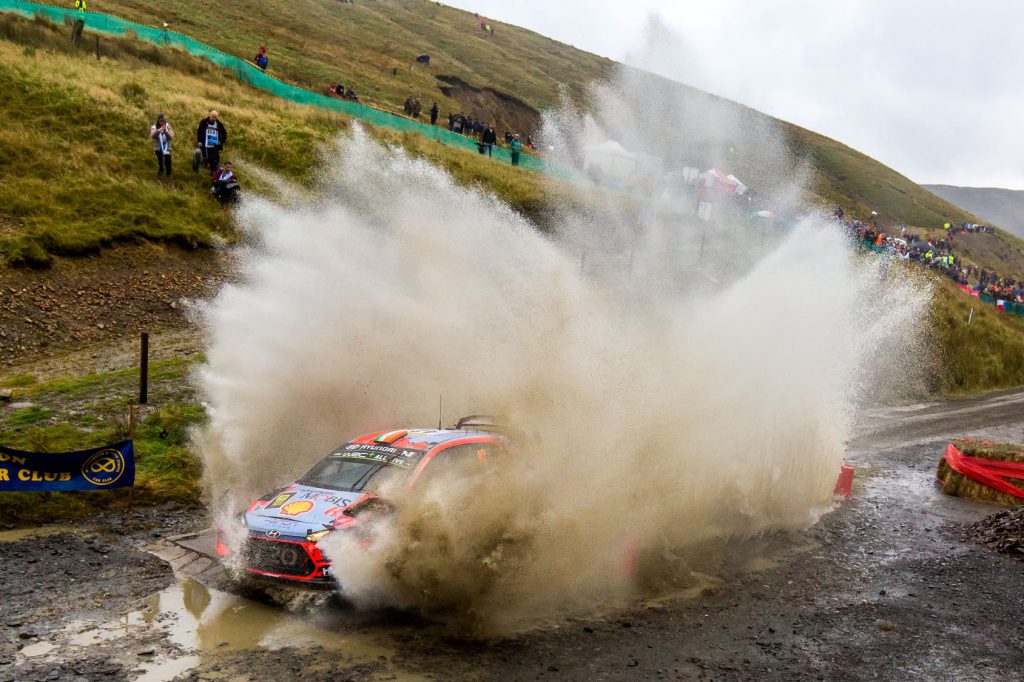 Craig had an up and down rally, dropping from a close 6th to a distant 9th in stage 12 Myherin when he crashed his Hyundai off the road on a left hand corner. Still, he did well to keep going, and that was despite a damaged windscreen and bodywork which made visibility for the Waterford man a bit tricky on the next stage. The talented young Finnish driver Kalle Rovanpera was 9th and won the R5 battle in his Skoda Fabia from the evergreen Petter Solberg in 10th, also in an R5, but in his case a VW.
Former World Rally Champion Petter, with Phil Mills alongside him once again, had a great rally. Often referred to as 'Mr Hollywood', Petter wowed the crowds with his opening performance on the Oulton Park spectator stage, recording a 3rd fastest overall time, beating most of the WRC cars/drivers. It was a real Petter performance. Unfortunately matters did not go well for his son Oliver, reckoned to be a big chip off the old block. However Oliver's VW broke down on the Friday morning and then again on the Saturday morning. End of dream for the weekend. Well, not quite, he got going on the Sunday in 'Super Rally', set some decent times and then rolled his Polo.
Some drives of merit included that of Tom Cave – 11th o/a in his Hyundai and 3rd R5 in the finisher's list.  Cave and his co-driver Dale Furniss won the prestigious 'All Welsh' award as well as first privateer. Retirements included Latvala who crashed his Toyota in stage 7.  Just some other drivers who had to run in 'Super Rally' after encountering problems included British Rally Champion Matt Edwards, Mads Ostberg, Hayden Paddon and Esapekka Lappi.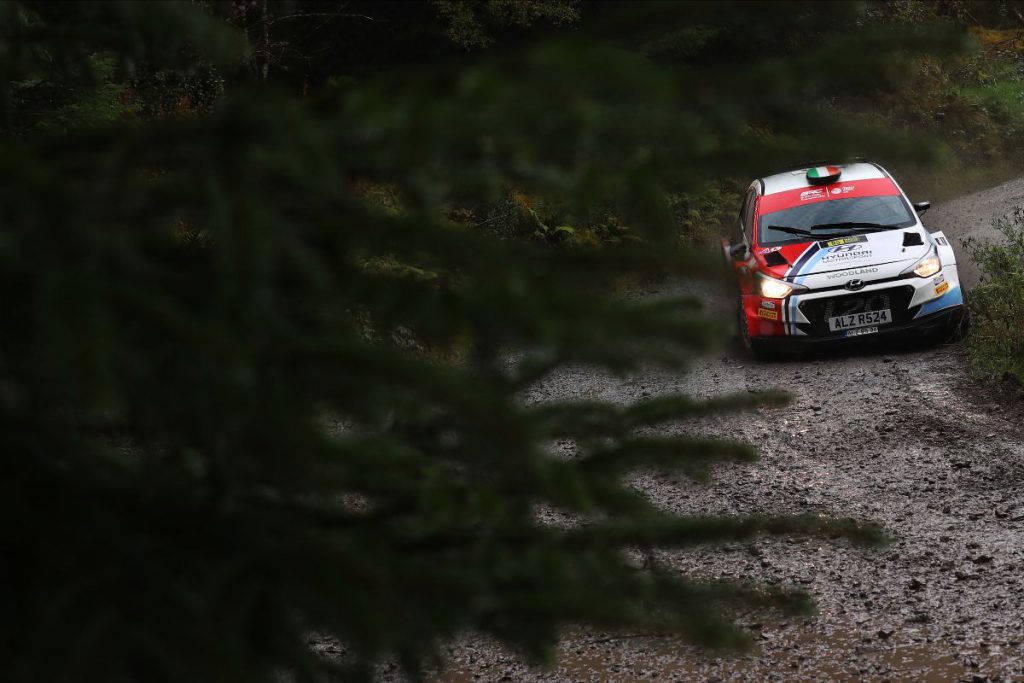 Local man Josh McErlean retired his Hyundai i20 R5 with a mechanical problem after setting some decent times on his first WRC event.   There were many more, a further indicator of just how tough and relentless the rally was.  Eamonn Boland did make the finish as did Martin Brady.  Martin was co-driving for Keanna Erickson-Chang in a Fiesta R2T19.  Jan Solins won the RC4 class in his new model Fiesta R2T.  Ruari Bell completed the course in Super Rally in his Fiesta R2T.
Even one of the stages couldn't run because of the weather. Great Orme was cancelled due to 'rough sea conditions, preventing the safety diving team from getting into position!' Surely that has to be first!
In the Wales Rally GB National part of the event held over 8 stages, John Wink/Neil Shanks in a Hyundai R5 came out on top, finishing 1m30s ahead of Dylan Davies/Llion  Williams in their Impreza. Alan Dickson/Martin Forrest (Lancer) were 3rd.
Closer to home Harry and Chris Johnston in their MX5 won the Larne Club's Autodock Laharna Lanes Rally. Brendan Mooney/Padraig Macatamney were 2nd and Mark Francis/Adam Hilditch were 3rd, to make it a Mazda MX-5 clean sweep. In MG Club's Production Car Trial at Erwin's farm in Cunningburn, Bailie Thompson and Will Thompson were the top two in their Corsa, with young Zak Armstrong 3rd in his granddad Michael's Rover.
This weekend coming we have the Donegal Harvest as well as the Tour of Mull. The Redcastle based event has attracted over 130 entries, with Donagh Kelly/Conor Foley topping the list in the new VW Polo GTI R5. This will be Donagh's first competitive outing in the car. Muff man Joe McGonigle will be more or less on home ground on this event and he is seeded at 2 in a Fiesta WRC with Ciaran Geaney co-driving. Callum Devine, following his disappointment at retiring from the lead of the recent Cork '20' is seeded at 3. Brian Hoy co-drives in Callum's Fiesta R5. Seamus Leonard makes a comeback and starts at 4, with Paul McLaughlin co-driving in a Focus WRC. Next up are 5 two wheel drive cars, to be driven by Kevin Eves, Kevin Gallagher, Damien Gallagher, Damien Toner and Camillus Bradley. Aaron McLaughlin in a Fiesta R5 rounds off the top ten.  Tony Boyle is the CoC and he has laid on an interesting loop of three stages to be run three times this Saturday.
Entries for the forthcoming MJE Wheel Repair Tyrone Stages Rally (19th October) continue to build. This Cookstown MC organised event is the penultimate round of the McGrady Insurance NI Championship. Former multiple NI Rally Champion Derek McGarrity has now entered, this time in a Skoda Fabia  WRC in place of the Fiesta WRC he has been driving this year. As well as McGarrity and current NI Points leader Derek McGeehan (Mini WRC), just some of the top names entered who are in with a chance of the title include Desi Henry (Fiesta WRC) and Stephen Wright (Fiesta R5). Other top drivers who have entered include Martin McKenna (Subaru Impreza WRC) and Gareth Sayers (Fiesta R5).
We said above that Kalle Rovanpera won the R5 battle on Wales Rally GB.  As we mentioned before the R5 class is confusingly split into two on the WRC.  Kalle won 'WRC2 PRO' with his 9th o/a and also tied up the category in the WRC Championship. Petter Solberg won WRC2 by finishing 10th o/a. All a little confusing, but reportedly the FIA has put in a new R5 category system for next season. The next WRC round this year is the Spanish counter on the 24th – 27th October. The driver points position at the top of the list is Tanak 240, Ogier 212 and Neuville 199.
Regards, Brian, Liz & Michael Patterson