Callum Devine certainly turned up the wick on last weekend's Donegal Harvest Stages Rally, scoring a very solid win, 25 seconds ahead of 2nd placed Donagh Kelly after the 9 stages, and with Joe McGonigle just half a second further back in 3rd.
Callum 'just trucking along' Devine had Brian Hoy co-driving once again in his Fiesta R5 and led from the start. The former Billy Coleman Award winner has had a marvellous season and has really 'come of age'.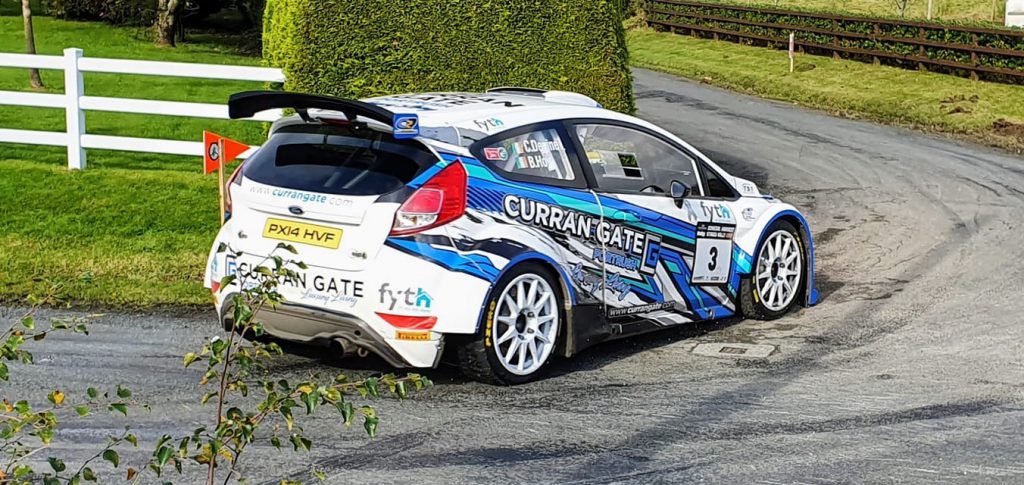 Donagh Kelly had Conor Foley in the hot seat of his new VW Polo GTI R5 and quickly adapted to his new mount. Joe McGonigle in 3rd admitted that he was too slow on the opening stage, thinking that the approach to the chicanes would be slippier than they actually were. Joe also had to adapt to being back in a Mini WRC as well as not having been on a rally at all since June. He had his usual co-driver, Ciaran Geaney, but Ciaran wasn't in the best of form, suffering from a dose of influenza. Joe was on his home patch on this rally and just got on with it, a 15 second road penalty not helping his cause. He was 4th for much of the rally and moved up a position when Josh Moffett slipped from 2nd to 4th when he spun his hired VW Polo GTI R5 on the penultimate stage.
Heavy rain showers did not make life easy for any of the drivers. Kevin Gallagher/Ger Conway had a fine 5th o/a in their Darrian, the 2wd machine probably quite a handful at times on the wet roads. Aaron McLaughlin/Darren Curran were 6th with their Fiesta R5. Kevin Eves, Damien Toner, Damien Gallagher and Martin McGee in various 2wd machines made up the top ten.
Ivan Warwick/Claire Rodgers won the Historics in their Audi Quattro. Jack Brunton/Daragh Kelly (Civic) won one Junior Class, Neil Brogan/Niall Campbell, also in a Civic, won the other.
The rally was the final round of this season's Border Championship, and it was Brian Armstrong who again took the title, although he didn't feature on the event.
Also last weekend on the Cork Startrek Navigation Rally James Fitzgerald/Ken Carmody took the win on a tie break with Derek Butler/Denis O'Donovan.  In Armagh Christopher Evans/Laney Fitzpatrick in their MR2 took a close win on the Orchard Country Targa Rally from Jordan Burns/David Bulba (Fiesta).
Looking forward to this weekend, the Cookstown MC's Tyrone Stages at Magilligan/Benone, penultimate round of the McGrady Insurance NI Championship, has attracted a decent entry. Four drivers – Derek McGeehan, Derek McGarrity, Stephen Wright and Desi Henry can win the title. All are seeded in the top ten. William Creighton is sandwiched between McGeehan and Wright, he starts at 4 and will drive a Fiesta R5 this time, quite a change from his R2 Peugeot 208.
The principal category leaders are Colm McFall, (GpN), James and Heather Kennedy (2wd), Kyle White (Juniors) and Drew Wylie (Historics).
The final round of the NI Championship is the 9th November Blue Sky Resource Recovery backed Glens of Antrim forest rally. The rally will be based at Loughguille and three stages, each run twice will be on offer. (Slieveanorra, Parkmore and Ballypatrick).
Also coming up fast is the final round of the Triton Showers National Championship, the Fastnet Rally. The CoC James Kingston has laid out three beautiful stages, mostly around the Mizen peninsula, with a wide variety of roads. Although Josh Moffett already has this season's Championship tied up, the event should still attract a more than decent entry.
On the same weekend as the Fastnet, the penultimate round of the WRC will be taking place over the asphalt roads of Spain. Photographs of Ogier's Citroen with the new 'aero' look fantastic, and what with the battle for supremacy in the World Driver's title race between Tanak, Neuville and Ogier, plus the added attraction of past master Loeb competing, it could be one very dramatic rally!
As autumn creeps on to winter we are moving into thoughts of Awards presentations and Christmas presents. On the subject of stocking fillers, Plum Tyndall of RPM is producing several possibilities: one of them a very attractive little 80 page booklet 'Heroes of the Hills' utilising Esler Crawford's brilliant photography and featuring all the Donegal International winners over the years. There is also the final DVD in the RPM Tarmac Review series, this one about Austin MacHale and particularly his first Tarmac title. Thirdly, there is a five DVD box pack covering the Tarmac series from 1986 to 1990.
On the racing front, former rally driver Phillip Young's 18 year old son Jack won the UK Renault Clio Cup last weekend at Brands Hatch. This was a support race for the British Touring Cars and Colin Turkington once again emerged victorious from that, taking his 4th BTCC title.  Quite an achievement for him, while Sir Jackie Stewart was on hand to applaud both drivers!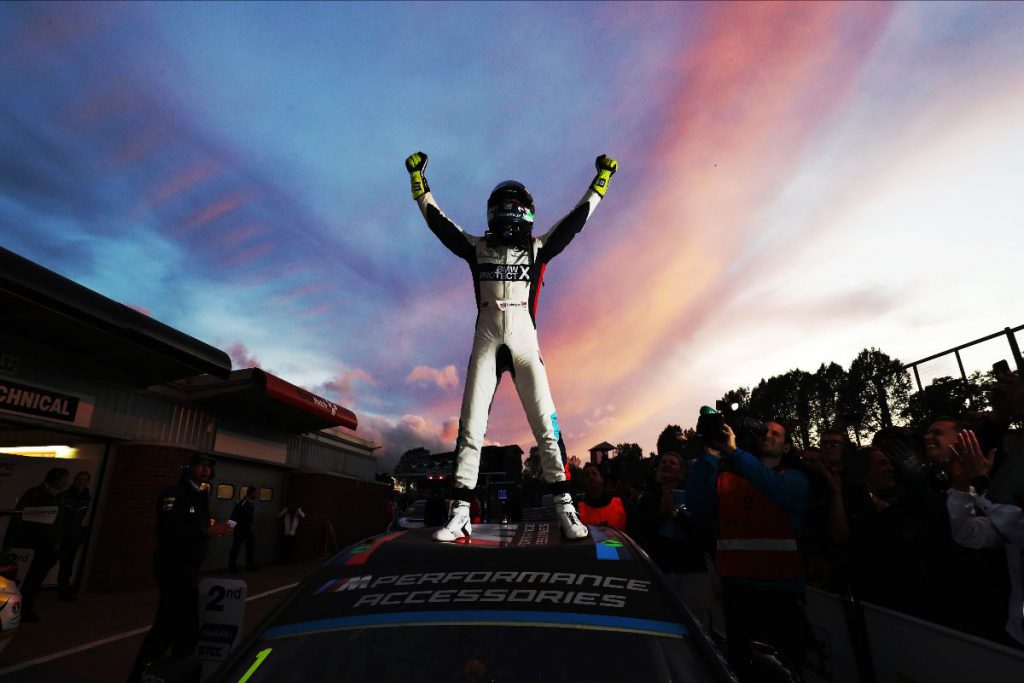 Brian, Liz & Michael Patterson