Russian roulette sprang to mind when observing the antics and dramas on last Saturday's Tyrone Stages Rally, with Derek McGarrity eventually shaking off the frustrations of chicane hassles to take a narrow victory over Stephen Wright, the two drivers separated by just two seconds following the dramatic fourteen stages. McGarrity was on his first serious outing in the ex Donagh Kelly Skoda Fabia R5 and the Co. Antrim helicopter/car dealer recovered quickly from an early coming together with a chicane and loved the Fabia. McGarrity was co-driven by Donegal man Paddy Robinson. Second placed Stephen Wright, with Liam Moynihan co-driving in his Fiesta R5, set some brilliant times but his chances took a dent when he came across a yellow flag for a fallen gate. Monaghan man Stephen had to drive around that little delay and the seconds lost cost him.  He battled back valiantly but just couldn't catch McGarrity.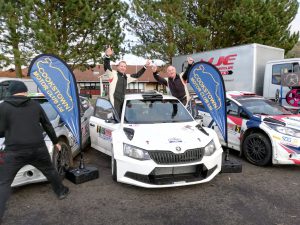 The situation was made all the more tense as this MJE Wheel Repair Specialists backed Cookstown MC rally was the penultimate round of the McGrady Insurance NI Championship. Even with the disappointment of not taking the rally win, there was consolation for Stephen as it strengthens his championship hand. Starting the day there were four main NI title contenders: McGarrity and Wright, as well as Derek McGeehan and Desi Henry. McGeehan, normally the model of consistency, had the misfortune of his Mini WRC engine going off a cylinder, which meant instant retirement. Desi Henry, who has been on a NI Championship winning streak of late, really had to win this rally to keep his Title hopes alive. It wasn't to be, a series of overshoots and excursions in his Fiesta WRC relegating him to 4th on the day.
One driver who had a really good run was young William Creighton. Co-driven as usual by Liam Regan, the Fiesta R5 he was driving on Saturday was quite a change from his Tarmac class winning Peugeot R2 this season, and after a few stages to settle in William was well on the pace. Gareth Sayers/Gareth Gilchrist finished 5th in their Fiesta R5 and Martin Cairns/Peter Ward rounded off the top half dozen in their Fiesta WRC. Then Barry Morris/Declan Campbell took 7th and best 2wd in their Darrian, Barry piling on the pressure through the latter part of the rally as the roads dried out and the Darrian was able to put the power down. John Devlin/John McCarthy in their Escort also finished strongly, 8th o/a, just pipping James and Heather Kennedy in their Escort on the leaderboard and for the class 6 win. This result could well have a bearing as well on the 2wd award in the Champi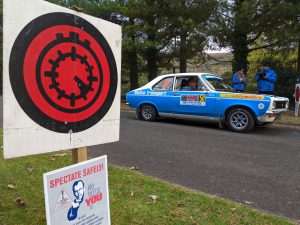 onship. James and Heather's Escort engine went off song over the final two stages and that didn't help their cause. Championship sponsor Fintan McGrady, co-driven this time by Stephen Jess, survived prop-shaft maladies on his Escort to take the final top ten place.
Class winners included: Joel Eakin/Sean Doherty in their Civic (CL1): Paul Britton/Niall Devine (CL2 Subaru): Phillip White/Eathan McColgan (CL3 Micra): Gerard Neeson/Michael Murray (CL4 Peugeot 106): Marc Johnston/Colin Irvine(CL5 Escort). The next and final 2019 rally in the NI Championship is the Mid Antrim Club's 9th November Glens of Antrim forestry rally.
Also last weekend, Benny Grainger/David Howard in their Mini won the Erne Safari from Kenneth Murray/Gordon Noble (Focus) and with John & Jonathan Henderson 3rd in a Micra.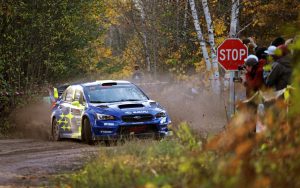 Further afield, 18 year old Oliver Solberg, co-driven by Tyrone's Aaron Johnston, scored another heroic win, this time driving a Subaru Impreza for the Subaru USA team on the Lake Superior Performance Rally. David Higgins, also in a Subaru, retired from the event, but had done enough through the season to take the American Rally Champion's title. Barry McKenna/Andy Hayes finished 2nd in a Fiesta run by McKenna Motorsport. Some other familiar names that finished in the top ten included John Coyne/Douglas Nagy, 5th in another McKenna M/Sport Fiesta. Seamus Burke/Martin Brady in an Escort Mk2 were 8th. It's a small world!
Not quite rallying: the Northern Ireland team won the Ken Wharton Trophy once again last weekend. The team's 8th in a row. The tyre squealing action took place at Chateau Impney in Worcestershire. The NI team was made up of Steven Ferguson (Mini-Nova Special), Sam Bowden (Mini), Trevor Ferguson and Mark King (Nova). The Republic of Ireland team finished 2nd – Guy Foster, Chris Grimes, Darren Quille and Andy Blair). The England team was 3rd and the Welsh team 4th.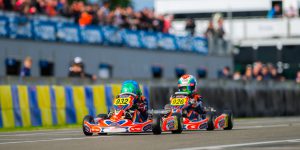 Also not quite rallying: ten year old Alex O'Grady from Loughrea is the new World Champion of the IAME Minime Karting Cadet class, attained at the World Finals last weekend at the Le mans Circuit in France.
Another young Irish lad, Jack Buckley was 4th and Andrei Dabija from Clondalkin was 6th.
Looking forward to this weekend there are two main rallies on our horizon – the Fastnet and WRC Rally Spain. The former is the final round of the 2019 Triton Showers backed National Championship, and sadly it may well be the final Triton round as, after sponsoring the Championship for a long time, the arrangement is coming to an end. The overall title for the Vard Trophy has already been won by Josh Moffett, while Roy White can't be beaten for 2nd in the overall points. Third place though can still be attained by several drivers, including Shane Maguire, Kevin Eves, David Moffett and Aaron McLaughlin. Eves and Moffett are also in contention for the rally.ie award for best 2wd over the season, so all in all still plenty to play for on this brilliant 8 stage rally on the scenic South West coast. The terrain encompasses some of the finest rally roads as well as the most dramatic scenery, plus unbounded hospitality.
Top seeds are Damian Tourish/Domhnail McAlaney, winners last year in their Escort. Damian is the first driver to steer an Escort to victory since Bernard O'Brien in 1988 when the Fastnet was based in Glandore's  Marine Hotel. Starting at 2 this weekend is former Tarmac Champion Donagh Kelly with Conor Foley co-driving. Donagh wants to notch up a few more competitive miles in his recently acquired VW Polo GTI R5. Previous winner Daniel Cronin is at No.3, the Ballylickey man on home ground of course. He will drive his Fiesta R5, with JJ Cremin co-driving. At 4 is Welshman Melvyn Evans. Former National Champion and Fastnet winner Melvyn has Patrick Watts co-driving in his Skoda Fabia R5. Kevin Eves/Chris Melly are at 5 in their Corolla GT and the top six is rounded off by Bailieborough's Gary Kiernan in his Escort.
Just some of the other interesting drivers at the top end include Championship sponsor Kevin Barrett at 10 in his beautiful Triton Showers liveried Subaru and former winner Kenny McKinstry is at 15. Kenny wants to do the rally for several reasons, one of them is because he enjoys the Fastnet so much, and another impetus was because he wants to cover more competitive miles in his Fiesta R5. Unfortunately he gave the car a bit of a bump on last weekend's Tyrone stages, so hopefully he makes it to Bantry ok.
Over in Spain, despite heavy rain and sadly also some rioting in places, it is reportedly all stations go for this WRC 'Rally de Espana'. And what a cracker it could be, with the competition between the top drivers and teams at an unprecedented level this season. It is a unique rally, with six tight gravel stages on the Friday (including two runs over the longest stage of the rally at 38.85 km). Then on the Friday evening at Salou service the mechanics will have 75 minutes to change the cars from gravel to smooth asphalt specification. Road position will be important on the Friday, and won't be so good for Tanak. But then the Estonian is remarkable for being able to shrug off such handicaps! World Champion Ogier will also be affected of course, but expect his Citroen with its new 'aero' to go like a guided missile on the smooth Saturday and Sunday stages. Kris Meeke won this rally last time he competed, in 2017, and he has a decent road position for the Friday, so maybe, just maybe he can produce a special result this weekend.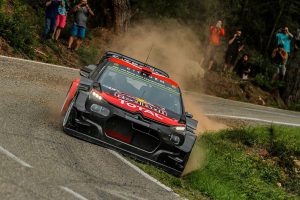 It is all ifs and buts of course: Dani Sordo for example must be in with a great chance on his home patch. Elfyn Evans in the Ford M-Sport Fiesta really has developed into a very competitive driver and he could cause a shake up. Neuville is stunningly fast, hugely determined to stay with Tanak and Ogier in the race for the World Rally Champion's title, and defend as well Hyundai's lead in the World Manufacturers title race. For many people though there will be one special driver they will be looking out for on what will almost certainly be stages thronged with spectators, including many from Ireland. And that man will be nine times world rally Champion Sebastian Loeb, this time in a Hyundai i20 WRC. He has won the rally 9 times, including last year! The Frenchman has that certain style, the natural aura of a champion. Hopefully, for the sake of the fans, for Hyundai, for rallying, he has a good event. That could well be the icing on a very special cake! Always the gentleman, Loeb commented this week, 'Merci au public Espagnol pour cette ambience tout le weekend' – which we took to mean, thanks to the Spanish people for the good wishes and the hospitality! One slight downer is that talented Welshman Rhys Yates, such a good 'privateer' driver is non-starting. An extra point of interest is that Ruari Bell/Darren Garrod are competing in their Peugeot 208 R2 and Eamonn Boland is also in the entry list, to drive his Fiesta R5.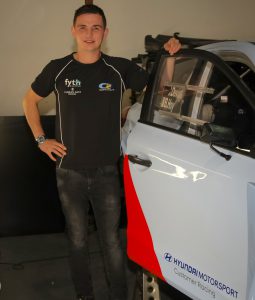 Looking even further ahead, the European Rally Championship comes to a climax with Rally Hungary on the 8th/10thNovember. Young English driver Chris Ingram has every chance of clinching the championship. A surprise and welcome addition to the top entry will be Callum Devine/Brian Hoy in a Hyundai i20R5. This will be a terrific finale to what has been a very successful season for the MI Rally Academy driver.
Finally for now, we wish to pay tribute to a towering rallying figure, the late Andrew Cowan, who sadly died last week. A Berwickshire farmer, Andrew first sprang to rally prominence when he drove a Rapier to victory on the 1962 Scottish Rally. This was when it was a much longer, far tougher rally. From there he became a 'works' driver with Rootes, and apart from rallying Imps and all sorts of Rootes cars to various successes, he won the London to Sydney in a Hunter with Colin Malkin and Brian Coyle co-driving. In 1977, on the much longer London to Sydney, he won again, this time driving a Mercedes 280, and with Mike Broad co-driving along with Colin Malkin. In the early Eighties Andrew established Mitsubishi Ralliart Europe, and apart from achieving some great results in events like the Paris–Dakar, he set Tommi Makinen on the road to WRC Rally glory. Tommi and Andrew have stayed good friends, and indeed Makinen paid a visit up to see Andrew at his 700 acre farm near Berwick on Tweed, not far from Duns.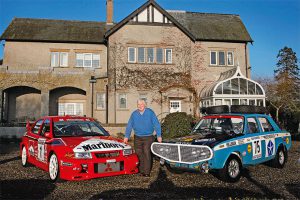 Apart from working with Andrew on many WRC events, some of our fondest memories of him were of the great bonhomie he radiated at the little pub in Duns Square during the Jim Clark Rallies. Another big thing with Andrew was that he gave Richard Burns his real entry into the WRC. Richard repaid him with victories on the 1998 Safari and Rally GB, going on to win the World Championship for drivers of course, although not by then in a Mitsubishi. Many words have been written about Andrew Cowan, but none do real justice to this tough, great driver, larger than life man, as well as being a very special human being. To his most gracious wife Linda and his family and friends we extend our most sincere condolences.
Brian, Liz and all the Patterson family