Irish Notes 30th October 2019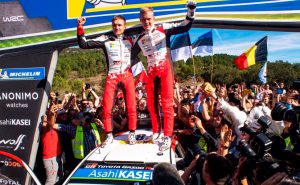 Who would have guessed looking at the normally taciturn Estonian Ott Tanak that he had been suffering from any anxiety as he powered his Toyota to 2nd place on last weekend's Rally Spain, fulfilling his lifelong ambition of winning the World Rally Championship for drivers. He looked composed, as ever, but did admit though as he uncorked the champagne to feeling anxiety, stress, before and during the rally. Tanak was co-driven by Martin Jarveoja. What a season they have had, with five wins on the last seven rounds of the Championship.
Thierry Neuville and his co-driver Nicolas Gilsoul in their Hyundai took a very strong win on this one, but any driver Championship title hopes for Belgian driver Thierry were dashed when Tanak and his co-driver Martin Jarveoja upped the ante through the Saturday afternoon and Sunday morning stages. Ott surged up from fifth to move into the runner up spot on the rally. He also won the power stage, just to reinforce his supremacy, even though he didn't need those extra points for the title. Dani Sordo/Carlos del Barrio made it two Hyundais in the top three when they finished 3rd. Dani had a very good rally, as ever showing great pace, although slightly disappointed perhaps on his home asphalt stages at not being able to keep the unstoppable Tanak at bay.
At one time during the rally there were three Hyundais at the top of the leaderboard, with Sebastien Loeb fastest through the Friday afternoon stages in his i20 WRC to lead the rally briefly into the Saturday morning. However the 9 times World Rally Champion just didn't seem as comfortable in the car on the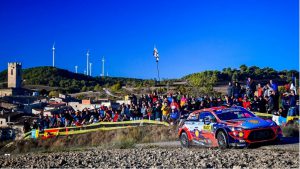 asphalt, where he is usually very quick. It is a fine dividing line amongst the top drivers at this level, and everything has to be above perfect. As it was, Loeb finished 4th, not too bad at all, and reinforces the Hyundai team's lead in the manufacturer's side of the World Championship.
On the subject of the WRC, the rally was a huge disappointment for outgoing champion Sebastien Ogier. He started the rally with a great flourish with his newly developed Citroen. He still had an outside Championship hope. He was fastest through the opening stage to lead. Unfortunately his C3 WRC then had a steering/hydraulic problem and Ogier lost many minutes on the next two stages. He eventually got the steering sorted, but the fire had gone, as well as his chance of retaining his title. He eventually finished 8th. Jari Matti Latvala finished 5th in his Yaris and Elfyn Evans brought his M-Sport Ford Fiesta WRC into 6th, speeding up as the rally progressed and various minor tweaks improved his Fiesta's handling.
There were many Irish fans in Spain for the rally, and there was major disappointment all round when Kris Meeke crashed his Toyota on the Saturday morning. The Ulster driver was fighting for a top three position with the possibly to disrupt the Hyundai drivers in the top positions. Meeke did rejoin under 'Rally 2', with the potential to maybe help Tanak tacitly, but Meeke ultimately backed off in the power stage to help his team mate.
Mads Ostberg in his Citroen C3 R5 finished 9th o/a and Eric Camilli 10th in a similar car, the former winning RC2 Pro and the latter RC2. Young Ruairi Bell and his co-driver Darren Garrod had a good run in their Peugeot R2. At one point they were in the fight to lead RC4, but finished 4th behind mostly Spanish Crews. The rally was also a counter in the Iberica Cup, which ran only over the Friday gravel stages and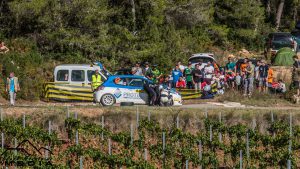 Ruairi had a really good run there, taking home €6,000 in prize money in the Peugoet Rally Cup Iberica. A puncture in stage 9, where he had difficulty finding a spot to change the wheel, incurring 3 minutes time loss and cost him places in the main WRC classification. Still it was a fantastic experience as well as achievement for the team. It seems only a couple of years ago that Ruairi came to Northern Ireland to start rallying in the up to 16 years old Junior series, under the tutelage of Jim Crozier and 'Superdrive'.
The overriding result though from Rally Spain is that we have a new World Rally Champion. Also, we really appreciated the tweet from Petter Solberg – "Congratulations to Ott Tanak and Martin Jarveoja – welcome to the rare "WRC Champions not called Seb" Club!
While all this was going on in Spain, the final round of the Triton Showers National Championship took place in the South West of Ireland. The overall National title had already been won by Josh Moffett, so it was left to Donagh Kelly/Conor Foley in their recently acquired VW Polo GTi R5 to take the honours on the Bantry based Fastnet Rally. Donagh led from the start, and eased back over the final loop of three stages as he felt a certain waywardness creep into his VW. His winning margin was still 37 seconds over last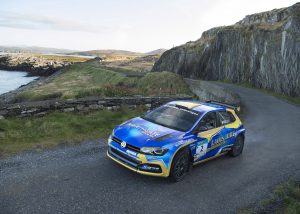 year's winner Damian Tourish/Domhnall McAlaney in their Mk2 Escort. Welshman Melvyn Evans, co-driven Patrick Walsh in their Skoda R5 took 3rd following the retirement of Gary Kiernan when his Escort suffered a broken differential. Chris Armstrong (Escort) was 4th, David Moffett (Starlet) 5th and the ever improving JF Shovelin (Escort) 6th. Donegal man Aaron McLaughlin in his Fiesta R5 finished 7th. Kevin Eves/Chris Melly finished 8th in their Corolla, which was good enough to win them the rally.ie award for the Triton Showers Championship. Local drivers Vincent McSweeney (Lancer) and Daniel Cronin (Fiesta R5) were 3rd and 4th respectively after the opening stage but both retired on stage 2 following accident damage.
Former winner Daragh O'Riordan was 9th, this time in a Mk2 Escort, and Kevin Barrett was 10th in his Subaru. (Possibly a sad occasion for Kevin, see below). John O'Connor/Michael Breen in their Escort won the Historics after a tight battle with Alan Ring/Adrian Deasey (BMW M3) came to nothing when the BMW retired on the final loop. In the Juniors section, Kieran Reen/Mark O'Leary (Civic) won class 16, while Donegal's David Kelly/Kenny Bustard (Starlet) made the trip Bantry worthwhile and won class 16A. Killarney's Kieran Reen, driving a Civic built to cost efficient 'budget spec' for the recently introduced 'Grassroots' concept clinched the PlasticBags.ie Southern 4 Junior Rally Championship.
More stories: Hyundai lead the WRC manufacturer points table after Spain, round 14 of 15. The Hyundai team has 380, Toyota Gazoo 362, Citroen 284, M-Sport Ford 218. Next and final round of the WRC in Australia is November 14th to the 17th.

The Fastnet Rally will reportedly be the final one under the Triton Showers banner. It has been a good journey. Sincere thanks to Kevin Barrett and all at Triton Showers. The end of season prize giving for the Triton Showers MI National Championship is in the Sheraton Hotel, Athlone, on the 16th November.
Young Callum Devine heads off to contest Rally Hungary shortly and he seems more anxious about the 2700km trip out through 7 countries as well as the availability of Coco Pops in Hungary! He has also been testing his Hyundai in preparation.
The Billy Coleman Young Rally Driver nominations have almost closed for this season and include:- Brian Brady, Derek Mackarel, Shane Kenneally, Stephen Reynolds, Josh McErlean & William Creighton. The winner of the 16A class in the Triton series is also to be included, and it looks as if that it will go to Nigel Roche. Although David Kelly won class 16A in Bantry, the fact that Colin O'Donoghue didn't finish somehow skewed the bonus point situation. David Kelly still put up a great performance and along with his co-driver Kenny Bustard has plans to tackle the British Championship Juniors next season, which carries a load of prize money. There is still the possibility of a 'wild card' selection for this year's Billy Coleman Award, and possibly the Donegal crew may be in with a shout for that.
News of a driver/team reshuffle in the WRC: there is a strong indication that newly crowned World Rally Champion Ott Tanak will move from Toyota to Hyundai in 2020. Reportedly the 'deal is done' but the contract isn't signed, so it is premature to rubber stamp the change. There is also conjecture that Ogier may also be on the move – possibly to Toyota. Where this will leave Kris Meeke and indeed Craig Breen remains to be seen, but when or if the Tanak and Ogier moves are ratified, others will surely follow suit fairly rapidly.
Closer to home, the Glens of Antrim Rally is still on track, although entries, as this is being written just a few days before the closing date, started out slowly, have now started to gather pace. However, the Mid Antrim club have decided that the rally will run, come what may on the entry front, for the 9th November two stage repeated forest rally. The Glens of Antrim event is the 8th and final round of this season's McGrady Insurance NI series. Stephen Wright leads the points on 169, Derek McGeehan has 163, Derek McGarrity 145, Drew Stewart 134 and James Kennedy 130. The best 5 of 7 scores count towards the NI Title, and almost all the top drivers will have to drop a score or two. It could be a 'winner takes all' scenario at the finish of the event. There are also several championship class scenarios still to be decided.
Barry McKenna/Leon Jordan (Ford Fiesta) were winners of last weekend's Empire State Performance Rally, after taking the lead early on and eventually they eventually won by six minutes.
The MG Car Club (Ulster Centre) Production Car Trial planned for this Saturday will now not take place. The field which was to be used is not in good enough condition after all the recent heavy rain. The Ballynahinch Club are running their 'Autosolo' at Carryduff Forklift for club members this Saturday. There are several 'Targa Rallies' on the near horizon, more news next week.
Regards: Brian, Liz & Michael Patterson