Rumours have somewhat swirled around of late that Craig Breen would tie up a deal with Hyundai to drive for them in Australia and then on 10 rounds of the 2020 WRC, or in a development role. Well, the first part has come true, in that Craig and his co-driver Paul Nagle will replace 2016 Rally Australia winner Andreas Mikkelsen 'down under'. Perhaps Craig is considered to have a more favourable start position than Mikkelsen, in what are sure to be Australia's dusty conditions. On top of confirmation that about to be crowned World Rally Champion Driver Ott Tanak is shifting to the Korean car manufacturer for 2020, it poses the question of just what appearance the Korean team will have in 2020.
It seems inconceivable that they will for example dispense with the services of Thierry Neuville, who is still 'in contract'. It is likely, not a given of course, that the Belgian will be mainly instrumental in tying up the World Rally Manufacturers title on next week's Rally Australia. Neuville won Australia in 2017 for Hyundai. Two things are certain – Hyundai could possibly end up with the strongest team by far in the WRC, and also that this weekend's Rally Australia could be an end of season cracker. Most teams either have the manners not to make announcements about their driver line-up for next year until after this season's final event, or else are undecided.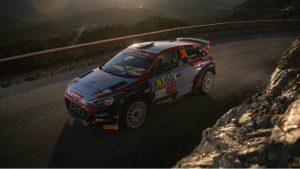 Now that the Tanak move has been confirmed, many other parts of the driver jigsaw should begin to fall in place. Which means as well that, apart from the obvious kudos of Australian success, most drivers will be anxious for a top result, just to cement or sway those last minute decisions that teams will have to make on their driver line-up for next year. It will be no time at all from the end of Australia to registration for the Monte Carlo Rally and confirmation with the FIA on who is driving for whom. The rumours are already circulating in social media, which means that they are probably wrong, – particularly about Sebastien Ogier and/or Elfyn Evans perhaps going to Toyota Gazoo. Time will tell, there is a lot at stake for the teams and the crews. It is all a bit of a non-stop helter-skelter really, especially as regards the Hyundai team, who seem to delight in switching around their drivers between events. No real point in speculating, it will come out in the wash. Rally Australia is 14th – 17th November, and it could be quite an occasion, not just on the stages.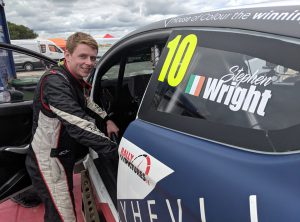 Expectations were high that this weekend's final round of the McGrady Insurance NI Championship, the Glens of Antrim Rally, was going to be a cracker. However that hope has crumbled to dust with the news that the Mid Antrim Club has cancelled the event, citing some unpaid entries as the reason. It would appear that Monaghan's Stephen Wright, co-driven this season by Liam Moynihan, has won the NI Title. Multiple former NI Champion Derek McGarrity tied with Stephen on total points when the 'one & a half final round points rule' was put in place for the Tyrone Stages, and on a 'count back-tie break' scenario Stephen wins with two maximum scores and three 2nd places, as against McGarrity's two maximums and two seconds. Without the one and half points ruling Stephen was also ahead in the points. When we spoke to him on Tuesday evening, Stephen commented, "I think it is a great pity for all those who have worked hard to put the rally together that it is cancelled. I was looking forward to Saturday, and trying to win the Championship. Now to be told on Tuesday that I have won it is quite unexpected, and of course I am happy about winning."
Not so happy, indeed furious, was Derek McGarrity. He is no stranger to what would have been the main stage on Saturday, Slieveanorra, and he had spent a lot of money and effort preparing his Skoda R5 for the gravel, anticipating a grandstand finish to the series. Interestingly, McGarrity offered to cover the cost of the unpaid entries and he would have tried to recoup that himself. But the organisers told him the decision was taken. Makes one wonder is it a motor club or a finance house supposedly organising the rally. A lot of other drivers also had major commitments made to compete on the rally, but that is disappointingly not now going to happen. On the un-seeded entry list we had printed out on Monday morning there were 53 entries, so the cancellation was to say the least unexpected and considered by many to have been unnecessarily abruptly arrived at. The rally had been reduced to two stages repeated, so surely there would have been minimum expense. For the record, Derek McGeehan is now shown as 3rd o/a in the points, Desi Henry 4th, James Kennedy 5th and John Devlin 6th. No doubt the various Championship class points positions will now also be re-calculated. Disappointing as well for the rally sponsor Blue Sky Resource Recovery and for the standing of NI rallying in general. As the respected Sammy Hamill of the Belfast Telegraph writes: "Can't believe Saturday's final round of the N.I. Rally Championship has been called off. Sometimes Motorsport just shoots itself in the foot".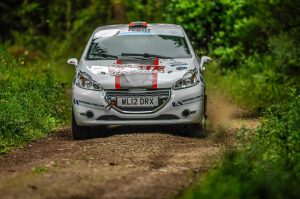 Ah well, rather than head for the beautiful Glens this Saturday we will just have to keep our eyes on the computer and chart the progress of Callum Devine in Hungary or double F1 champion Fernando Alonso on the Saudi Toyota Desert Rally Championship in Saudi Arabia. (Fernando is taking part in the 2020 Dakar, driving for Toyota, and this weekend is part of familiarisation. Reportedly he is struggling to cope with co-driver instructions! Devine will be co-driven on the European Championship Rally Hungary by Brian Hoy and the pair are seeded at number 15 in their Skoda Fabia R5 Evo. Chris Ingram/Ross Whittock are the No.1 seeds. They are in a Peugeot 208 R5 and lead the European points, with a decent chance of wrapping up the European Championship. Alexey Lukyanuk, current European Champion and no stranger to rallying here, is seeded at 3 in a Citroen R5. Russian driver Tukasz Habaj is at 2 in a Skoda R5 Evo.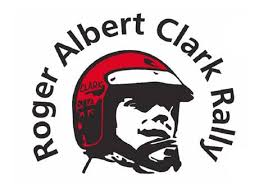 On the weekend after Rally Australia one of the biggest rally events of the year in these islands will take place: the five day Roger Albert Clark forest stage event (21st-25th November). Several drivers from here are making the trip to compete, and they include 2017 winners Marty McCormack/Barney Mitchell in their Escort. Just some of the other top crews from here making the trip over for this momentous 30 plus special stage forest rally include Paul Barrett/Gordon Noble (Escort), Adrian Hetherington/Andrew Grennan (Escort) and Keith McIvor/David Burns (Escort). And of course, David Greer and his co-driver Brian Crawford have entered in a new Opel Manta 400. They were planning to give the new car a shakedown this weekend performing 'OO' duties on the Glens. Ah well, that's that then. We will have more news on the Roger Albert next week.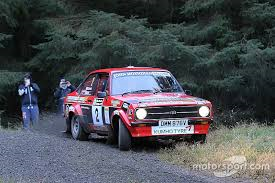 Looking further ahead, the Rentokil Initial Killarney Historic Rally is shaping up to be a massive event, with a big entry of top historic and national cars. The event is the opening round of the 2020 Irish Tarmac Historic Championship, and the final counter of the Plasticbags.ie Southern4, the Moriarity's Centra – Kingdom of Kerry Rally Championship and the HRCR West Wales Rally Spares Stage Masters Challenge. Darren McCormick is Clerk of the Course, following in the footsteps of his father Gary. At a reception last weekend, with many dignitaries in attendance including the TD Minister for Sport Brendan Griffin, Mike Marshall, deputy CoC, outlined some of the entries. The headline catcher was Craig Breen to drive a newly acquired Viking Motorsport Ford Escort RS 1800, with Paul Nagle co-driving. The pair will be fresh from Rally Australia, so should be in top form. Just some of the other top drivers in the Historics include Robert Duggan and Robert Barrable, both in Escort BDAs. Last year's winner Owen Murphy is switching from a Lotus Sunbeam to an Escort BDA. Forestry Champion Cathan McCourt, Adrian Hetherington and Donegal's Martin Doherty should all be near the top of the entry. Seven times Circuit of Ireland winner, Jimmy McRae, is also making the trip to Killarney and will drive his Firenza Can-Am.
The above is just a taster of what will surely be a superb entry. There will be 8 stages on the menu, all to run in daylight, and service will be in the Liebherr crane factory just outside Killarney. Of special interest to many people will be the new award to be presented to the Historic winner, the Maurice Nagle Perpetual Club. Maurice was a stalwart of the club since its inception 42 years ago and the Killarney Historic Rally was Maurice's innovation, taking over the 'Killarney Lakes' date when that event moved to May. Sadly Maurice died very shortly after acting as course car on last year's Historic event. He was a man whom everyone he came into contact with thought the world of. Such was the support for financing the new Trophy, organised by Dan Cashman, that there was €3,500 surplus which was donated to the Cork-Kerry Cancer Bus.
Finally for now we wish to express our sadness at the death, following illness, of Russell Brookes. The late Russell, 74 years old and from Worcestershire, was one of the most successful and determined rally drivers in the British Isles in the second half of the 20th century. One of our outstanding memories of Russell was from the 1978 Circuit of Ireland. Russell won the Circuit in '77, with Billy Coleman 2nd. In '78 his Escort suffered a cracked cylinder head before being shipped from Boreham, so the car only arrived into Belfast just hours before the start of the five day rally. Russell crashed the car into the scenery on the opening Knockagh stage. It took many minutes for the spectators to manhandle the car into a field from where Russell regained the stage in his now well bent Andrews Heat For Hire backed Escort. Well, that was him out of the reckoning and plumb last. Or so the top drivers thought: and that included stars of the calibre of Markku Alen in the works Fiat Miriafori, Hannu Mikkola, 1000 Lakes winner Kyosti Hamalainen, Pentti Airikkala, Tony Pond, Roger Clark, Graham Elsmore, Jimmy McRae, home favourites such as Billy Coleman, Adrian Boyd, the McCartney brothers and Bertie Fisher.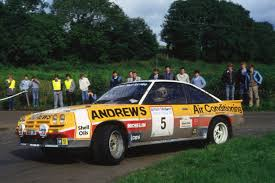 Well, as was his determined way, Brookes, the hero that he was, drove for the five days, 55 stages making up 550 competitive miles laid out by Clerk of the Course Terry Ingles, Russell won the rally from Jimmy McRae (Chevette) and with Markku Alen 3rd and Roger Clark 4th. It was an outstanding achievement, just one of many, by a remarkable man. He was one of the top drivers for over 20 years. He tirelessly looked after his long time sponsor Andrews Heat for Hire, making the company and his car instantly recognisable household names. He enthusiastically promoted rallying in general and was generous with his time, liaising with motor clubs and rally supporters. He also did enormous charity work. He was intelligent, articulate, always a pleasure to work with, although he did not suffer fools or stupid comment gladly. We thought the world of him. To his wife Julia, his family and many friends we offer our deepest condolences.
Regards: Brian, Liz, Michael Patterson and family