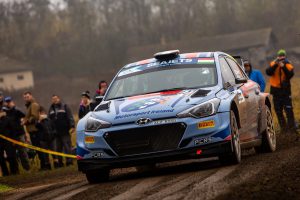 Punctures, fog, floods and excursions were the hallmarks of what transpired to be the very tough European Championship Rally Hungary last weekend, so fair play to former British Junior Rally Champion Callum Devine from Northern Ireland for finishing 3rd o/a. Also to young Englishman Chris Ingram – he finished 4th on the rally following a final stage puncture, but won the European Championship, a fantastic achievement. Outgoing European Champion Lukyanuk was leading the rally going into the last stage but his Citroen also incurred a punctured tyre which he had to stop and change, dropping him to 2nd o/a behind Turan in his Skoda. Because Ingram's Skoda had also suffered a final stage puncture, for several minutes at the finish nobody knew for sure who had won the title, but it was Chris Ingram. That last stage incident typified Lukyanuk's up and down season. Chris Ingram on the other hand, co-driven by Ross Whittock, kept his head down throughout the long, tough and horrendously expensive series to win this European Championship, a feat that has eluded many top British drivers over the years. Indeed it is over 50 years (1967) since our last winner, the brilliant Vic Elford.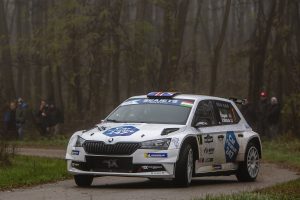 Catapulted into this calibre of competition, 25 year old Callum Devine from Park in Co. Londonderry was not phased one little bit. Co-driven by Fermanagh man Brian Hoy in a Hyundai i20 R5, Callum, whose catchphrase used to be 'just trucking along', and now also quips, 'I also drive diggers', kept his head firmly in gear despite at least one time consuming puncture. He set a fantastic fastest time through the fog and floods of the final 27.48 km final stage to move into that 3rd position.  He described it as his toughest rally yet. It really was a fairytale dream result for the NI crew.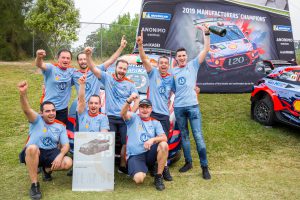 This weekend coming should have been the final counter in this season's World Rally Championship, Rally Australia. However it is not to be. The rally has been cancelled at the very last moment due to the bush fires raging through Queensland and New South Wales. Indeed the flames are reportedly now roaring close to the rally base, Coffs Harbour. Toyota's Ott Tanak has of course already the Championship driver title clinched. The spotlight was now going to be on the Manufacturer's title. Hyundai currently leads the points from Toyota, and
subject to ratification by the FIA the Korean car manufacturer will take the title.  The seriousness of the devastating fires can not be underestimated. Several people have already sadly died in the fire storm. An enormous amount of damage to property, farmland and forests has been inflicted. Countless numbers of animals and livestock have died in horrible fashion.
The rally organisers had already announced that the constituent 'lower level rallies' which were to run as part of the weekend were cancelled. Then the decision was, rightly taken to cancel the whole thing, as well as an FIA prizegivng which was due to take place on the Monday evening after the rally. To have attempted to run any sort of car rally under these conditions was a completely ridiculous proposition.  Once the decision was made to cancel the rally the teams, drivers and co-drivers, plus personnel, all leant their weight to helping the local communities in any way they could, including donating food etc.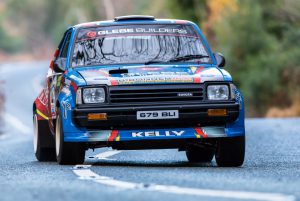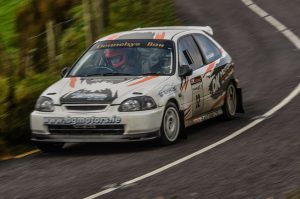 On a different theme, following their class 16A win on the Fastnet Rally a couple of weeks ago, 24 year old David Kelly from Donegal Town has been nominated for the selection of this year's MI Billy Coleman Young Driver Award scheme. David has been competing in a Citroen C2R2 and more recently a Toyota Starlet. He has now acquired the latest specification M-Sport R2T Ford Fiesta. David plans to do some navigational events over the winter in a left hand drive car in preparation for next season and tackling some British events in the new LHD Fiesta. He joins seven other nominees for the Billy Coleman award, which now carries €100,000 in support for next season.
Latest Young Driver news as well is that Kieran Reed from Rathmore in Co. Kerry has received the 'wild card' nomination for the Billy Coleman. 25 year old Reen reportedly impressed throughout the year, winning class 16 on every rally he entered, took a pair of overall junior wins and was also crowned the Southern4 Junior Rally Champion. Reen's nomination brings the total to 9 drivers who will face the panel to adjudge the Billy Coleman Young Rally Driver winner.
Looking forward to the weekend of 21st – 24th November, the Roger Albert Clark Rally is fast approaching. The event is receiving a lot of interest, and entries. We have already noted that Marty McCormack and co-driver Barney Mitchell in their Escort are the No.1 seeds, and top drivers include Paul Barrett, Adrian Hetherington and Keith McIvor. Also making the trip are Barry McKenna/Leon Jordan and Seamus Burke/Martin Brady, both crews in Escorts.
The weekend after the Roger Albert it will be the turn of the Rentokil Initial Killarney Historic Rally.  Clerk of the Course Darren McCormick has planned a challenging route, starting with Molls Gap, which this time has a different finish than usual, a real sting in the tail. The other four stages, some done twice, are not exactly a walk in the park either, so whoever comes out on top in either the Historic or National sections will surely have earned the plaudits.
We mentioned in previous Irish Notes the standard of driving talent which the Historics section has attracted. Just as a reminder, Craig Breen will surely top the list in a newly acquired Viking Motorsport Escort, and he will face tough competition from the likes of Rob Duggan, Robert Barrable and last year's winner Owen Murphy. The National section has also attracted a top class entry. Just some of the top names entered include Damien Tourish, Chris Armstrong, Gary Kiernan, Tomas Davies, Daragh O'Riordan, Wesley Patterson, Martin McGee, Ryan Loughran and David Condell. Interestingly, Wesley Patterson has built a new Escort, which is reportedly a beautiful car. He planned to compete on the Mid Antrim Club's Glens Rally. But of course that disappointedly came to naught, so Lisburn man Wesley has had to fire up his regular 'tarmac' Escort for Killarney.
Following the cancellation of the Glens of Antrim Rally it has been confirmed that Monaghan's Stephen Wright is indeed the NI Rally Champion. Stephen didn't really start this season with any great intention of contesting the NI Rally Championship but he ended up winning the title! He feels that he will probably have another go at it next year, as the timescale involved suits him well, as he is heavily involved now in the family business. There were many drivers who were hugely disappointed at the Glens cancellation. One of them was young Joel Eakin from Claudy. His father Peter, who sponsors one of the rounds of the Championship, writes – "Joel has competed in every round of the Championship this year, his first full season in the sport. He only took up rallying last year. As a young driver on a tight budget running in class 1 it has been great competition all year, only ever a few points between himself and Adam Vance – only 1 point going into the last round – good competition all through the season to be ruined by this decision (to cancel). We along with other competitors had our car changed to forest spec at great cost, tyres bought etc. I don't think this club thought of the competitors. This does nothing for the reputation of the Northern Ireland Rally Championship that has already been struggling. We need to encourage young drivers in our sport and this did not help."  Joel missed out on a class win on a tie break: was 2nd in GpN by half a point and was runner up in the Juniors to Kyle White. To get a bit of a blast on the gravel, Joel may make the trip to the Lake District and the Grizedale Stages (7th December).
Josh McErlean from Kilrea in Co. Londonderry is on course to compete on a rally with a difference – the Monza Rally Show in Italy. Driving a Peugeot 208 R2 Josh won this year's British Junior Rally Championship. With support from the BRC and Hyundai Customer Racing Josh tackled the WRC Wales Rally GB in a Hyundai i20 R5 and set some decent times until sidelined with a technical problem. Now he is to reacquaint himself with the i20 R5 to compete in the eight stages of the very high profile Monza event, Keaton Williams co-driving. Josh is one of the nine nominees for the Billy Coleman Young Rally Driver Award. Interestingly, Hyundai are running a Trophy prize fund at the event for customer teams. The top three drivers will be awarded a cash prize, with the aim of helping them fund their 2020 rallying season. The Trophy winner will receive €10.000 and the second and third placed drivers €5.000 and €3.000 respectively.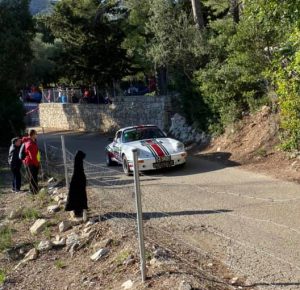 Donegal's Gary McElhinney continues to rack the stage miles abroad with a great run on last weekend's Mallorca Rally Dijous Bo co-driving for young Seb Perez. Driving an Amigos backed historic Porsche 911, the pair not only won their class but also came home 7th overall in the modern event after 2 days of tarmac stage competition in the north of the Mediterranean Island.
Closer to home the Omagh MC is running a Targa Rally this weekend. When we checked earlier this week the rally had 52 entries, and just some of the top names included Niall Donnelly (MR2), Norman Ferguson (Peugeot), Frank Lenehan (Starlet), Eric McIvor (MX5) and Simon Woodside (MX5). As an aside, Omagh has reached the conclusion and agreement of the parties that there will be no electioneering posters and photographs on poles etc – now that will be make for a more pleasant rally!
Regards, Brian & Liz Patterson