"On the door handles" could fairly describe the front runner's pace on last weekend's Rentokil Initial Killarney Historic, with Rob Duggan winning the Historic section and Colin O'Donoghue the Modified category, both drivers in Escorts. Neither crew had it easy, Duggan and his co-driver Ger Conway were flat out in their fight to resist the onslaught of Craig Breen/Paul Nagle. Through the first six stages each driver had three fastest times. However Duggan was much the faster over the two runs at Molls Gap. That really was where he pulled out the advantage which would take him to victory. Breen was able to pull back 0.6 of a second on the first Ballaghbeama run (stage 2) and 0.8 of a second over stage 3 Shanera. But then on stage 4, the 2nd run over Molls Gap, Duggan took another 5 seconds of WRC star Breen after he had a high speed spin on some oil not long after the "Gap" and was lucky not to loose more time. Certainly Killarney man Duggan was very much on his home patch, but still this was driving at the very limit, and 'on the door handles' very much sums up the pace.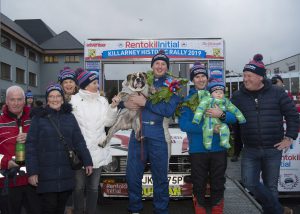 Breen, himself no stranger to the Kerry roads and with the experienced Paul Nagle doing his best to guide, pulled a few seconds back in stage 5. However Duggan sailed through the last 3 stages to win by 14 seconds. Such was the pace that the total elapsed time for the Historics was only 3 seconds more than the Modified total of Colin O'Donoghue. Last year's Historic winner Owen Murphy, again with Anthony Nestor co-driving, hired an Escort for this one. Owen described it as a very good car indeed, but unfortunately a small glitch with the distributor cost time early on. Then in the afternoon stages Owen gambled on the wet tyres that had served him well in the morning. However the roads dried up.  He spun the car several times, but still salvaged 3rd at the end.
Jonny Greer did seem to be heading for a podium place but his Sierra Cosworth had to be put on the trailer after stage 5, a timing belt failure suspected on the road section to stage 6. Another top retirement was Cathan McCourt. Neil Williams finished 4th, Robert Barrable 5th and Ryan Loughran 6th, to make it an Escort top half dozen. Alan Ring broke the Ford mould by taking 7th in his cracker BMW M3.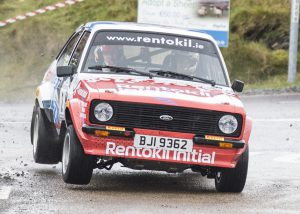 In the Modified section Gary Kiernan/Daren O'Brien in their Escort led initially and then Colin O'Donoghue/Sean Collins, also in an Escort, took over the lead on stage 2 Ballaghbeama. Martin McGee/David McGee slotted into 2nd, with Kiernan 3rd. In stage 3 O'Donoghue was again fastest, Kiernan got into 2nd and McGee 3rd. They finished in that order, with Raymond Conlon finishing 4th in his Corolla TC, Aidan Buckley 5th and Welshman Jason Pritchard, straight from the forest stages of the Roger Albert Clark Rally, battling into 6th.
Also on Saturday was the MG Car Club's Autosolo at the TTS centre near Nutts Corner. Cold dry conditions prevailed and Will Corry in an MG Midget put on a very sharp performance to take victory after the 9 tests, with Jimmy Dougan (Mini) 2nd and Robert Haslett 3rd in his Yaris. For a change, the highest place MX-5 was 4th, this time in the hands of Liam Shaw with Dickie Curran 5th in a similar Mazda and Redmond McNamee 6th in a Micra. A good day was had by all!
Also last weekend and rather further afield, Bangor, Co Down's Michael Orr co-drove Yazeed Al-Rajih to victory on the Riyadh Rally, a round of the Saudi Toyota Desert Rally Championship. The pair drove a special Hilux. Stephane Peterhansel/Paulo Fuiza were second in their Mini JCW. There is special interest in the Saudi Toyota Desert Rally Championship at the moment as it is seen as an ideal shakedown for the forthcoming Dakar Rally 5th January–20th January 2020 in Saudi Arabia, a switch from South America. Much interest has been stirred by the entry of former double Formula 1 Champion Fernando Alonso.
This coming weekend a few crews from here will be heading to the Lake District to tackle the very attractive Grizedale Stages Rally. Some of those crews include Alan Carmichael/Claire Williams in a Hyundai R5, Andrew McCormick/Chris McSherry in a Chevette, Trevor McConnell/Dean O'Sullivan in a Lancer and, as mentioned last week Joel Eakin/Sean Doherty in their Civic.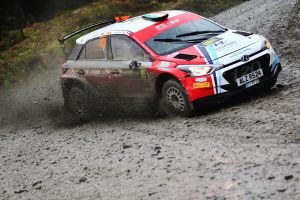 Craig Breen and Josh McErlean are both down to compete at this weekends Monza Rally Show. Breen is down to drive a factory Hyundai i20 alongside Dani Sordo and Andreas Mikkelsen in a star packed entry. Billy Coleman award finalist McErlean is also listed to be driving a similar i20 to which he used on the recent Wales Rally GB.
As we move into December, it is vacation time for the Patterson family, so no Irish Notes for a while. There are various events on during the holiday period so we will catch up on some of the happenings in the New Year. If by any chance that festive boredom sets in, both Rally School Ireland and Superdrive have some festive specials on offer now. Co Down based Superdrive have their Junior package (for 12 year old's and over) from £120 plus their usual packages that can include a Subaru, MK2 Escort and MX5 https://www.superdriveni.com . Rally School Ireland just outside Monaghan have a Christmas limited time only offer to include: – 6 laps in a classic Mark II Ford Escort – 6 laps in the Police Car Nissan 350z – 6 laps in an Ariel Nomad and they will even throw in lunch. All this for €320.00 https://rallyschoolireland.ie.
In the meantime, best wishes to all over the Festive period.
Regards, Brian, Liz and Michael Patterson