There were two very different rallies on the agenda last weekend – the North Ulster Car Club's Targa Rally as well as the enormously long and tough Roger Albert Clark.
On home ground, through Co Antrim, the Targa Rally, which was supporting the John Mulholland Motors Friends of the Cancer Centre, was won by Mark Francis/Katie Lemon in a Mazda MX-5. Indeed the top three finishers were in MX-5s, with Liam Shaw/Conor Shaw 2nd and Angus Johnson/Reid Thomas 3rd. Eamonn Byrne/Joanna Lenehan had a very good run in their Yaris to finish 4th o/a and win class 1, while Kevin Daly/Mark Maxwell were 5th o/a in their Hyundai Accent and they won class 3. Conditions were not easy on the Targa and many of the top seeds ran into problems during the day.
On the Roger Albert Clark, with 32 stages over five foggy wet days plus some night sections through forests in Wales, Scottish Borders and Kielder, conditions were far from easy either. Marty McCormack/Barney Mitchell were the victorious front runners most of the way and they were harried and pressed throughout by Jason Pritchard/Phil Clarke, both in Mk2 Escorts. Roger Chilman/Patrick Walsh made it an Escort top three.  Wayne Sisson/Neil Shanks put up some dramatic stage times in their big Mitsubishi Galant to take 4th place, albeit over 15 minutes in arrears of McCormack. Stuart Egglestone/ Brian Hodgson (Escort) were 5th and Barry McKenna/Arthur Kierans were well down the order in the early part of the rally but then improved dramatically in their RS1800 over the final few days to come up into 6th place.
There was early disappointment for two drivers from here who were tipped to do well, both Adrian Hetherington and Paul Barrett sidelined when their Escort engines cried enough. Just some of the other top drivers who were sidelined for various reasons included Matthew Robinson, Simon Webster, Alan Walker, both Ghislain & Gregoire De Mevius and Phil Collins.
The battle at the front of the rally was one of intrigue throughout. McCormack seemed to have the upper hand but had worrying moments as well on the Sunday leg when his Tiger Risk backed Escort developed a misfire and also the steering rack went awry. Their support crew, under the direction of Marty's brother, Greg, did very well to sort both problems in record time at a 30 minute service halt. Pritchard had his worrying moments as well, particularly when his Escort suffered a puncture. Through it all McCormack pressed on and opened the gap to his Welsh rival (and friend) to well over a minute.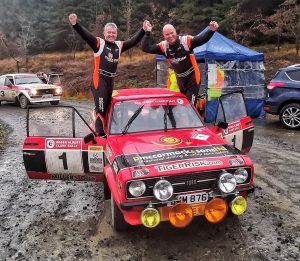 On the opening stage on the final day, Pritchard was the faster of the two by over 20 seconds, a stark reminder to McCormack that, with four Kielder stages still to go, he could ill afford to relax. Marty responded by notching up a couple of fastest times, to be sure to be sure, of recording his third Roger Albert Clark Rally win. It was a great adventure, as well as a marvellous achievement by the Magherafelt man, who more usually can be seen behind the wheel of a digger or a drilling machine making holes in the roads.
The rally wasn't all about the drivers at the front of course – far from it. Seamus Burke/Martin Brady were another crew who battled hard as the rally progressed and came up into 15th place. Like Barry McKenna, Seamus crossed the Atlantic to compete on this event.  Drexel Gillespie, albeit in Super Rally, made it to the finish in his Volvo 122S.  Templepatrick man Drexel, who was co-driven by Gill Cotton, explained:  "we were going round the final corner of the first Friday stage when a half-shaft broke. We were able to get a time and get out of the stage, but of course we had no spares. So we phoned Kevin Savage (Volvo historic specialist, international co-driver and Clerk of the Course of the Malcolm Wilson Rally) and he said yes, he had half-shafts, put the Volvo on a trailer and come on up. Problem was, Kevin's place is up at Kirkby Lonsdale, close to the Lake District, so it was 4.0'clock in the afternoon before they could get there. Then, as the half-shaft had sheared close to the differential, the axle had to be stripped and cleaned before the new shaft could be fitted.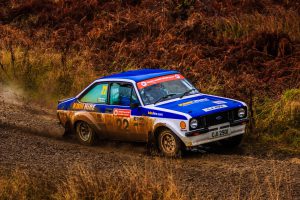 Kevin and Drexel's mechanic Gerry Buckley did a great job. So, it was 8.00pm before they started for Carlisle, which then of course wasn't so far to go. Drexel and Gill resumed the rally on the Saturday morning and finished the event three days later, which was still a lot of stages. Drexel commented afterwards: "I'm delighted to have done it, it was pure enjoyment. The car went very well apart from the shaft. Much of the time we were first on the road, so the stages were very smooth. We didn't set the world on fire – this is a 1964 Volvo 122S in more or less  standard trim, with maybe 101 brake horse power. Some of the stages were repeated so it was a bit rough 2nd time through, and the back axle shook a bit loose, but it was no problem. Some of the hills took a while to get up as well, but the car ran like clockwork. Amazingly we got a 1st in class, thought we were behind 80 year- old or thereabouts Bob Bean in his Lotus Cortina, but the way it turned out we have been awarded it! One of the things we really noticed was that anywhere we stopped, service areas and so on, lots of people came up to us to tell us how nice it was to see the Volvo, a change from all the Escorts!"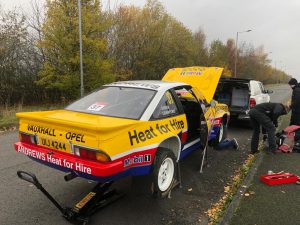 David Greer/Brian Crawford made it safely through in their immaculate, newly built, Andrews Heat for Hire liveried Opel Manta 400. Brian explained – "David (Greer) bought the Manta 400 several years ago. It was damaged, and the more we looked at it the more we thought that it would never repair into a nice car. So we obtained another shell, fabricated it and started from there. David decided to livery it in Russell Brookes' Andrew Heat for Hire colours as a matter of respect. David once upon a time did a Ford promoted rally school where Russell was a tutor and he thought a lot of him. We phoned Mike Broad, as well as Russell's widow Julie, and his son Rob to see if they would agree, and they were delighted to hear that we thought so well of Russell. They were happy with what we were doing. Jimmy McRae, who drove a sister Manta, looked at the car during the rally and told us he was very jealous! However, that changed somewhat when he saw the fog later!'
Brian continued: 'Preparations in general for the rally were massive, the tyres, the fuel, the responsibilities, logistics and expense. Work for me went to the wall for what seemed like weeks. The rally took over my life. On the event the car went very well, no major hiccups.'
David did mention that the wipers wouldn't switch off – something they didn't discover for four days as it never stopped raining! They had one puncture, on the stage before Ae, and that cost many minutes. David also complimented the notes which worked very well for them but in the fog, especially in the darkness combined with the fog stages, they just weren't prepared to stick their necks out when you couldn't see the end of the bonnet, let alone the verges in the forest. The Saturday night was the worst. The real sting in the tail was the final stage, 17 miles or so. For them the intention was always to finish. David couldn't believe the buzz of the rally, the number of spectators. He reckons it is now the 'go to' rally in Britain." Yes, a great adventure! And a further endorsement of Marty McCormack's achievement in winning it for the third time!
From one Historic Rally our thoughts turn to another – this coming weekend and the Rentokil Initial backed Killarney Historic. The Kerry based event, which has a proud history and unique ambience as well as roads, also has a huge entry: 160 cars plus reserves. Owen Murphy/Anthony Nestor head the Historic list. They won the event last year in their Lotus Sunbeam, but apparently back axle parts for the car are more or less impossible to source, so Owen is hiring David Percy's Historic Escort for this outing. This is an almost new car and has the Sherwood BDA engine, which seems more or less be 'de rigeur' for these Historic Escorts. Owen has never driven the car, but seems not to be phased by that and hopes to manage a short test drive on Friday afternoon. And then his plan is to repeat last year's victory!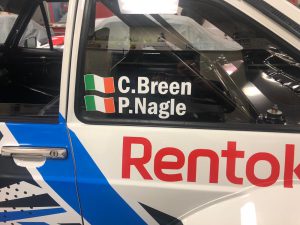 The driver starting behind Owen, Craig Breen, has other ideas of course! WRC star Craig will drive a newly built, absolutely beautiful Viking Motorsport Escort BDA. (in red naturally!). Viking is the brainchild of 2003 World Rally Champion co-driver Phil Mills. He will be on hand to see that all goes well on the rally. When asked about the car, Phil told us: "it is a new build, first time out, has the Sherwood engine, everything top spec. I'm very impressed with Craig – he is so genuinely enthusiastic, really wants to do this!" Of course, with Killarney man Paul Nagle, (whose late father Maurice was the instigator of the Killarney Historic), on the notes as co-driver this will no doubt double-up on the enthusiasm front! Another Killarney man, Rob Duggan, a very talented driver, is at 3 and he drives an Escort from the Merion Evans stable. Rob has Ger Conway co-driving and doubtless there will no lack of enthusiasm in that car either.
In fact, looking down the top ten and beyond, it really is a scintillating line up. Mark Falvey and Neil Williams are at 4 & 5 in Escorts, and then at 6 it is Belgian 'pilote' Paul Lietaer in an Opel Manta 400. Of the next six cars it would be a brave man who would bet against at least one, or indeed several of them, not being in the leaderboard mix on this iconic event.  Just consider the driving talent amongst those six: the utterly precise driver Martin Doherty from Donegal, the tigerish Cathan McCourt, former West Cork winner Robert Barrable, local legend Denis Cronin, Tarmac front runner Jonny Greer (in a Sierra Cosworth) and Alan Ring (BMW M3). Is it any wonder that the enthusiasts will be flocking to Killarney this weekend?
The seeding for the Modified part of the rally starts at number 62 with Chris Armstrong, then it is Gary Kiernan, Colin O'Donoghue, Ryan Loughran and Jason Pritchard – all in Escorts. The first 'non-Escort' is Richard Conlon at 70 in his Toyota Corolla TC.  The first of the 8 stages (Molls Gap) is at 08.00 on Sunday morning (where the cars will turn Right at the gap, not Left) and the finish ramp is at 15.28.  Sensibly, a little more respectable time than in recent years. There will be two runs over Molls Gap, the second one is at 10.59. There will also be two runs over the Ballaghbeama and Shanera stages, and then single runs over Rockfield and Coolick.
Also this weekend is the MG Club's Autosolo at Nutts Corner TTS. Birr MC is having its 'Turkey Chaser' autotest at Garahy's garage in Birr. One week further on (6th-8th December) we have the Monza Rally Show to look forward to, where Josh McErlean will drive a Hyundai Motorsport Customer Racing i20 R5. News just released as well from Hyundai is that the 2020 i20 R5 will have a new suspension/dampers  upgrade in both asphalt and gravel format, as well as an updated steering 'set-up', plus new pistons and liners for the turbo engine which will give more power – up to 290 hp.
Also next weekend the Grizedale Forestry Stages will take place and an entry has been submitted by young Joel Eakin from Claudy. We carried the story recently about his disappointment regarding the last minute cancellation of the Mid-Antrim MC event. Joel had spent so much time and money upgrading his Civic to gravel specification especially for that one rally, the Glens, so now he is having to go across the Irish Sea to get some gravel experience. More news on this lovely little rally next week.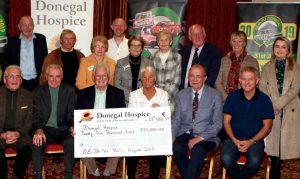 Last weekend the Déjà Vu organisers presented a cheque for €25,000 to the Donegal Hospice, this being the proceeds from the Donegal Déjà vu held a couple of months ago. Coming up at the end of December (29th) in Donegal at McCafferty's Bar in Letterkenny's Lower Main Street, is a marshal's appreciation night, the proceeds going to the Little Angels Special School. (At least we think it is the Little Angels, the advertising pamphlet we received says 'Little Angles'!).
Rumours persist today (Wednesday 27th) that the Toyota Gazzo Racing Team will announce their 2020 WRC programme with Sebastian Ogier heading the revised team line up after WRC Champion Ott Tanak's departure to Hyundai. Elfyn Evans is favourite to join Ogier alongside Kalle Rovenpera with a strong suggestion that Latvala will still have a role in the team as a development driver.
Late News: Toyota Confirm: We are pleased to confirm an exciting, all-new driver line-up for the 2020 season:
Sébastien Ogier / Julien Ingrassia
Elfyn Evans / Scott Martin
Kalle Rovanperä / Jonne Halttunen
Regards, Brian, Liz & Michael Patterson.
A small selection of photo's from the Roger Albert Clark – courtesy of the RAC Rally.