Storm Dennis didn't deter the North Armagh Club's marshals, officials or winner Stephen Wright at the Pacenotes Magazine Kirkistown Rally last Saturday. In contrast conditions on the Swedish Rally were balmy compared to what used to be thought of as the norm in that Nordic land and Welshman Elfyn Evans ploughed his Yaris WRC through the gravel to a fantastic win. On Sunday the rain had somewhat abated for Carrick on Suir's Wm. Loughman forestry event, and there it was James Wilson who took the glory to open his 2020 Valvoline account.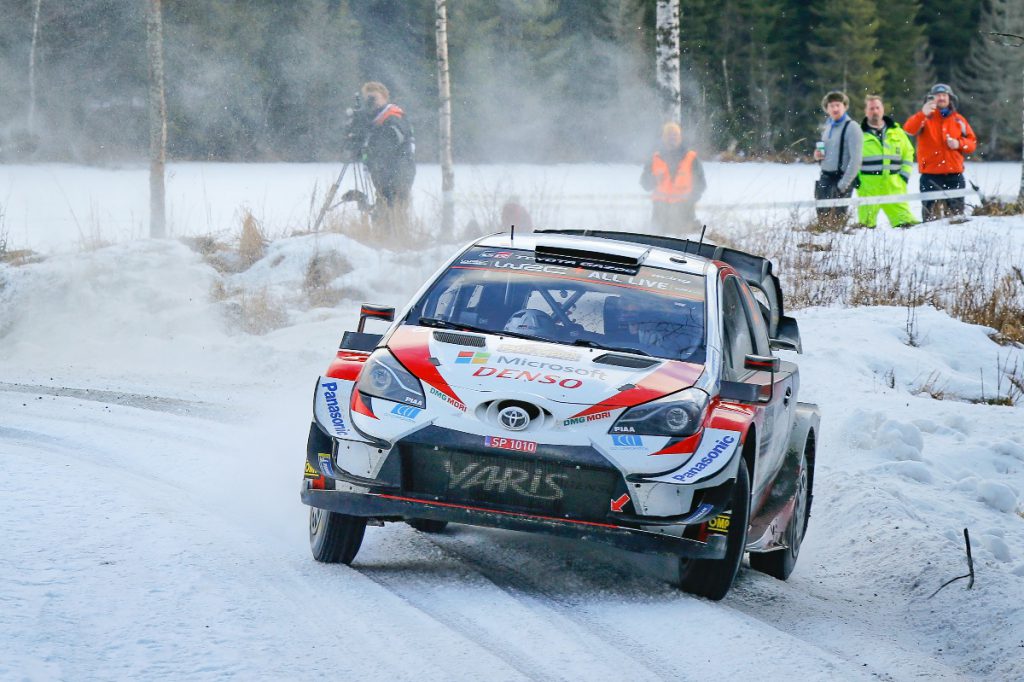 Co-driven in their Toyota Yaris WRC by Scot Martin, Elfyn Evans' Swedish win was not only sensational in itself, it moved Elfyn into the joint lead, with Thierry Neuville, of the World Drivers Championship. Elfyn won Wales Rally GB a couple of years ago with M-Sport, and then several times he has led WRC rallies, only for victory to slip through his grasp. There was no such disappointment this time for the Welshman, and the calibre of the drivers behind him served to emphasise the magnitude of his achievement. Ott Tanak finished 2nd, and perhaps that can be considered fairly noteworthy also, considering the violence of the World Rally Champion's crash on the Monte. 19 year old Kalle Rovanpera was 3rd and won the power stage. What, a 19 year old showing the cream of world rallying talent the road home?  Fantastic! This young man, like Elfyn Evans on only his second outing with the Gazoo Toyota team, must surely be a future rallying force to be reckoned with.
Certainly this was a different kind of Swedish because of the mild weather, lack of snow, a mixture of ice gravel and mud on the stages, but it was basically the same for all the drivers, so Rovanpera's showing was no fluke.
Behind Evans and Neuville at the top of the WRC drivers points with 42 apiece, Ogier is 3rd on 37, Rovanpera 4th with 30, Lappi 5th (24) and Tanak 6th (20).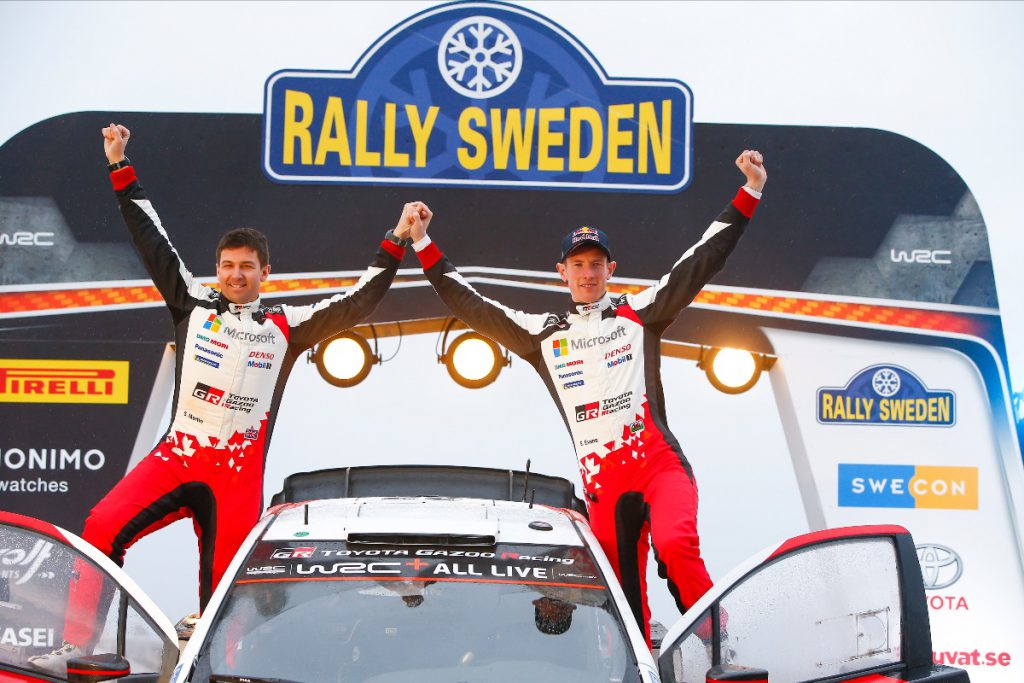 Craig Breen/Paul Nagle finished 7th on the event, Craig feeling that, after his break away from WRC, it took him a little while to get in the groove. Young Oliver Solberg, with Omagh's Aaron Johnston co-driving, looked to be heading for an R5, WRC2 podium finish, but their new Skoda picked up a puncture on the final stage and they lost several minutes to finish down the order. Solberg did set some cracking times in the 2nd part of the rally. Fermanagh's Jon Armstrong was competing in the Junior section of the rally but unfortunately his Fiesta R2 was sidelined on the Friday.
At Kirkistown on the Saturday, as the wind and rain fairly hurtled across the exposed expanse of the disused runways, Stephen Wright, with Gary McKenna co-driving in his Fiesta R5 had a day long battle for supremacy with Derek & Mark McGeehan (Mini WRC). Current NI Rally Champion, Stephen Wright, came out on top by 5 seconds from the father and son McGeehan team. Derek McGarrity, who is usually so fast around Kirkistown, finished 3rd in a Skoda Fabia R5. Derek reckoned that not having driven the Skoda on a wet road, (the stages were streaming!) he was too slow to get in the groove. Paddy Robinson was co-driving for McGarrity. Some consolation for McGarrity was that his son Michael, driving a Peugeot 208, won class 4. Michael had Damien Garvey co-driving.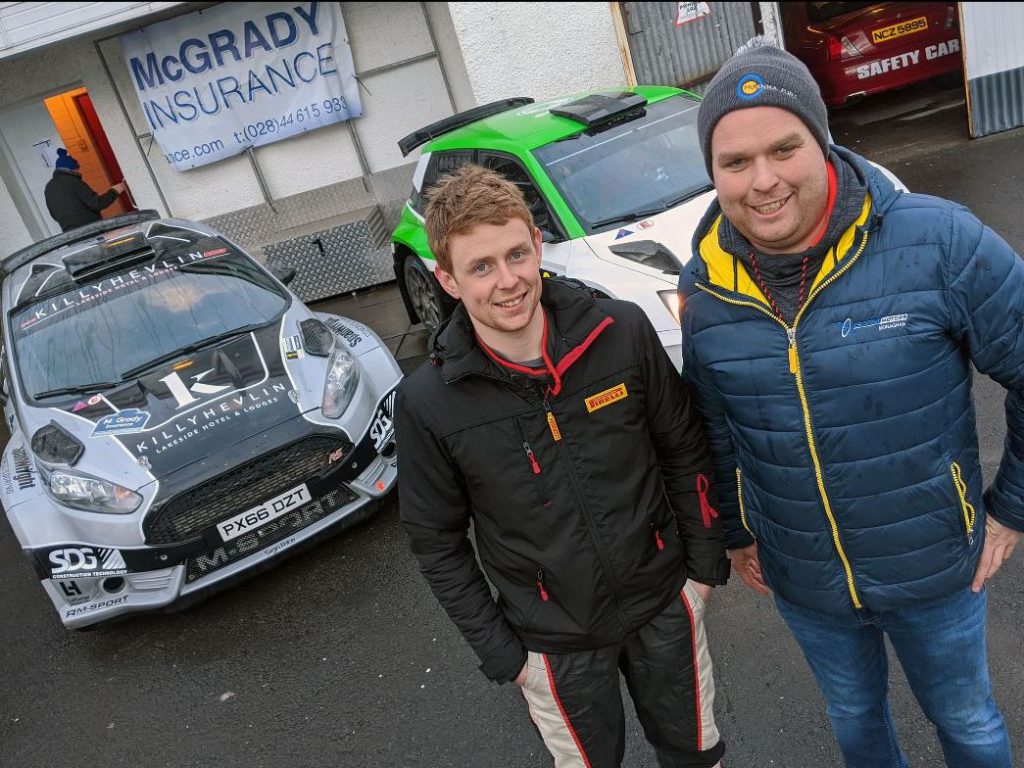 Some of the other class winners included Andrew Bushe/Ivor Lamont taking the Historics in their Chevette HSR. Marshall Kennedy/Wendy Blackledge won class 2 in their Peugeot 306 GTi. Philip White/Kyle Duffin had a great run in their Micra Kit Car to secure Class 3. Sam Adams/Michael Johnston (Escort) won class 5. There was a terrific tussle between Keith White and James Kennedy for two wheel drive honours, with White finishing in front. Both were in Escorts, but in different classes – Keith White/Gavin Campbell took the class 7 honours, James and Heather Kennedy class 6. Andrew Bustard/Martin Harte (Lancer) won class 8 and Liam McFall/Matthew McKenna, also in a Lancer, class 9.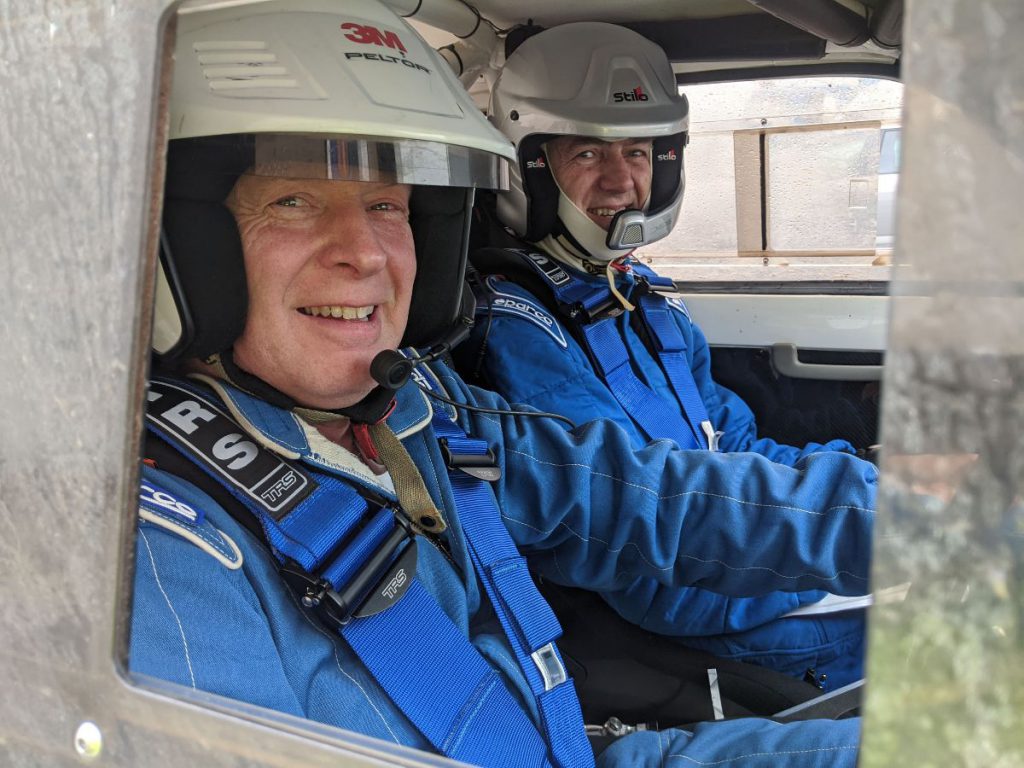 On the Carrick on Suir Forestry James Wilson, co-driven by Arthur Kierans in their Hyundai i20R5, had an unopposed run to a clear victory on this opening round of the Valvoline Forestry Championship. No.1 seed Andrew Purcell was sidelined at the end of the opening stage. Michael Carbin/Conor Mohan (Lancer), held 2nd place throughout the day and finished the six stages 41 seconds behind Wilson.  Liam Ryan/Keith Moriarity (Fiesta R5) finished 3rd o/a, a further 38 seconds back. Gary Kiernan/Daren O'Brien were best two wheel drive in their Escort, finishing 5th o/a, while South East Champion Mickey Conlon, also in an Escort, was 7th o/a and 2nd two wheel drive. Jordan Hone has taken somewhat of a break from rallying, and he came back on this event with a bang to finish 9th o/a in his Opel Adam and took victory in class 2. Jordan was co-driven by his father Paul.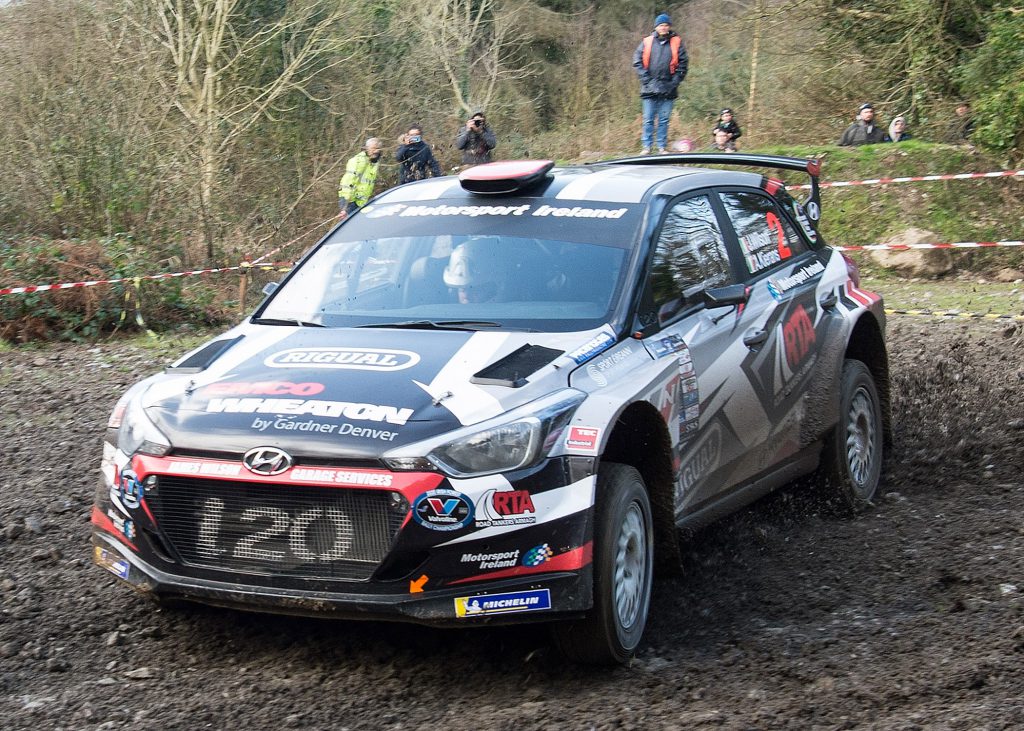 News stories this week include Craig Breen announcing an extension to his programme, contesting the Finnish Championship, starting with Ralli SM Itaralli, driving a Hyundai R5 and co-driven by Co Antrim's John Rowan. Their first event will be on the 29th February at Joensuu. John has stood in for Paul Nagle a few times at test sessions with Craig, in Italy and France, but this will be another ball game: 'Full-house' competition with Craig and in Finland as well for the first time. John commented, "I'm well chuffed!"
Another driver heading to far off places is Frank Kelly. His 'baby blue' Escort is ready to be trailered over to Spain for the Rally Costa Bravo. His daughter Lauren will co-drive in that one. From there the trailer will be hitched up to travel down into Italy for a rally at Pesaro on 27/28th/29th March. This will be a sort of 'superspecial showboating' rally for Frank, and his wife Rose Marie will co-drive for him, for the 'first time since the youngsters were born!'.  From there it will be hitch up the trailer again for a rally in Switzerland, at Saignelegier, Jura on 17th/18th April. Then there will be a long haul for the Finnish Ikaalisten Kylpyla Rally on 8th/9th May. The enormously well respected and admired Frank has received all sorts of help offers from organisers and various others to see this exciting rally excursion through, and has planned it well also to take advantage of good value flights back and forward in between times, so that he can do a bit of work in his security camera business as well. Fair play to him – living life to the full when he has the opportunity!
Another driver wanting to do something different this season is Forestry two wheel drive Champion David Crossen. Along with co-driver Aileen Kelly he does propose a warm up plan to contest the Limerick Forestry at the end of this month. However, having concentrated on the Valvoline Forestry series for quite a few years, he is then picking a variety of rallies: for example, the Circuit of Ireland is on the menu and Tipperary Stonethrowers, plus three forest rallies 'across the water' in the BTRDA series. Aileen Kelly has been doing a sterling job for David, but the Cork lady has been making some progress in USA rallying and that is probably where she will end up this season, leaving David with a vacant seat to fill. PS: David has just become the father of a baby boy, William. The new arrival and mum Shelley are doing well!
News of a different sort is that it would appear that the new tracking system introduced to Irish rallies a few weeks ago has been voted down by many of the clubs. This is as much about the rising level of entry fees as anything. So it would appear for now that the tracking will only continue on a very limited basis.
Date Change: the Ballyvourney based Moonraker Rally, 3rd round of the forestry series, is being brought forward from the 18th April to the 28th March. The change was due to some unavailability with the Rally HQ, the Abbey Hotel, Ballyvourney.
Kevin O'Driscoll from the West Cork Rally has reported that there are 55 entries received to date which represents a busy start.
This coming weekend the rally action switches to the Fivemiletown Forestry Rally on Saturday and the Birr Stages on Sunday. The Fivemiletown event has Niall McCullagh/Ryan McCloskey at 1, Valvoline Forestry Champion Cathan McCourt/Barry McNulty at 2 and Conor McCourt/Caolan Mckenna at 3, all three crews in Fiesta R5s. Then at 4 is Janis Vorobjovs/Ivo Pukis, in a BMW M3X. Last September the Lithuanian driver Martynas Samsonas came to the Bushwhacker in a not dissimilar BMW and displayed a clean pair of heels for most of the day to our top local drivers. Could this be more of the same? Martynas Samsonas is in this Fivemiletown entry, but surprisingly listed down at 15. His BMW is to be co-driven by Ervinas Snitkas. Samsonas is in the suspension business and is sponsoring the rally. Another surprise package on this rally is the inclusion of Callum Devine at number 92 as well as top Scottish driver Freddie Milne at 93. Devine is listed to drive his usual Hyundai i20 R5, with Brian Hoy co-driving. Milne is to drive his Subaru Impreza WRC S14 and with the experienced Patrick Walsh in the hot seat. Rounding off the top half dozen for Saturday is Michael Carbin/Conor Mohan (Lancer) at 5 and Patrick O'Brien/Stephen O'Brien, also in a Lancer at 6.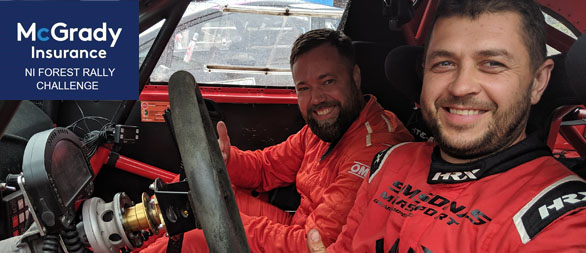 The entry has all sorts of talented drivers, as well as surprise packages. Top two wheel protagonists are likely to be Shane McGirr in his Starlet (on his home patch) and with Denver Rafferty co-driving. Immediately behind Shane at 22 and 23 are Ryan Barrett/Paul McCann and Paul Barrett/Gordon Noble, both crews in Escorts. Just some of the other top Escort drivers include Oran Donnelly, David Condell and John Gordon. The above is just skimming the surface of the 90 plus entry of talented drivers. Should be an interesting 10 stages. This Samsonas Rally Fivemiletown is the opener for the new McGrady Insurance NI Rally Challenge and represents an alternative to the main NI championship which is now all tarmac.
On the Sunday then the Birr Stages or Abbeyleix Manor Hotel Tarmac Stages to give it its proper title, has also attracted a good entry. Particularly so as the event is not a round of the Triton this year: but it is a counter in the South East Stages. Tarmac Champion Josh Moffett, with Andy Hayes co-driving in his Hyundai i20R5 has entered, along with top drivers such as Owen Murphy in his newly acquired Fiesta R5, while Daniel Cronin, Stephen McCann and Aaron McLaughlin are all entered in Fiesta R5s. Steve Wood is making the trip from Wales to drive his Fiesta WRC. Keith Moriarty will be co-driving. Clerk of the Course Bill Ryan was worried that the rally wouldn't receive a decent entry, but it seems to have worked out well, with 90 plus crews listed in the main entry. An innovation this year is a 'demo run' of Group B type cars. Just some of the entries include Conor Falvey in a Porsche, Ivan Warwick in his very special Quattro: James Tannahill in a Peugeot 205 T16 and Mike Dunnion in his Vauxhall Chevette HSR. The rally is being sponsored by Pat Horan Motors (Camper Centre) and Oliver Stanley Motors, Durrow. Indeed, most of the rally action is around Durrow.  
Regards: Brian, Liz & Michael Patterson