Irish Notes 11th March 2020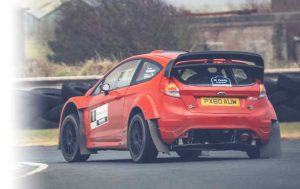 Former multiple NI Rally Champion Derek McGarrity steered himself back into 2020 title contention by winning last Saturday's Ballynahinch MC Bishopscourt Stages. Newtownabbey man McGarrity switched from a R5 Skoda to an ex Damien Cole Fiesta WRC for the McGrady Insurance backed 6 stage event, and had a different co-driver as well in the shape of Damien Garvey. Despite being baulked a few times by other cars Derek led from start to finish. Second place throughout was Derek McGeehan, co-driven by his son Mark. Their Mini WRC had a close encounter with a couple of the lorry tyres marking out the course, but survived to finish just over 10 seconds behind McGarrity. Gareth Sayers/Gareth Gilchrist seemed to be heading for 3rd but a last stage incident dropped them down the list and allowed Kieron Graffin to take the final podium slot. Graffin was in a Fiesta R5 co-driven by his daughter Amy. The top six was made up of Kevin Kelleher/Martin Brady in 4th, although their Subaru was blowing steam on the final stage, Emma McKinstry/Kenny Hull 5th in their Fiesta R5, despite a couple of spins, and Jason Mitchell/Kenny Bustard 6th in another Fiesta R5.
Just some of the other notable results included: James and Heather Kennedy (Escort) best in the 2wd category, Andrew Bushe/Ivor Lamont in their Chevette HSR won the Historics after a stirring battle with Andy Johnson in a similar car, Philip White/Kyle Diffin won the Micra category, Gary & Keith McEvoy took the competitive class 8 in their Lancer. Other class winners included Daryl Sproule/Stephen Caldwell (Astra), Robert & Sara Erwin (Corolla), Sam Adams/Michael Johnston (Escort), Niall & Ciaran Carey (BMW), George Robinson/Tommy Speers (Fiesta) and Emma McKinstry/Kenny Hull (Fiesta R5).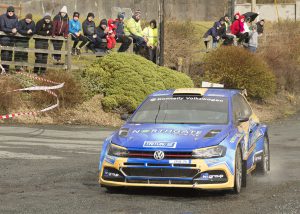 On the Sunday Donagh Kelly/Conor Foley (VW Polo GTi R5) won the tough Mayo Rally, the opening 2020 round of both the Triton Showers National Championship as well as the Sligo Pallets Border series. Josh Moffett appeared to be on course to take the laurels but his Hyundai failed to proceed after stage 8 of 9, low fuel pressure suspected to be the culprit. Roy White/James O'Brien slotted into 2nd place. Their Fiesta WRC had suffered a puncture during the day which cost some 40 seconds. This misfortune seemed to shake White up somewhat and his times improved in the latter part of the rally and in fact he was fastest on the final test, the 'power stage'. Gary Kiernan/Ryan Moore produced a bionic drive in their Mk2 Escort to finish 3rd, and best two wheel drive from the equally hard charging David Bogie, also in an Escort. Scottish visitor Bogie had Cushendall man John Rowan co-driving. Just over 3 seconds separated the two Escorts at the finish, following an epic battle.
Peadar Hurson looked to be heading for a solid podium place but he crashed his Fiesta WRC out towards the end. Jason Black/Karl Egan (Starlet) were 5th and Declan McCrory/Stephen O'Hanlon (Fiesta R5) 6th. Niall Devine/Liam McIntyre were 8th in their Lancer and won GpN. Mickey Conlon seemed to be heading for a top ten finish but the Escort driver got caught out by a bump towards the end and he non-finished. Others to hit misfortune on what was a demanding and difficult day included Eugene Donnelly, Niall Maguire, Derek Mackarel and Damien Toner. Just 50 cars finished the main rally, plus a few in 'Super Rally'. These included William Creighton whose R2 Fiesta suffered a broken wheel.  Eamonn Kelly/Conor Mohan won class 2 following a good run in their Fiesta R2T. Shane Norris/Anthony McDonald won the Junior section in their Civic.
Looking forward to this weekend, the home rally action shifts to West Cork, one of the biggest events of the rally year. It is a counter in both the Irish Tarmac and the British Rally Championship. The organising Cork Motor Club may be taking some precautionary measures in the light of the current Covid-19 situation.
Current Tarmac Champion Craig Breen and his co-driver Paul Nagle in a Hyundai head the 150 strong entries.  British Champion Matt Edwards from Llandudno, with Darren Garrod co-driving is at 2 in a Fiesta R5. Alastair Fisher is next up, with Gordon Noble once again the co-driver. The pair won the opening Tarmac series round (Galway) in a Polo GTi, but switch to the latest development Fiesta R5 for this one, the same specification as the Matt Edwards machine.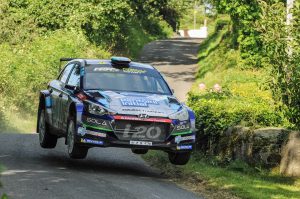 Previous West Cork winner Robert Barrable will drive the same Dom Buckley VW Polo GTi as Alastair Fisher drove in Galway. Reckoned to be as fast as anyone in the British Championship, Tom Cave, best West Cork BRC finisher last year, starts at 4 in a Hyundai. Fresh from winning the Mayo event and a previous multiple West Cork winner, Donagh Kelly, is at 5 and Sam Moffett 6. There are so many absolutely top drivers in this rally, it is impossible to predict who will come out on victorious at the end of the fourteen fabulous fast flowing stages around Clonakilty. A couple of 'dark horses' could be Welshman Rhys Yates who switches to a Polo GTi R5 for this weekend, as well as the 'quiet man' from Carryduff Jonny Greer who will debut the very latest 'factory' Citroen C3R5.
An unknown quantity will be the talented Josh McErlean, on his first big Irish BRC trip in a Hyundai R5.  Billy Coleman Award winner Josh is in at the deep end a little in this company. Really though, the number of talented drivers in the line up is extraordinary – think Desi Henry and Josh Moffett in Hyundais, the fast improving Meirion Evans (Polo GTi),  the always spectacularly quick and determined local man Owen Murphy. He is in a Fiesta R5 for the first time, Ollie Mellors in a Proton, as is Eugene Donnelly:  a great, great line-up.
Expect fireworks as well from the young drivers in RC4, particularly William Creighton, Eamonn Kelly, David Kelly, Brian Brady and Scottish visitor Finlay Retson, all in R2 Fiestas. Always on the West Cork the battle for modified honours is intense and top candidates for the spotlight this time include Gary Kiernan (Escort), Kevin Gallagher (Darrian) and Kevin Eves (Corolla). In addition, there is a decent line-up of Historic cars in their own division, plus ten Juniors, all in Civics, who will join in on the Sunday.
In Championship terms, Matt Edwards, who won the opening round on his home Cambrian Rally, leads the BRC points on 25, with Osian Pryce on 18 and Rhys Yates 3rd on 15. The Irish Tarmac points are led by Alastair Fisher following his Galway win. After that the following positions, at the time of writing this, are still provisional.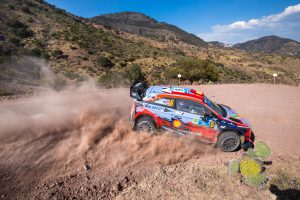 Also this weekend, we have the WRC's annual visit to the high altitude, bumpy dusty Mexico stages. As ever the rally has received a low entry but mostly the WRC people who matter will be there. It is early in the season, and already there is speculation as to which driver will be the dominant factor in this year's Championship. Current World Champion Ott Tanak, now switched from Toyota to Hyundai of course, has made an inauspicious start to the year, as has Neuville. The Hyundai team engineers have been working on improving the 'aero' on the i20 R5, so it will be interesting to see how that works out. Dani Sordo joins the team for this one, but no Craig Breen, who will of course be in West Cork. The 'man of the moment' on the WRC must be Elfyn Evans, his switch to Toyota seemingly injecting a new momentum into the Welsh driver. So far Elfyn has eclipsed his illustrious team-mate Sebastien Ogier, and Elfyn must surely be looking over his shoulder at the rocket-ship teenager Kalle Rovanpera. The Toyota Gazoo Racing team has been so fast 'out of the blocks' on the opening two WRC rounds this year, that they must surely have the Hyundai team scratching their collective heads. Of course the Mexico stages have a reputation for turning reputations on their heads.
There is just one other team in the WRC this year – M-Sport Ford. The Cockermouth based squad has made a decent start to the season, but not earth shattering. Esapekka Lappi and Teemu Sunninen will need to get their fingers out if they are going to shake their rivals. Also in a Fiesta WRC for this one is Gus Greensmith, but to a certain extent the British driver is still learning the ropes. There are some surprising entries further down the list:  seeded at 34 is Barry McKenna/James Fulton in a Fabia R5, while John Coyne /Stephen Joyce (Fiesta R5) are at 37. The R5 category will surely be very hotly contested, and it will be interesting to see how young Oliver Solberg and his co-driver Aaron Johnston from Omagh get on in their VW Polo GTI R5. They certainly have some tough opposition, although there is no Mads Ostberg this time. There is a small National event tagged on the back of the 38 International/WRC entries, and the ever dramatic Ken Block, driving his fabulous Escort RS Cosworth, should feature.
Regards: Brian, Liz & Michael Patterson