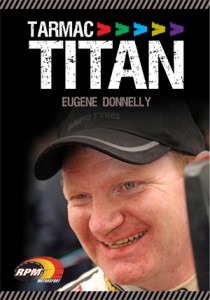 The five times Irish Tarmac Champion and winner of 18 Tarmac Championship rounds Eugene Donnelly, is the latest driver to be featured in RPM's renowned Tarmac Titan DVD series.
Eugene joins Billy Coleman, Jimmy MacRae, Austin MacHale, Bertie Fisher, Frank Meagher, Kenny McKinstry and Andrew Nesbitt on the prestigious list of rally stars that have dominated the Irish stages during recent decades.
The four-hour DVD charts The Genie's career from his beginning in Mark II Escorts, through his development years in the Gartrac G3 Escort, the crazy days when he competed in as many as 33 events in one season, and on to his time at the top of the game in WRC machinery.
The Donnelly Motorsport Team were considered by many to be the underdogs in Ireland's premier rally championship, but helped by Derek McGeehan's engineering genius and the support of his family. Eugene became a multiple winner.
Elder brother Charlie Donnelly, co-drivers Paul Nagle, Paul Kiely and Paddy Toner; engineers Derek McGeehan, Stan Harper and competitors Andrew Nesbitt, Tim McNulty and Eugene's close friend Glenn Allen all help to tell Eugene's amazing story.
Its a story that as well as taking you right into the action of this adrenalin educing sport, also takes you behind the scenes with frank previously unaired disclosures.
It is a high-speed story of great victories and great escapes. Of family triumphs and tragedies, and of some considerable controversy at times.
TARMAC TITAN – Eugene Donnelly can be ordered now on www.rpm-motorsport.com for £14.99p + P&P. Deliveries commence 1st. December 2015
For further information contact: Alan Tyndall 02892 689258 or 07887 827150 alan@rpm-motorsport.com