'Cream always rises to the top' goes the old adage, and last weekend's Rallye Automobile de Monte-Carlo did nothing to disprove that theory. Rally winner Sebastien Ogier and 2nd placed Thierry Neuville had the most monumental battle, swapping seconds, stage after stage. Conditions were typical of modern Monte Carlo rallies – stages that were a real conundrum of dry/ice/snow/dry surfaces – heads you win, tails you lose as regards tyre choice. The one constant factor was how well the top drivers coped. Gap based Ogier was on his home rally and back with the Citroen team after an absence of many years. He did have some niggly worries about his C3's throttle towards the end, but he kept it all together, drove brilliantly to score his 6th Monte win. Equally superb was Neuville in his Hyundai, just 2.2 seconds down at the finish, having been within a second of the Citroen coming into the finale. The Belgian commented at the finish ramp, "The fight was fair and beautiful. At the same time I am happy and disappointed!"
Fastest men in the rally were probably Ott Tanak and Kris Meeke. Both were knocked back by punctures on their Toyotas, caused when their Yaris rims sustained damage in ruts. Tanak had a superb run through the Saturday and Sunday stages to haul himself back to 3rd o/a. Loeb, 6 times a Monte winner who flew straight in to the Monte recce from the Dakar in Peru, seemed to realise early on that he wasn't going to win this one. He settled into his new Hyundai, and drove a 'percentage' rally to finish 4th. Latvala produced a bit of an up and down performance to finish 5th. Sixth placed Meeke was, like his Yaris rims, shattered when he got his punctures, but picked up his pace towards the end and set fastest time on the 'Power Stage'. Although he finished 6th o/a, the 'Power Stage' bonus points moved Kris ahead of 5th placed Latvala, and also Loeb, to give the Ulsterman 4th place points, which is not a bad start to the World Rally Championship.
As always there were hard luck Monte stories aplenty – Elfyn Evan's Fiesta for example slipped off an icy section of road and out of the rally, when Elfyn wasn't going badly at all. This left M-Sport Ford with no WRC cars in the top ten, although 'privateer' Gus Greensmith salvaged some pride for the blue oval boys by winning WRC 2 Pro and finishing 7th o/a in his Fiesta R5. In fact it was a brilliant drive by young Englishman Gus and his recently installed co-driver Elliott Edmondson. Rhys Yates also had an excellent run, finishing 4th in the WRC2 category. Indeed, the story of the rally was one of brilliant drives by the top contenders, auguring well for a very interesting World Rally Championship this year.
On a slightly different level, but interesting nonetheless, the Triton Showers backed Irish National Rally Championship had an open day at Mondello last Saturday. The series will consist of eight events, with seven to count, starting with Birr (Abbeyleix Manor Hotel Rally) on February 24th. Regular competitor Kevin Barrett, the Triton Showers Irl MD, commented that the series' 8 locations offer a unique opportunity to promote the Triton brand. The differing terrain is also a great challenge for both the cars and the crews." As regards points, the top Triton competitor on each event will receive 20 points, with a single bonus point for fastest driver through the power stage. There will be one bonus point for finishers on the penultimate rally (Galway Summer Rally) and two bonus points for finishing the final event, the Fastnet Rally in Bantry. Michelin tyres will be awarding prizes at each rally. Drivers under 26 years of age and who compete in class 16 will be eligible for a €20,000 coaching/training award regarding the Billy Coleman Young Driver initiative.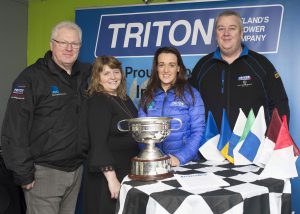 This weekend the MG Car Club (Ulster Centre) is running an autotest on Saturday 2nd February at Delamont Country Park on the Ballynahinch Road out of Killinchy. Interestingly, there is a 'tutorial' before the 10.30 am start for both FWD and RWD. Also of interest, the MG club is having a film show with a motoring theme at the fascinating 'old time' Tudor cinema at Comber on Wednesday evening 6th February 7pm.
Further afield, the Cork Motor Club's 1000 Shakes Rally has been resurrected and will run this weekend, having been suspended because of insurance worries.
Meanwhile many competitors will be girding their loins in readiness for the Galway Rally on the following weekend, 10th February. It is confirmed that Craig Breen/Paul Nagle have entered in the Fiesta R5 that Craig's father Ray drove on the recent Wm Loughman. With all Craig's experience at the top level of the WRC as well as in R5s, Galway should be a doddle for him. However, there's many a slip between cup and lip, and with such a huge high quality entry of R5s, as well as a smattering of World Rally Cars in Galway, Craig will need to stay on the ball for this Irish Tarmac Championship opener. This edition of Irish Notes is going to print in advance of the seeded list being published, but we have no doubt that it will be as impressive a line-up as has appeared on an Irish event for some time. One entry that particularly caught our eye is that of Declan Boyle in a sparkling new Fiesta R5. The old winning partnership has been renewed – Brian Boyle is to co-drive for Declan, and the car is being run by a new team, AP/ART – interesting.
Galway also marks the start of a new incentive for marshals, provided they meet the criteria, such as having attended one of the marshal's training days, the marshals will be eligible to have their names in the hat for a quarterly draw, the winners then receiving €2000 towards travel expenses incurred by attending an international event.
Looking further forward, the West Cork Rally has released early details of their iconic St Patrick's weekend event – this year the 16th & 17th March. The event is based in the Clonakilty Park Hotel (formerly the Quality) and CoC Greg McCarthy has planned 15 stages over the two days, with the Historics starting from stage 5 and the Juniors contesting all six of the Sunday tests. Being a counter in the British series, as well as the Irish Tarmac and the Southern 4 series, the rally is almost certainly in for busy weekend. Accommodation enquiries are being handled by Mick Hanly at chamber@clonakilty.ie A rally guide will be available shortly from www.westcorkrally.com
Finally this week, Motorsport Ireland has already announced some exciting new initiatives, details of a new Academy scheme for younger drivers has just been released. The idea is supported by former Tarmac Rally Champion John Coyne, and will assist young drivers from the Billy Coleman award nominees plus the winners of the various junior rally classes to help develop their skills in order to move to the highest levels in International Rallying.
Brian & Liz Patterson