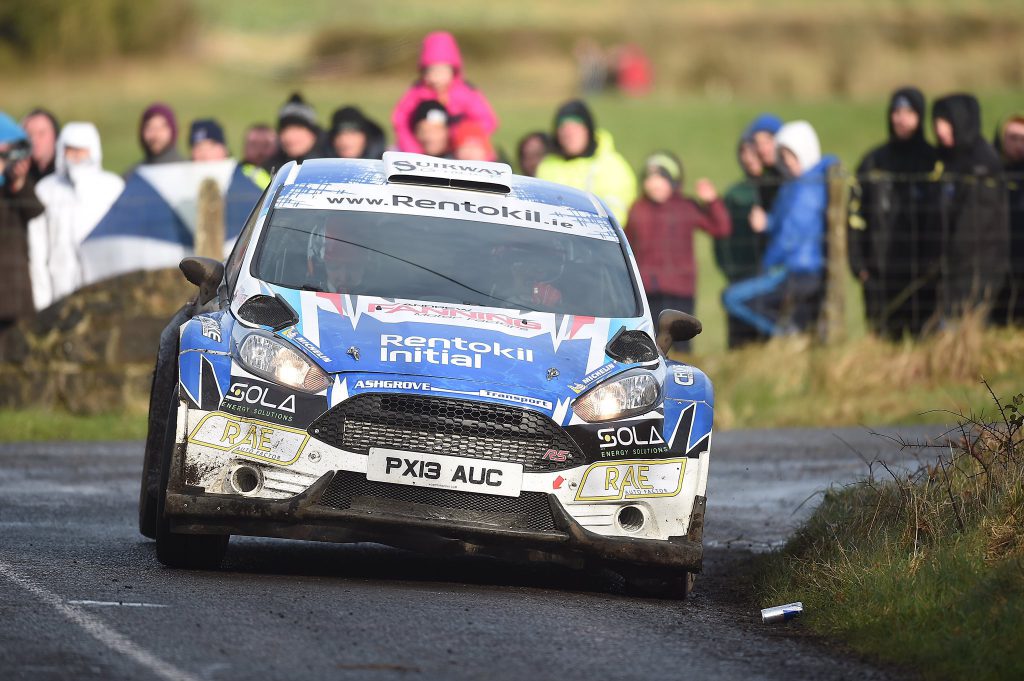 Waterford's Craig Breen defended his 'FIA Priority Driver' status on last weekend's Corrib Oil Galway Rally by taking victory. However his win, by 14s over Alastair Fisher, was hard earned. Both drivers were in Fiesta R5 machines, Craig co-driven by Paul Nagle, Alastair by Gordon Noble. The first stage was very late starting, so the drivers were faced with cold tyres on their cars and slippy wet roads with almost zero temperatures. Several of the lead drivers were caught out by the circumstances, including former Tarmac Champion Sam Moffett who slid his Fiesta R5 into the scenery, as well as the up and coming driver Phillip Allen, in a similar manoeuvre. Craig Breen almost fell into the same predicament. Following an overshoot he was down in 4th after that opening test: behind Garry Jennings, Alastair Fisher and Josh Moffett.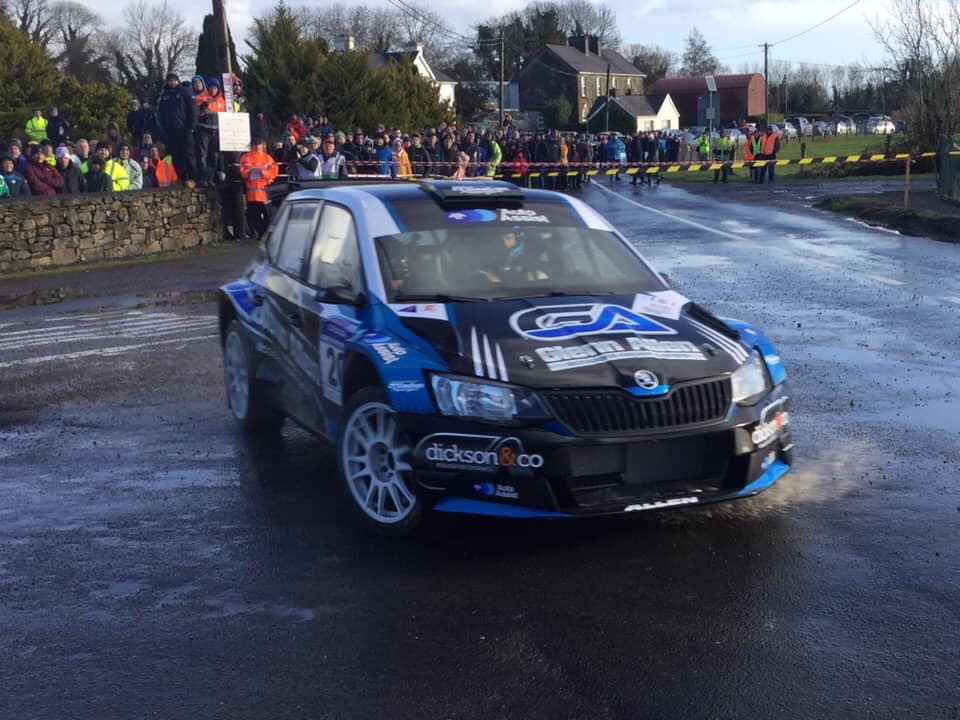 The 2nd stage suited the R5 cars rather than the Jennings Impreza WRC, and it was Alastair Fisher who led after that one. Jennings and Breen then battled for the lead for a couple of stages before the Jennings Subaru suffered a damaged rear wheel in a ditch. From then on the story at the front was all about Breen, harried but not really threatened by Fisher. Craig has registered for and now leads the Tarmac Championship. He has expressed his intention of contesting more Irish events this year, although of course hoping as well for a return to the WRC. It is interesting that this time last year he finished 2nd on the WRC Swedish Rally.
Other results in Galway included Damien Tourish/Domhnall McAlaney winning the National category in their Escort, Ray Cunningham/Adrian Cusack taking the Historic honours in their Mini Cooper 'S' and Michael Cahill/Paul Curran clinching the Junior category in their Civic.
Also last weekend the Mid Antrim MC ran the Rosspark Hotel Targa Rally. Robert Woodside/Bruce Drummond took a clear win in their Toyota MR2. Mark Francis/Adam Hilditch were 2nd and Eric Patterson/Raymond Donaldson 3rd, both crews in Mazda MX5s. In contrast to Galway, the event was run in bright conditions and the competitors seemed to have really enjoyed the event, complementing the club afterwards, particularly in regard to a having a nice bowl of Irish stew supplied at the lunch halt!
Another rally last weekend, but a bit further away, was Rally Sarma in Latvia. Oliver Solberg, co-driven by Tyrone's Aaron Johnston in their VW Polo GTI R5 in the snowy conditions, took an impressive victory to add to their Latvian Championship win last month. Seventeen year old Oliver will spectate on this weekend's Swedish Rally, where his mother and father, Petter and Penile, will be attempting to win the Historic section once again in their Mk2 Escort.
On the subject of the Swedish, the classic Torsby based winter Rally has an impressive line up of the established World Rally Championship top drivers, as well as many of the up and coming young Scandinavians hungry for success, recognition and fun!. There is snow and ice on the stages at the moment, but the weather forecast is for falling and then rising temperatures, which may mean gravel rather than the white stuff for the 2nd pass of the stages. The top end of the list contains all the works drivers: Ogier and Lappi for Citroen: Sunninen,Tidemand and Evans for Ford: Meeke, Tanak and Latvala for Toyota: Neuville, Mikkelsen and Loeb for Hyundai, the latter driver sure to add a bit of extra sparkle to proceedings. A wild card is former multiple world rally champion Marcus Gronholm to drive a Toyota Yaris WRC.
There are many R5 cars, with just some of the top names being Mads Ostberg in a Citroen, Kalle Rovanpera, Henning Solberg, Rhys Jones and Eerik Pietarinen in Skodas, Gus Greensmith in a Fiesta, Christian Ole Veiby in a VW Polo.
Two more events taking place this weekend are the Cambrian and Fivemiletown Forestry. On the latter event, just some of the top crews entered include Andrew Purcell/Brian Hoy in a Fiesta R5, with Cathan McCourt/Barry McNulty and Conor McCourt/Caolan McKenna in similar machines. Martin Cairns/Peter Ward have entered in Martin's Fiesta WRC and Escort crews include Shane McGirr/Pierce Doheny Jnr., Adrian Hetherington/Gary Nolan and Vivian Hamill/Andrew Grennan. Mitsubishi Lancers of various specifications seem a popular choice, and just some of the drivers include Michael Carbin, Niall McCullagh, Patrick O'Brien and Eoighan Rogers, while Paul Britton will drive his GpN Impreza.
The Cambrian Rally is the opening 2019 counter of the both the British Rally Championship and the BTRDA. Top seeds in the BRC part of the rally are Pedro Heller, Alberto Heller and defending British Champion Matt Edwards the top three, all in Fiesta R5s. Tom Cave, David Bogie and Marty McCormack are seeded at 4, 5 & 6. Cave will drive a Hyundai R5, Bogie and McCormack both in Skodas. The top ten is completed by Josh Moffett, Desi Henry, Jonny Greer and Alex Laffey. Further drivers making the trip from here include Brendan Cumiskey, Alan Carmichael, William Creighton, Josh McErlean, James Wilson, Jordan Hone and Marty Gallagher. New York based Enda McCormack is flying over to do the rally in a Fiesta R5, with Paul Sheridan co-driving.
The other section of the rally, running under National B, is for the BTRDA contenders. Stephen Petch/Michael Wilkinson and Charlie Payne/Carl Williamson are the top two seeds in their Fiesta WRCs, while Niall Henry/Damien Duffin are at 3, to drive a Citroen DS3 R5. Other drivers from here include Will Corry in a Fiesta R2, David Kelly in a Fiesta ST and Noel Lappin in a Ford Escort Mk2.
News on the home front includes the launch of the McGrady NI Rally Championship at Stormont. Main changes include a revision to the points structure plus an increase from 7 rounds to 8. The constituent rounds are Kirkistown next weekend (23rd February), Bishopscourt (9th March), Maiden City (6th April), Down Rally (20th July), Lakeland Stages (7th September), Bushwhacker (21st September), Tyrone Stages (19th October) and Glens of Antrim (9th November).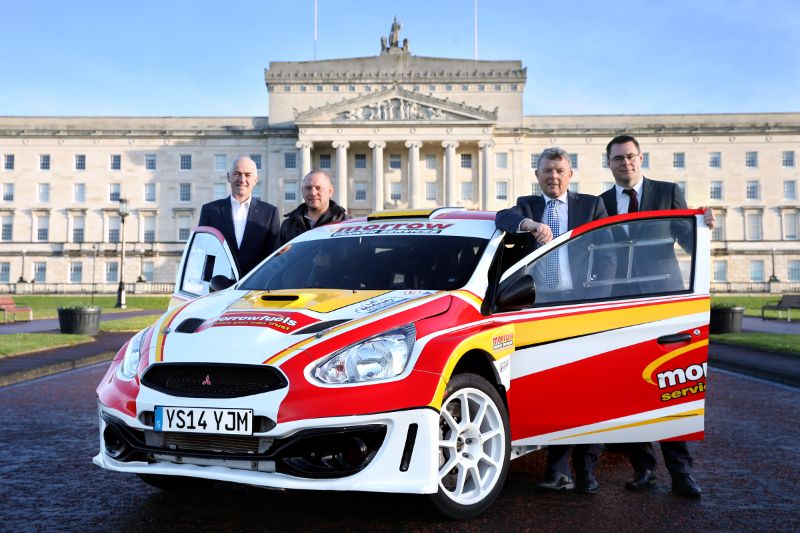 On the International front, Nasser Al-Attiyah is to contest the Qatar Rally next month in a VW Polo GTI R5 supplied by Ken Skidmore's Autotek Motorsport concern. There are quite a few of the new Polos in Sweden also, which inevitably poses the question of when are we going to see one come to our shores?
Brian & Liz Patterson