Last weekend's Lakeland Stages provided plenty of action, with Desi Henry/Damien Connolly in their Fiesta WRC keeping Sam Moffett/James Fulton (Fiesta) at bay, Desi winning by 22 seconds. Cathan McCourt/Barry McNulty kept their Fiesta R5 in the hunt throughout to emphasise their Valvoline Championship winning form this season to take 3rd, just 11 seconds behind Moffett. Vivian Hamill/Andrew Grennan had a good run to 4th in their Fiesta R5, Donagh Kelly/Conor Foley seemed to get to grips with their Fabia R5 and they were 5th, with Patrick O'Brien again showing a lot of class to take 6th in his Lancer. Thomas Nugent was co-driving for O'Brien. David Condell & co driver Paul Kelly were the top 2wd finishers in their Escort from John Gordon/Thomas Wedlock, also in an Escort.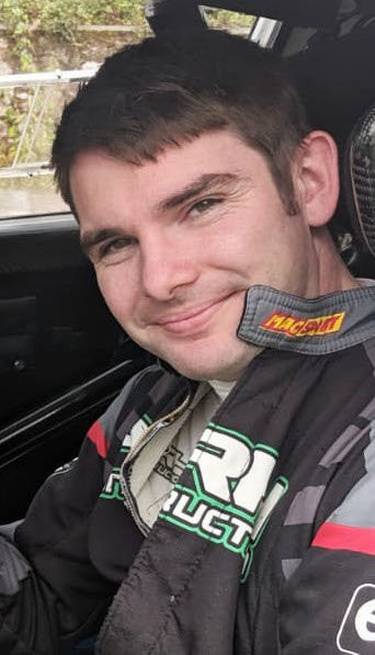 David Crossen was the expected 2wd front runner but he damaged the steering rack of his Escort and the car snapped sideways exiting a stage 3 corner and his rally finished in the ditch. Also in a sheugh was Shane McGirr, his Starlet sliding off on a '6R>', fortunately with no damage, but stuck. (Shane is still on course for the Galloway Hills Rally.) Adrian Hetherington also retired his Escort. Such was the pace over the Lakeland's many big crests and dips, the retirement rate was high. Surmounting all the challenges, Kyle White/Sean Topping in their Peugeot 208 R2 won their class and achieved 'best junior' on the day tag. Marc Johnston/Colin Irvine won class 5 in their Escort and Stanley Orr/Graham Henderson in their Mk1 Escort RS1600 won class 10, best Historic.
The rally was a round of both the NI Championship and the Valvoline Irish Forest series. In the NI Championship Derek McGeehan, co-driven by his son Mark, still leads the points after finishing 13th. Derek told us that he took it fairly easy over the big jumps dips first time through, also finding the stages slippy. Second time through he gave his Mini WRC its head and in one place it virtually landed on its headlamps. He got away with it, but it was a reminder that even WRC cars have their limits. Besides which, Derek has the car hired to David Bogie for this weekend coming, to drive on the Galloway Hills. Derek McGarrity was one of Derek's closest pursuers in the points table before the rally, but McGarrity retired his Fiesta somewhere around stage 4, reportedly with a damaged wheel. This leaves Stephen Wright as McGeehan's closest pursuer. Stephen and his co-driver Arthur Kierans brought their Fiesta R5 home in 8th. There are still two rounds to go, which also means that Desi Henry could well come into the title race reckoning.
While competitors were battling through the forests in Fermanagh almost 100 cars were starting the VW Wexford Stages. James Stafford in his Darrian was able to cruise to victory following a massive battle with Andrew Purcell (Fiesta R5). Despite a stage 2 excursion into a field which also involved circumnavigating some cows, Purcell held the lead for a while on the Saturday. Purcell then had a spin on the final Saturday stage which meant Stafford held a slender lead on the Saturday night. Then on the 2nd Sunday stage Purcell, a comparative stranger to asphalt rallying, took a lefthander just a fraction too fast and put his Fiesta off the road and out of the rally. Stafford went on to win by almost 2 minutes from Stephen McCann (Fiesta R5), with Wesley Patterson a very accomplished 3rd in his Mk2 Escort, albeit a further 37 seconds back.
Meanwhile, while all this was going on in Ireland, there were two new closed road special stage events taking place across the Irish Sea. One of them was the 'Three Shires', where Martyn and Dawn England took a clear victory in their Fiesta R5. Their winning margin was almost 1minute 30 seconds over Andy Fraser/Alan Jones in a Darrian. Alex Allingham/Ross Weir were 3rd in their Escort, a further 36 seconds back.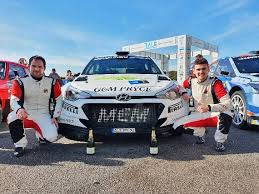 Then on the Sunday the Rali Ceredigian took place, a landmark event as it was the first closed road special stage in Wales. Osian Pryce/Dale Furniss in a Hyundai R5 had a massive battle with Tom Cave/Dale Bowen, Pryce taking the win by 7.7 seconds after the 8 very demanding, very exciting stages. Cave did have some brake worries which didn't help his cause. Hugh Hunter was in the top four but retired his Focus WRC with a broken clutch. Jason Pritchard/Phil Clarke were a brilliant 3rd in a Mk2 Escort, Damian Cole/Max Freeman (Fiesta WRC) 4th. (Cole's company, 'Get Connected', also sponsored the rally). Meilyr Evans/Ruodri Evans were 5th, and Marty McCormack/Barney Mitchell 6th, both crews driving Mk2 Escorts. Notable retirements included Merion Evans who led after the first stage but put his Skoda off the road in stage 2, while Hugh Hunter's Focus WRC suffered a broken clutch and Daniel Harper's Mini WRC stopped with a broken driveshaft.
Looking forward to this weekend, the Galloway Hills rally takes place on Friday night and Saturday. In Turkey we have a round of the WRC, while at home the Dougie Hughes Memorial Clare Stages will run on this Sunday. On the latter event, former National Champion Roy White is the number 1 seed. Roy will drive his Fiesta WRC with James O'Brien co-driving. Behind White is a strong top line-up, with Ed Synan/Tom Collins at 2 in a Subaru Impreza WRC and Mike Quinn/Tony Healy at 3 in another Impreza WRC. At 4 is Ian Barrett/Paul McGee in a Darrian, with a similar machine at 5, to be driven by Kevin Gallagher. The top half dozen is rounded off by Aidan Wray/Kieran McGrath in their Mitsubishi Lancer. Ian Roche (Impreza WRC) JF Shovelin, Johno Doogan and John Bonner, all three in Escorts, make up the top ten. Just some of the interesting drivers/cars outside of that include Keith Lyons in his Fiesta R5, Gary McNamee at 17 in his Civic, Alan Callaghan at 19 in his Subaru and James Murphy at 20 in a Fiesta WRC.
Over in Scotland, for the British Championship finale Galloway Hills, which has moved its base from Castle Douglas to Dalbeattie, there is a mixed entry, with contenders in both the BRC and the Scottish Championship to face some classic stages. The BRC title fight is between defending Champion Matt Edwards and Tom Cave. In theory Edwards in his Fiesta R5 is well in front in the points race, but both drivers will play their joker which doubles their points for this rally – so both need a result! Cave will drive his Hyundai i20 R5. Just some of the drivers who are in with a chance of a good result include Alex Laffey, Jonny Greer, Alan Carmichael, Enda McCormick and James Wilson. David Bogie has decided not to go for BRC points and he will drive Derek McGeehan's Mini WRC. There should be some hot action in the Junior division as well, even though Josh McErlean has the title sewn up. There is still a €60,000 prize to be picked up in the Ford Fiesta Trophy – Ruari Bell, James Williams and Finlay Retson are all in with a shout for that one. Also in Junior action will be William Creighton (Peugeot), Marty Gallagher (Fiesta) and Jordan Hone (Opel Adam).
Recently crowned Junior British Rally Champion Josh McErlean will contest Wales Rally GB (3-6 October) in a Hyundai i20 R5. McErlean, from Kilrea in Northern Ireland, sealed the British title on his home round of the BRC – the Today's Ulster Rally last month – and will now contest Britain's round of the FIA World Rally Championship in the latest specification R5 machine courtesy of Hyundai Motorsport Customer Racing and the British Rally Championship.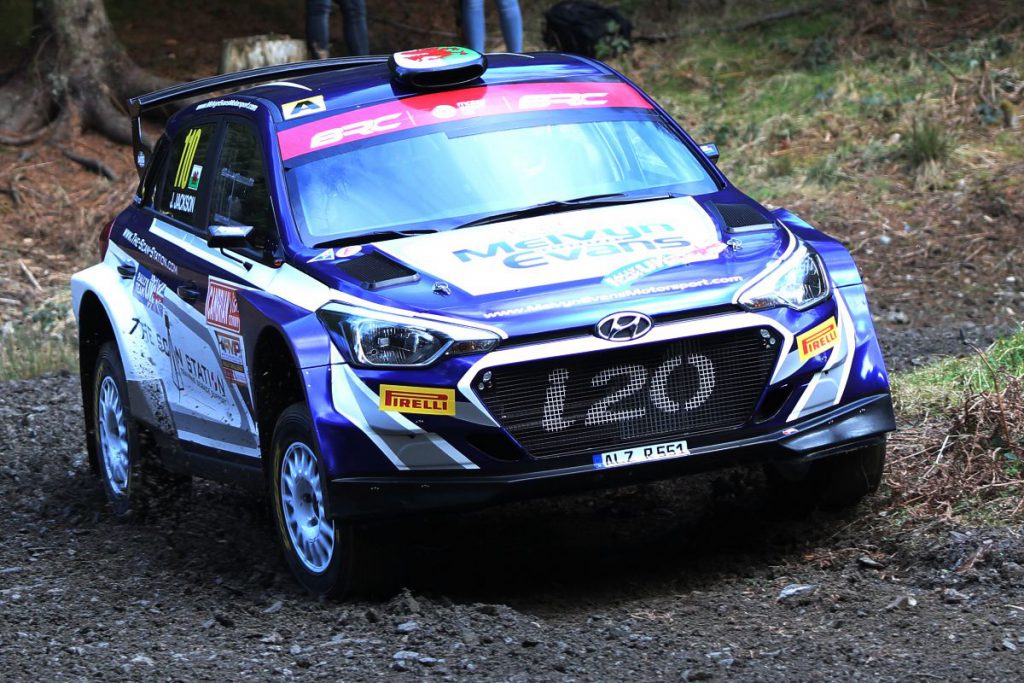 News this week includes Elfyn Evans coming back for WRC action. Elfyn will have a new M-Sport Fiesta WRC for his return on Wales Rally GB. Elfyn's back injury is now reportedly 100% ok, so no doubt he will be trying flat out to repeat his home win of a couple of years ago.
Former co-driver Michael Gibson and his wife Val ran in the Great North Run last weekend, a feat they have accomplished many times, and once again, along with several friends, raised a substantial amount for the Marie Curie Foundation. Michael still does the occasional rally with Neil Simpson. As has happened to so many co-drivers, a back injury some years ago meant Michael reducing his rally activities.
Coming up next week is the always popular Bushwhacker Forest Rally, the next round of the NI Stage Championship. This always popular forest event is as usual based in Omagh and despite losing the Carrickaholton Forest this year, Omagh MC has made up stage mileage with a route including both the Lough Braden stages and the Killeter forests.
The provisional winners after Wexford of the Hugo Loonam Motors Midlands East Rally Championship reads: 1st Billy Nolan & Shane O'Mahony 81 points, 2nd Ritchie Dalton & Jeff Case 75 points, 3rd James Stafford 74 points & Shane Gorman 71.5 pts.
The Cork '20' rally is shifting its rally HQ hotel from Macroom to Little Island outside Cork as the Riverside Hotel unexpectedly closed a few weeks ago. As usual the Cork '20' stages are an absolute delight, really brilliant, and the new more streamlined format should mean that a driver could complete his 'recce' in one day.
Regards: Brian, Liz & Michael Patterson