Last Saturday's Samsonas backed Fivemiletown forestry rally provided thrills and spills aplenty, with a great battle for the lead throughout the day between Janis Vorobjovs and Cathan McCourt. The Lithuanian Vorobjovs, driving a four wheel drive BMW M3 and co-driven by Ivo Pukis, took victory by 5 seconds from Valvoline Forestry Champions Cathan McCourt/Barry McNulty in their Fiesta R5. It was really nip and tuck between the two crews going into the final loop of two stages and Vorobjovs pulled out all the stops. It was a great win for the visitor as he had not driven this particular BMW before, and had never been in the Fivemiletown forests.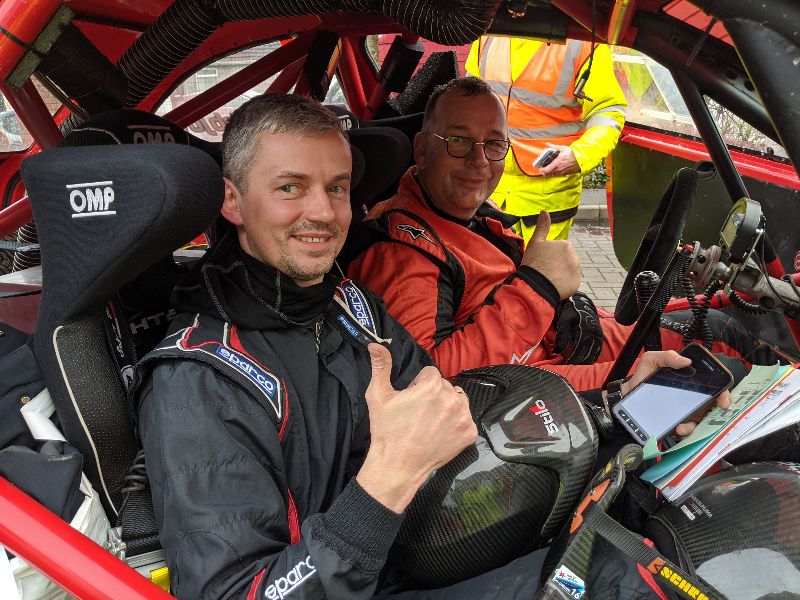 Callum Devine, not renowned as a forestry exponent, made a conservative start to the day but upped the pace through the latter half of the 10 special stages, clocking a few fastest times, to take 3rd place in his Hyundai R5. Devine made a few set up changes to the car during the day, which helped, and then was going so hard towards the end the rear screen blew out. The rally was a counter in the new McGrady Insurance Forest Challenge, and has automatic enrolment, which means the finishing order on the rally will also be the championship standings after this opening round.
Number 1 seed Niall McCullagh/Ryan McCloskey (Fiesta R5), last year's Fivemiletown winners, were 4th. Patrick & Stephen O'Brien (Fiesta R5) were 5th, having led the rally initially but dropped both time and confidence because of a time consuming stage 3 overshoot. Conor McCourt/Caolan McKenna, also in a Fiesta R5, rounded off the top half dozen.
David Condell & Paul Kelly were the top 2 wheel drive exponents in their Escort. Adrian Hetherington had set the earlier 2wd pace, closely followed by Shane McGirr, but both retired at the halfway mark. Ryan Barrett/Paul Barrett then led 2wd for a while, but they also departed the fray. Other notable retirements included Scottish visitor Freddie Milne, Marty McKenna and Martynas Samsonas. Next round of the NI Forest Challenge is not until September on the Enniskillen Lakeland Stages.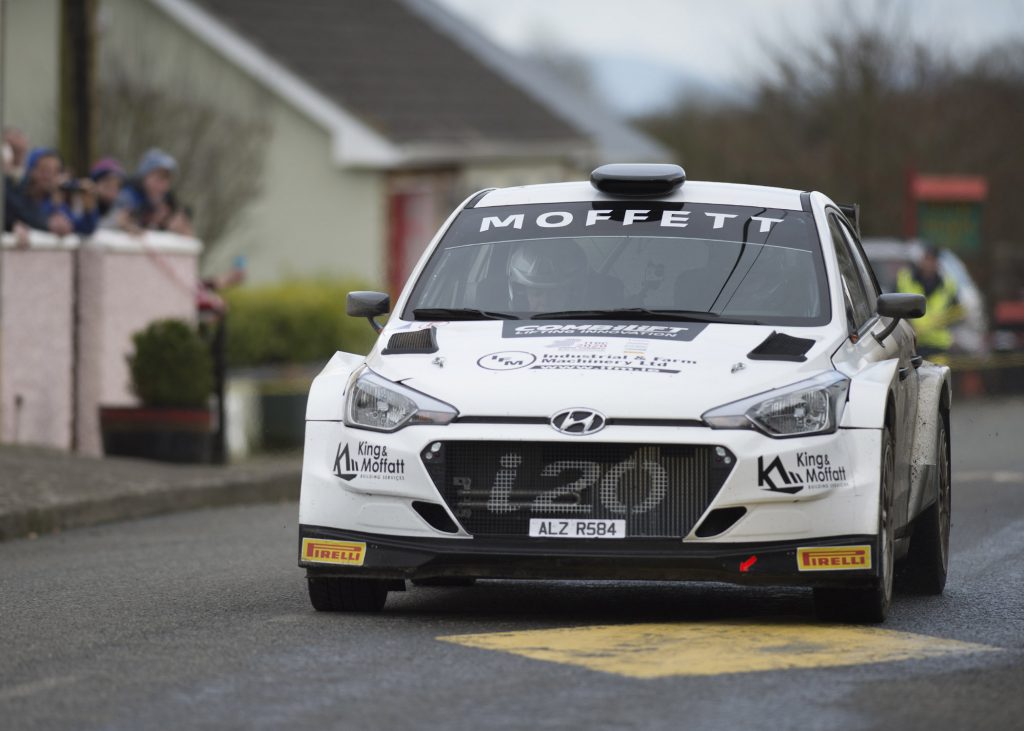 On the Sunday then it was the turn of the Birr Stages. Josh Moffett in his Hyundai i20R5 made a quick start, built up an early lead and was able to maintain a decent gap to the end, winning by 27 seconds from Desi Henry in a similar Hyundai and with Ollie Mellors 3rd in his Proton Iriz R5. National Champion Moffett had Andy Hayes co-driving. They had done some testing in the car following their Galway Rally outing and were certainly on the ball in Birr. Desi Henry, who was co-driven by John Rowan, felt a little unfamiliar with his mount at the start, and commented afterwards: "We had a good day, but a bit messy at times. It was a very fast rally, but conditions were difficult. The fields were full of water after heavy overnight rain, and the roads were streaming in places. The 2nd loop of stages weren't quite so bad, although we lost a little time with a burst brake pipe and also we caught Stephen McCann in a stage as he was struggling with a broken drive shaft. Still, I don't think we could have caught Josh, but we were more or less holding his times towards the end. We have a few improvements we can make now before West Cork".
It wasn't a bad rally for the Mellors Proton team as Eugene Donnelly managed 4th in his Iriz R5. Welshman Steve Wood (Fiesta WRC) was 5th and Stephen McCann, also in a Fiesta recovered to finish 6th.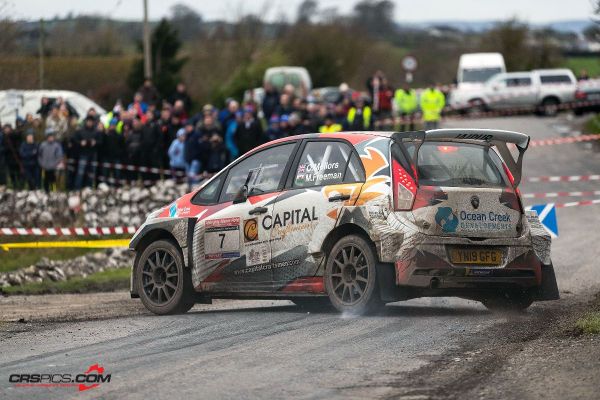 Major retirements included Ian Barrett/Paul McGee who crashed their Darrian on the first stage. Josh McErlean lost so much time with a puncture on his Hyundai that he didn't continue. Daniel Cronin lost time, reportedly with a broken driveshaft on his Fiesta, and he battled back to 8th. Best 2 wheel drive was Kilkenny's Enda O'Brien & John Butler in their Escort MK2.
Further afield, Bangor's Allan Harryman co-drove Ioannis (John) Papadimitriou to victory on the Rally Della Val d'Orcia in Tuscany. They were in a Skoda R5 Evo. Also abroad, Gary McElhinney co-drove Steve Perez to 2nd o/a on the Rally Ponent in Mallorca. Perez was driving a fabulous historic Porsche 911 and was up against more modern machinery.
Closer to home Fergil Gregory won the Leinster Lincoln and Nolan Sporting trial at Glendalough. David Meeke was 2nd and Richard Meeke 3rd.
Rally action at home this coming weekend will mostly be centred on the Limerick Forestry, through the hilly hinterland between Newcastle West and Castleisland. Hopefully the weather will be a mite kinder than it was this time last year when a sudden plump of snow caused chaos. Billy Coleman Award winner James Wilson and his co-driver Arthur Kierans in their Hyundai currently lead the MI Valvoline Forestry, of which this is round 2, and Keady man James will doubtless be going flat out to reinforce his advantage. Andrew Purcell's Fiesta R5 has reportedly recovered from the crisis that beset it on the Carrick on Suir event, and he also appears to be determined to give the rally a good go.
Other top names include: 2wd Forestry Champion David Crossen is competing in Limerick, as is Mickey Conlon, but doubtless there will plenty of other Escort devotees determined to grab a slice of the glory. Clerk of the Course Anthony Nestor has laid out three really good stages, each one repeated, and this looks as if it could be a seriously good rally – if the snow stays away!
Brian & Liz & Michael Patterson